The lessons from Saint Padre Pio are endless.
He is up there with Saint Jude, Thérèse the Little Flower, and Saint Anthony in the swiftness of his response.
Many would testify to that.
This is no ordinary saint.
And his lessons often reflected the power of the Madonna.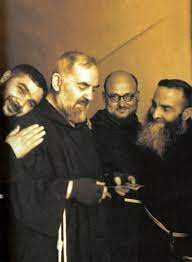 As Father Tarcisio of Cervinara, a biblical scholar who knew Padre Pio, and whose small booklet on the saint's spiritual battles is now available (released from a publisher in what was the saint's home base, San Giovanni Rotundo itself), explains, Pio had a "secret" weapon."
That armament?
"His filial and devoted recourse to the Madonna."
This, writes Father Tarciscio, "was the means which contained, summed up, and outdid all others.
"The padre clearly affirmed that during the many tricks of the evil one, as also during the most terrifying oppression, his 'dear mother' was always by his side.
"I recall that on 20 September 1961, before reaching S. Eframo Vecchio in Naples in order to teach, I went to San Giovanni Rotundo to greet Padre Pio. This was during those difficult times when Satan had launched an attack against him, with a furious and blazing anger, as well as using the most defamatory and hair-raising tricks that the human mind alone could never have conceived."
When Father Tarcisio asked Pio when "this inferno" would end, the stigmatic wonderworker had replied, "My son, I have placed everything in the hands of the Madonna and my Mother has always granted me the grace. I simply do not know when this will take place!"
Don't we all run into such trials — not knowing when or how a test will end? But:
Do we also have such confidence?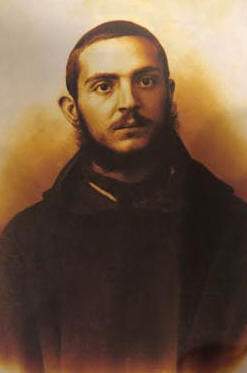 "The strength of Satan who fights against me is something terrible," Pio explained, "but may God be praised, for He has placed the cause of my salvation and ultimate victory in the hands of our Heavenly Mother.
"Protected and guided by so tender a mother, I will continue to fight as long as God wills, full of confidence in this mother and certain that I will never succumb."
His famous admonition, of course, was, "Pray, hope, and don't worry."
In his youth, Pio had been given a vision of what his lifelong task would involve. In it, he saw himself wrestling — struggling with all his might — with a large demon.
Upon entering the friary at San Giovanni Rotundo, Pio said he had the vision of an enormous crowd in the square fronting the church. In the vision, he called to the crowd. "Who are you? What do you want?"
And all of a sudden, wrote Father Tarcisio, the crowd, with a deafening and thundering sound, in unison, shouted at the top of their voices: "The death of Padre Pio!"
Pio realized, he told Tarciscio, "that they were all devils!"
But what happened later, in actual life, with the help of the Madonna — and the constant presence too of his angel?
The situation was reversed. The crowds that gathered at San Giovanni were Pio's devout followers.
Many were the onslaughts. Fellow Capuchins would hear him being slammed around his cell, the following morning bearing bruise marks. The enemy also caused Saint Pio mysterious ailments — some severe.
But the saint never conceded an inch.
In the book, called The Devil in the Life of Padre Pio [available here], Tarcisio recounted how, one February 11, this in 1954, he accompanied Pio to his cell. On the bedside table?
A statue of Our Lady of Lourdes — "slender, very beautiful, and luminous."
"I asked the padre with simplicity and confidence, 'Spiritual Father, tell me, I ask you for charity's sake, is Our Lady in this cell at this moment?'"
Pio paused, his face turning "radiant and inflamed," recalled the scholar.
"My son, you should ask me that question in another way," Pio had responded. "You should ask me if Our Lady has ever left my room!"
[resources: The Devil in the Life of Padre Pio and Michael Brown retreat, 10/29]
+