---
Is there such a thing as "perfect possession" — that is, someone who is so evil that one cannot distinguish between the person and the controlling spirit?
It was a concept promulgated by author and former Jesuit, Malachi Martin, in his chilling book, Hostage To The Devil.
It was also discussed by Protestant author and psychiatrist Scott Peck, who recounted his experiences with a young woman with whom there was overtly nothing wrong — no levitation, no speaking in a sudden guttural voice — but who was somehow infuriating and spiritually revolting.
It seemed pegged to her arrogance (which always draws darkness).
Have there been world leaders who are perfectly possessed — in history as well as now? Was Hitler one obvious example?
Notes a book: "'Perfect possession' describes a state in which a person not only freely invites a demon to possess him, but also cooperates, with full consent of the mind and will, in the demons malicious desire to destroy God's Kingdom and children. Some think that this type of human malevolence is not possible, but they are solely mistaken. Of this frightening phenomenon, Malachi Martin writes: As the term applies, a victim of perfect possession is absolutely controlled by evil and gives no outward indication, no hint whatsoever, of the demonic residing within. He or she will not cringe, as others who are possessed will, at the sight of religious symbols as a crucifix or a Rosary.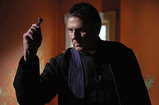 "The perfectly possessed will not bridle at the touch of Holy Water or hesitate to discuss religious topics with equanimity, composure, and calmness. We may never know why people so perfectly surrender themselves to the source of evil, but the fact of the matter is that there are people whose lives are just as given over to the promotion of the Kingdom of Darkness as ours are in promoting the Kingdom of Light."
Probably, it's a bit more subtle and complicated than that.  
Now, we know there are poor souls so infested that they are in a constant state of demonism. One thinks here of certain homeless people who act like the men at the tombs at Gadarene.
But that's not necessarily "perfect possession" — rather, an overcoming of the person by spirits.
Someone who is "perfectly possessed" may be high-functioning — in fact, many probably are. It seems likely one can look for "perfect pride" as the precursor or outward sign — especially those with a narcissistic personality disorder.
Last summer we had posted an article about certain purely evil serial killers, such a Ted Bundy [see here].
But what we are now speaking of are "normal" people who may never have committed a crime greater than a parking violation — but have a galling, detrimental presence. Their evil is more refined.
After one is exposed to them, one finds an oppression.
So once more the marker is "fruits." By the effect on you, you shall know them. "The most extreme state is 'perfect possession', when the demon has taken complete control. The perfectly possessed person is totally lost. There is nothing I can do," claimed Martin.
We're not sure of that. Prayer and fasting are powerful! But the person would have to cooperate fully, and this is a real problem, for the "perfectly possessed" are usually so arrogant they would never admit to a spiritual problem.
A psychologist might call someone who is perfectly possessed a "sociopath" or "psychopath." There really is no "perfect" possession. The real person, the good person, the person God made, is underneath somewhere.
But it can be hard to find.
Said a blogger: "I had a recent encounter with a sociopath, or psychopath.  This was a professional person who I went to for help about an issue. Of course, this is my own, totally non-professional diagnosis based on extensive online research.  What else? But months later and I'm still reeling.
"Her mask slipped on more than one occasion and I caught a glimpse of evil there and felt some kind of force coming at me.  This was in addition to her non-stop manipulations and wind-ups which put me in states of distress and gave her obvious pleasure. But I won't go on.
"Could she be perfectly possessed and how would this differ from being a common or garden psychopath, sociopath, or narcissist? The same question applies to the politicians, CEOs, media people etcetera, that so many online are claiming are psychopaths. And if someone can be perfectly possessed, how does this differ from being imperfectly possessed, if such a state exists? Surely a person who chooses evil, does so freely. Does a possessed person do that? I always thought possessed people behaved like Linda Blair her name in 'The Exorcist',' or Emily Rose in the film about her.  I thought they thrashed about, hurled obscenities and couldn't stand Holy Water.  I didn't occur to me that they could pass for normal, at least for a while."
Indeed: "at least for a while."
In the end, the truth always comes out.
[Michael Brown retreats: Tampa and New Orleans]
[Please excuse some delays in the past two weeks in book orders, due to a death in the family and illness]