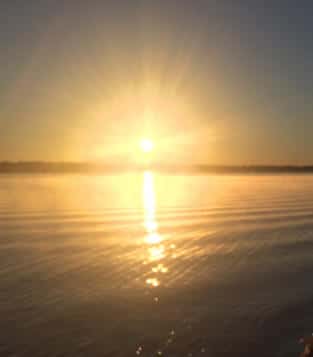 Bless those who curse you, said Jesus — and like everything He said, it was stated for good reason.
Not only are we exercising charity when we do that — as well as humility and love — but also protecting ourselves.
Impart a blessing and it forms a wall that separates you from evil. It blocks the curse from whomever you are having issues with. For when a person is angry, jealous, envious, hateful, or otherwise antagonistic toward you — wishing you less than the best — this is a curse that actually can operate.
Impart a blessing on such a person and you push back. A bubble of protection forms around you. See it as a cushion or a barricade or even a plow that clears debris. Demons may try but can't touch you. It's also like a glass dome. They can try to scare. They can try to climb that dome or penetrate. But it's for naught because when we bless those who curse us, we're exercising Christian attributes that are most powerful against evil.
"Stand therefore, having your loins girt about with truth, and having on the breastplate of righteousness," says Ephesians 6. "And your feet shod with the preparation of the gospel of peace; above all, taking the shield of faith, wherewith ye shall be able to quench all the fiery darts of the wicked."
Again and simply: impart blessings. Simply, have humility and faith. What a shield!
"God opposes the proud but gives grace to the humble. So humble yourselves before God. Resist the devil, and he will flee from you" (James 4:6-7).
Notes a preacher in Israel: "The first principle of spiritual warfare is humility. Whenever we notice we are in a situation of spiritual warfare, the first thing we need to do is to humble ourselves. Most people associate spiritual warfare with aggressive prayer and shouting at the devil. That is true in many ways, but if we do not understand the role of humility and submission, our spiritual warfare will turn into a massacre."
And don't put others in a negative light. When you want to speak badly of those who oppose you, you oppose yourself. When you speak positively, it will release you from your ill feelings — free you from shackles you put on yourself. Let God fight your battles.
"The reason for this is that the very character of the devil is tied up with pride," said the Israeli. "Pride is the motivation of the devil. Therefore, it is also the area that he is an expert to work in. If you have pride, you have an open door for the strategies of the devil. Your pride becomes an easy target for the devil's attacks."
"Humble yourselves…your adversary is seeking to devour you" (I Peter 5:6, 8).
If this is the time of year for spiritual warfare (and it is!), it is also the time of the year for humility and truth (the latter a very rare commodity these days, paving the way for an anti-christ). "It's easy to be good to people who are good to us," says evangelist Joel Osteen. "But Jesus said, do good to those who hurt you. One test we all have to pass is being good to people who have done bad to us. You be the blesser and God will take care of your enemies."
When we hold a grudge, we are frozen; we halt spiritual progress. Pay-back time is a waste of time — and even worse, causes us to regress — go backward. You hurt yourself. When we prove we are big enough to swallow our pride, our spirits grow, the cushion around us expands, and most importantly, we are elevated in the Eyes of God.
[resources: Michael Brown webinar]