From Forums of the Virgin Mary (initial translation from Italian):
Despite the fact that Pope Francis talks a lot about the devil, pastors and faithful believe in Satan less and less.
That is why it is important to understand how someone who reached the highest satanic practices returned to the Church.
Carlo Climati is responsible for the press office of the Pontifical Regina Apostolorum Athenaeum, he is an expert in Satanism.
He charged that "every day increases the number of young people who declare themselves seduced by the devil and black magic."
With the illusion of living a life without rules following a "rebel angel."
Climati explained that Satanism "destroys those universal values that are written in the heart of every human being."
It creates confusion and "a kind of reverse society, where good turns bad and bad turns good."
— He considered that young people mistake the devil for a "rebellious angel." And let themselves be captured "by the illusion of a seemingly free life without rules." For a deceptive freedom that leads them"to a state of dependency and slavery." The satanic and esoteric fashion spreads throughout the world, "unfortunately, modern society is often dominated by moral relativism and this favors the spread of Satanism."
— Climati explained that young people are often "victims of terrible loneliness, isolation and difficult family situations" and finding in esotericism one "easy and immediate solution to their problems," they confuse it with a game."In recent years young people have suffered a kind of brainwashing that pushes them not to be afraid of the world of the occult," he said.
Satanic rock is a part of it, "is easily recognized by the violent and anti – Christian texts," and "the covers of CDs featuring bloody and blasphemous images," said the expert.
He also considered that the internet and media are often dangerous for "psychologically fragile young people who have fun practicing and "inventing rites after having surfed the internet and after reading any esoteric book," "unfortunately, sometimes you can get to commit acts of violence or murder."
GABRIELE AMORTH REFLECTS ON NEW SATANIC WAVE
The phenomenon of the growth of Satanism is not of today.
We can see it in June 2004, on the occasion of the capture of the members of the satanic sect "Beasts of Satan," responsible for numerous ritual murders in northern Italy.
Those boys were given over to the devil, they read satanic books.
And what unprecedented ferocity in his actions! When a daughter gives her own mother ninety-seven stabs, only the prince of darkness can be seen in action.
Generally speaking, Satan is always active.
He's the tempter from the start. He does everything to make man sin.
And every time you perform evil, he is detrás. Sin. But we must make it clear that it is the man who freely decides his actions.
But there is an extraordinary action of the evil: and this is the diabólica. Those cases of possession are rare .
An unmistakable symptom is the extremely violent, visceral aversion to all that is sacred.
I remember a father who was afraid that his son was possessed by the devil and one day, while we were at the table together, I mentally said a Hail Mary for him.
The boy burst into a yell: 'Dad, no, shut up!'
Following is the speaking in tongues unknown, the explosion of a superhuman strength, levitation; these are all things that happen during exorcisms.
But the possessed lives in a normal way. He goes to work and no one knows it.
Its status is well hidden.
When he feels that reaches a crisis, he locks himself in the bathroom, discharged, and then returns impassively to his place.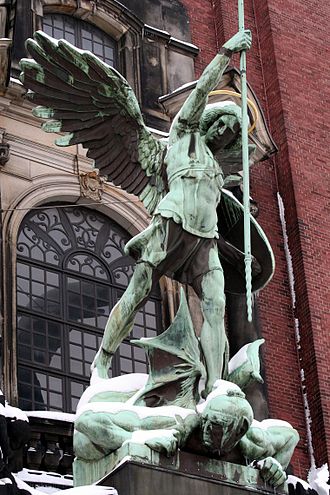 This happens more so with the demonized in healing, to whom exorcism gives the strength to fully return to a normal life.
It frequently happens that a demoniac becomes such after having joined a spiritist or satanic sect.
A satanic sect is very easy to get into but hard to leave.
In some cases, life is at risk.
There are two types of Satanists: those who worship the devil, celebrating satanic masses, have their priests and their hierarchy. 
And those who do not believe in the personal existence of Satan, but indulge in clumsy and unnatural actions. 
This other Satanism is the most dangerous. 
Amorth says that the Church believes little in the devil.
And the devil is very happy, because it has a free hand to do their job.
The Church has gone from one extreme to another.
To remedy the madness of the witch hunt, who instead of being exorcised were burned, he has canceled everything, devil and the exorcisms.
The result is entire Catholic regions that have no more exorcists.
I admire the Italian bishops. They don't understand anything, but at least they name exorcists.
They too, like all priests, have studied at the seminary.
And for a long time in the seminary nothing has been taught about angels and demons, nothing about exorcisms, nothing about sins against the first commandment.
And in the Vatican curia the same incompetence.
He has approved a new ritual that for us exorcists is a disaster.
It prohibited prayers against curses and jinxes, when 90 percent of possession cases derive precisely from there.
Prohibited act if you have no previous certainty of diabolical action, when that can only be understood when it is acting.
Luckily still worth the old ritual. I use that, otherwise I would have to quit.
Let us now look at the testimony of a former Satanist who returned to the Church.
THE TESTIMONY OF A SATANIST WHO RETURNED TO THE CHURCH
The world of satanism is a secret, often vulgar and sometimes dangerous, says former satanist and "reverted" Catholic Deborah Lipsky.
But even satanists beliefs vary greatly, focus on the indulgence of appetites and mockery of Christianity.
One is surprised to discover that apparently respectable citizens of his community are members of satanic guilds.
They are people you meet on the street.
Covens memberships are very secret, with the threat of death for members who share the details of their participation.
According to Deborah, it is rare to find former Satanists willing to share their experiences.
Deborah was born in 1961 and grew up in Salem, Massachusetts.
She attended Catholic and public schools.
As a teenager, she became involved in Satanism and returned to the Catholic Church.
Today, she is married and lives on a farm in Maine.
Deborah shared details of her experiences in her book, "A Message of Hope, Confessions of a Former Satanist: How to Protect Yourself from Evil."
HER STORY IN SATANISM
As an adult, I was diagnosed with high autistic functioning.
Autism is a neurological disorder that can negatively affect a person's ability to communicate and establish friendships with their peers.
When I was a child, I was undiagnosed, displaying a host of autistic symptoms.
Among them the rocking, the flapping of hands, and the humming.
Also I argued with my teachers and did not want to socialize with my peers.
Today, I am still unable to live independently.
Also, my mom was a German in an anti-German Jewish neighborhood.
My father abandoned the family when I was young.
The other kids at school made fun of me, stole my toys, and 'called "delayed".
They also beat me physically every day.
I begged my mother not to let me go to school. I felt hurt, angry, and wanted to be alone.
I isolated myself from others. I attended a Catholic school in grades 7-10.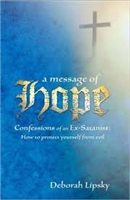 I went to the nuns who ran the school for help.
Because of my behavior, I was unpopular with them and suggested she deserved the treatment she received.
I was angry with the nuns, so I made a joke to get revenge, I started going to school with the pentagram. I also drew it on my homework.
So they asked me to quit school.
These were pre-internet days, so I started reading about Satanism in books, and then I started talking to Satanists.
And so it comes to satanic masses.
YOUR ATTENDANCE TO SATANIC MASSES
They were absolutely gross.
The Eucharist was defiled statues and crucifixes … were put on the back , anything to mock Christianity.
It is depravity at its worst.
Satanism is about indulgence and destruction of the Church and traditional morals.
I stopped attending black masses, I left and formed my own group.
Note that there are different types of Satanism, and vary in intensity level .
It is all very secret and dangerous, you are in mortal danger if you try to leave a coven, which is a satanic group of 13 members.
The world of Satanism is very secret .
If you are involved, you don't want your members to divulge this secret.
If you're a loudmouth, they 'll come for you.
Some of what they do is so horrible that do not want to expose.
I could not go deeper.
I made a blood pact with satan.
Most satanists end up committing suicide.
HOW SATANISTS AND DEMONS OPERATE
If you had known me when I was a Satanist and were nice to me, I would have been nice to you.
But if you had been unkind to us, I could have sent you a demon.
Plus you might have been uncomfortable with me, because I might have given you some hateful looks, and you would find me very manipulative.
You would have been surprised that at a young age I had accumulated enormous wealth, even though I only worked part-time.
It seemed that wherever I was, material things just fell into my lap.
I was involved seven years, and 30 years in the occult.
While I was in the occult, I became involved in summoning demons. 
And I experienced all the things you see in Hollywood horror movies. 
Including physical manifestations and appearances. 
I would not share specifics. 
In my book, "Message of Hope," I focus on how demons operate and how we can effectively combat them.
+
+
The most common way of relating to demons is for us to invite them in.
We open the portals.
It could be making use of Ouija boards, going to a psychic, attending a séance, or trying to communicate with ghosts.
We can also invite them when we allow ourselves to be consumed by anger and refuse to forgive.
Demons have the ability to alter our thoughts, and lead us to addictions.
The work of demons is seen in the violence manifested in video games and in murder movies.
ABANDONMENT FROM SATANISM
It was hard. The demons were terrifying me.
They came to collect my soul or they wanted full possession, even though full possession is rare in our society.
I had a dream in which an angel came to rescue me.
I got up the next morning and decided, "I'm going to be Catholic again."
I went to see a Catholic priest, and he kicked me out of the Church.
He didn't believe me. So I ended up joining a religious cult for 18 years.
I was drifting practice, the occult practice.
One day, I prayed, "God, I do not know if you exist, but if you exist, send me a nun who takes me back to the Catholic Church."
A few months later, He did.
Our Lady introduced me to some priests with experience in dealing with the devil, including one who lives in Maine.
And I came back to the Catholic Church, I love the Church, and I have dedicated my life to It.
I want to serve the Church, and am in the process of becoming a Tertiary Order of Dominica.
Our Lady has had an incredible role in my life, too.
I have seen great miracles that happen through Mary.
TIPS TO KEEP THE DEMON OUT OF YOUR LIFE
First of all, you must bear in mind that the devil is always going to be in your life and close by.

Therefore, you have to protect yourself by going to Mass and receiving the Eucharist.
It is a powerful protection.
Holy water is extremely effective.
I call it the "spiritual cleansing power." ‍
I keep it in my home and regularly bless myself.
The sacrament of Confession is important.
One of the quickest ways for the devil to enter our lives is through unconfessed sin.
I tell people, Catholic or not, the Catholic Church is the only church that has the tools to effectively deal with the demonic.
That includes devotion to the Blessed Virgin. Also, be careful about your hobbies and entertainment.
Drinking and a partying lifestyle can create an opening for the devil to enter.
I also recommend people avoid scary movies.
[resources: Forums of the Virgin Mary]
[Michael Brown On-line Retreat]