A few items in the mailbag.
Our old friend and co-author Josyp Terelya, the late Ukrainian mystic who'd spent twenty years in the Soviet gulag (for his Catholic faith), and was known for alleged apparitions of Mary (today is her official birthday), apparently painted the picture below.
We'd never seen it before.
Noted a viewer named Antoinette from Niagara Falls, Ontario, who sent it to us: "
I believe the 'war' painting is a prophetic one, done by Josyp in 1992. It clearly shows the twin towers, jets, Russia, aborted babies, Jesus and Mary, etcetera."
For us to severalize.
+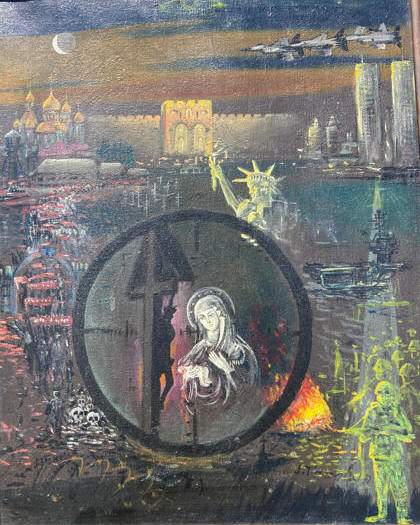 In the mailbag is also Barb from California, who kindly writes (as so many of you do), "Thank you for
spiritdaily.com.  I
t's the first thing I read each morning. Love it. I want to tell you my crying Mary statue story.
"One day in San Carlos Cathedral, Monterey California, I was seated in the pew next to the Our Lady of Sorrow statue. I noticed that there were water stains, like tears would make, droplets, at the foot of the statue.
"It's noted that I didn't see the statue cry, just the droplet stains. Several times, later, while at Mass, I sat in the same place and noted the same droplet stains.
"Call me crazy, but I'm convinced that the statue had shed tears at some point. I asked a friend to look, and she thought it was very unusual. So I sent an e-mail message to the parish office asking them if anyone else had ever noticed the tear stains. No response.  So, either they think I'm crazy, and or they have noticed it and they just don't want a big deal made out of it. If you're ever at San Carlos Cathedral, check it out and see if you see what I see!"
Will do, Barb. Tried the parish office but it was off hours. Will try again.
Bill Hiller of Richfield, Minnesota, sent thoughts on the "rumors of war" and added, "I have to admit, there is a pessimism within in me and some real fear about the future. It's like we're on the verge of something BIG about to happen. But we have to trust in the Lord and be with Him, no matter what. Hope you are doing well.  God bless you, your family, and your Spirit Daily work."
Bill, many, including the young, feel the same: a sense of unease and that time has "sped up," that something big is going to occur. Our next "special report" (on prophecy) will in part look at this. Let us know if you think time is "moving quickly."
But remember always
in every circumstance: with prayer and fasting, Mary of Medjugorje said, we can halt the negative in ourselves and in the world, even stop wars.
Today being her official birthday, we invoke Mary in a special manner — and note that at Medjugorje, yes: she reportedly said August 5 was her actual birth (again, for your discernment; see
here
).
There is lastly  a viewer named Margaret Johnson, who, referring to a recent article on controlling thoughts inserted by the dark side, said, "You asked in today's
Spirit Daily article
on
'Getting Rid of Dark Thoughts'.' (
And I would like to ask you what you do when some strange thought comes into your head.)
I had a time when I was struggling with oppressive thoughts and actions from various people which led to great confusion and difficulty in having peace in my heart.
"First, I sought advice from a trusted Catholic priest by arranging a meeting to discuss my situation. This very wise and elderly Catholic priest told me to 'stop thinking about these thoughts and people.' To 'stop giving away your energy.' He said, 'You need to starve these thoughts.'
"Second, the priest knew this was going to be difficult and he recommended I  substitute a prayer to say every time these people or thoughts came my way.
"It was not easy to control this situation, as it was happening in the physical world (through other people) as well as inside my head in the spiritual realm.
"I chose to praise God
continuously whenever this started up, with the simple prayer:
'Glory be to God forever.'
I would repeat this over and over silently inside my head during these situations and with time the troubling thoughts and these people left me alone. But most importantly, I left those troubling thoughts and people alone! All this took place over twenty years ago but whenever anything strange or disturbing pops up again, I just think 'Glory be to God forever' and I do not stop this mental prayer until the attack is over."
Indeed!
Concludes Margaret: "Now my thoughts were all focused on praising God."
+
[Footnotes in the mail: cloud formations. This month of Michael: is there a sword? "My sister in North Idaho sent me this photo she took in her backyard yesterday (8/31) of a passing thunderstorm.  Certainly looks like the firm grip of a hand wielding a sword!" Dan Kolar, Birmingham, Alabama.]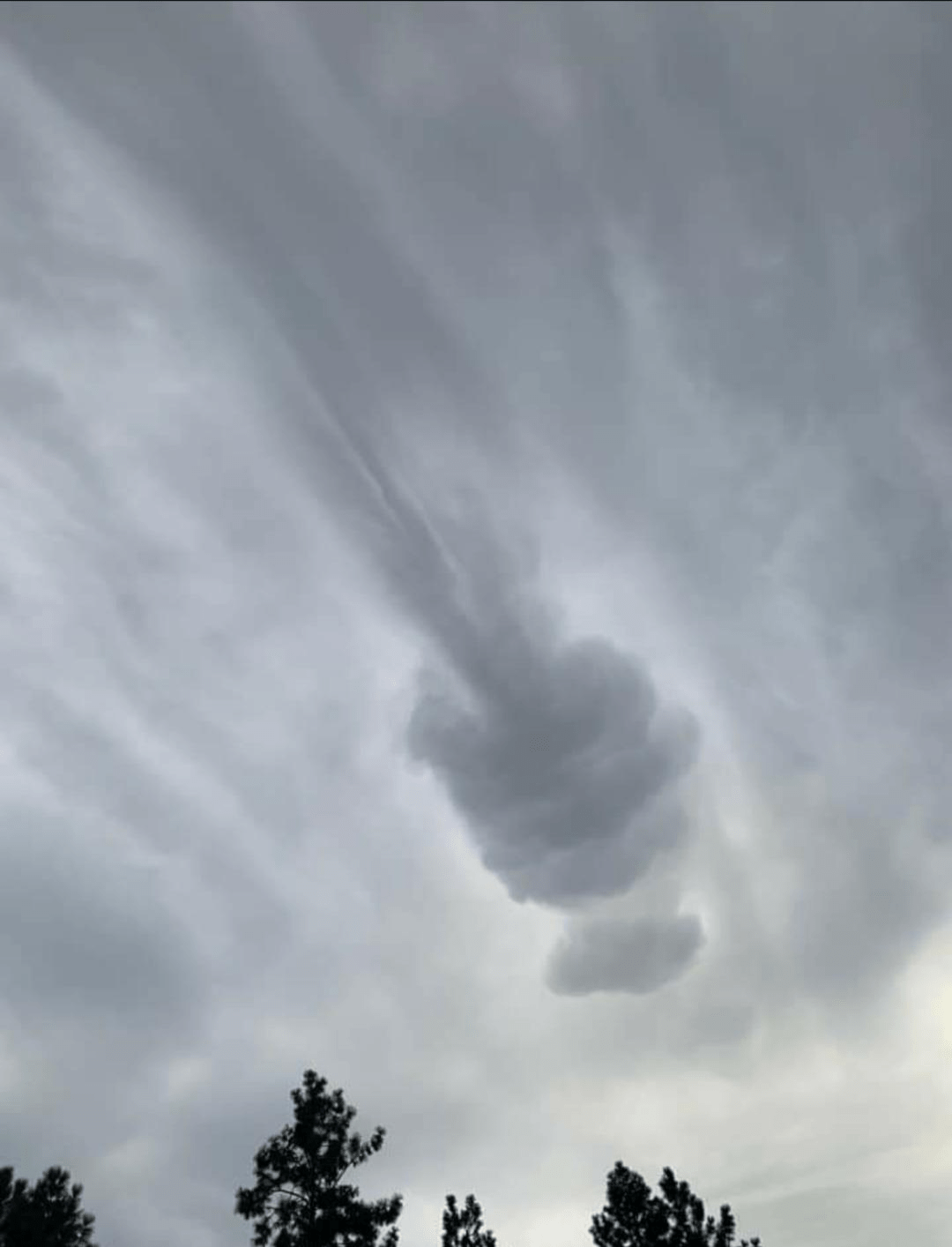 ---