---
You do wonder, especially after viewing a documentary like "Remastered: Devil At the Crossroads," which looks at the report/legend that a blues guitarist named Robert Johnson from Hazlehurst, Mississippi, went virtually overnight from being a mediocre wandering musician (at jukes and dives during the 1930s) to a stunning guitarist who is now considered the father of modern blues and rock'n'roll.
After trekking to the vicinity of Clarksdale, Mississippi, goes the story — and the crossroads of routes 49 and 61, — he supposedly sold his soul to the devil as the price for musical talent (in superstition intersections are imbued with power).
And so was a "genius" (with real genie? see the strange form next to him, below) born.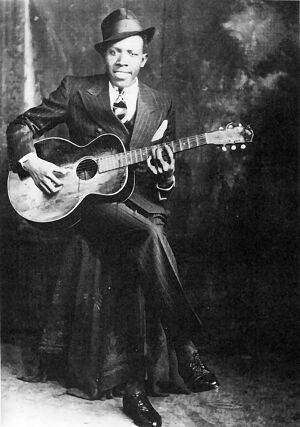 Many famous rockers, especially Keith Richards of the Rolling Stones (who said he was sure when he listened to a  Johnson recording that two people were playing the guitar) as well as Eric Clapton, and a long list of others, swear by that genius. Among them: Bob Dylan, who it is said was likewise a very mediocre musician before he went to the same crossroads, immediately after which, say friends, the folk singer was totally transformed.
You can view two video snippets below and thereby discern.
One rendition of the tale (as far as Johnson):
"It all began on a full moon, it was hot…too hot. As he was walking near Clarksdale, Mississippi, the young Johnson got lost at the intersection of 49 and 61. Nothing on the horizon, no more to the left than to the right. Not knowing which road to take and with the oppressive heat, he decided to take a nap along the road. When he began to fall into deep sleep, a cool breeze came to cherish him. Then the wind became stronger, the sky darkened and the atmosphere charged itself with electricity. It was an unusual weather for the season. Johnson stood up and looked either side of the intersection, he eventually distinguished a shadow floating in the air. As it moved towards him, his eyes opened wider. Without any noise, nor a word, the shadow bent over and seized Robert's guitar, granted it and played some divine notes before disappearing leaving his guitar as well as its talent at the top of the fingers. The pact was sealed, Robert had just sold his soul to the devil in exchange for his dexterity to play the guitar…"
Many are skeptical of the "crossroads" claim, and there is decidedly no documentation. Curious it is, however, that Johnson recorded all 29 songs he ever did in just two recording sessions, with titles such as, "Crossroads Blues," "Hellhound on My Trail," and "Me and the Devil Blues."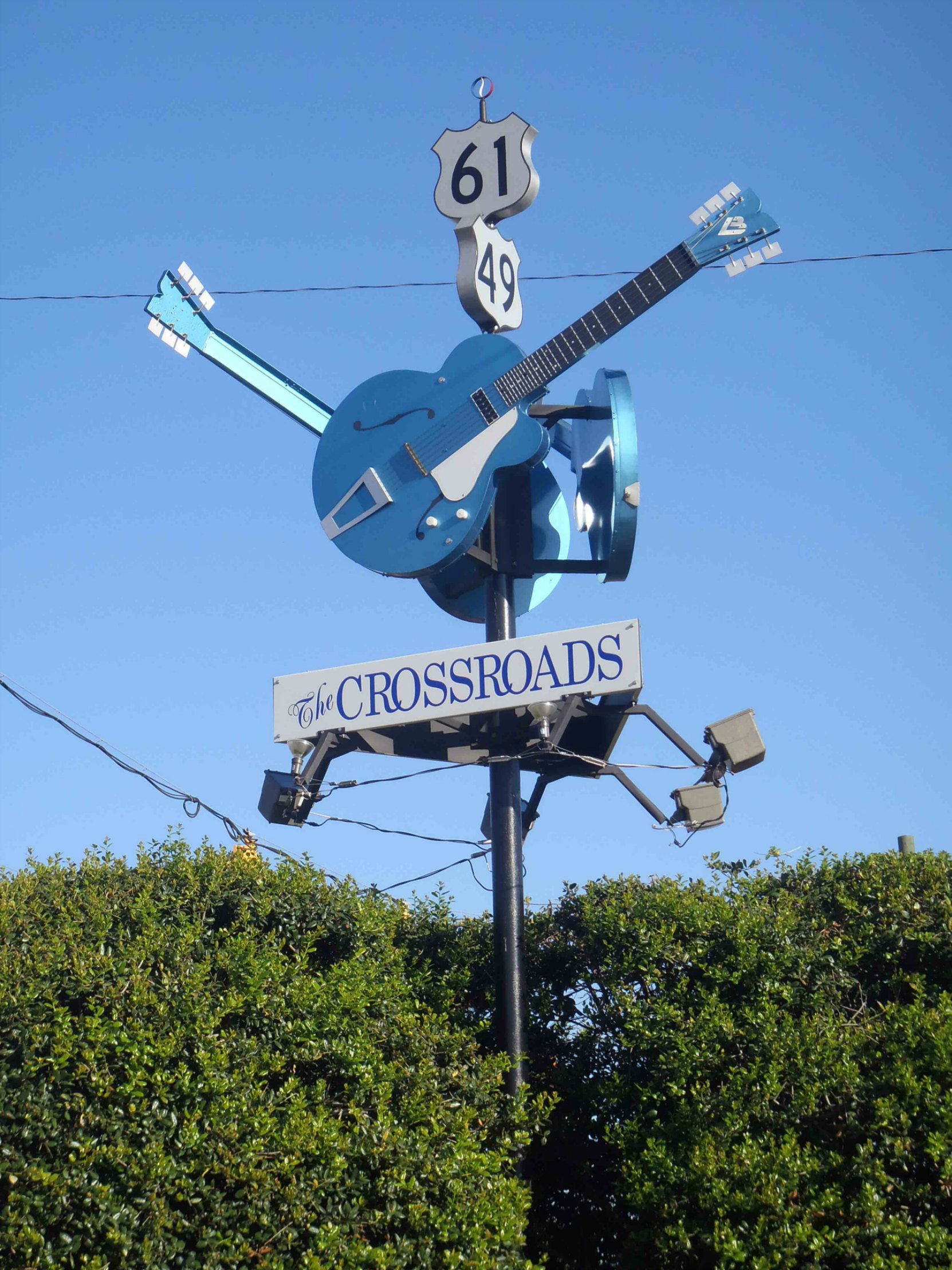 And so once again we ponder: Where did (does) a lot of the music in the past hundred years come from? (Also, what have been the fruits?) One of Dylan's mentors was a flat-out occultist.
Does that make it all — all modern music — bad?
One can't say that; one can say only that aspects of the major vibe, lost in all the frisson, are suspect.
John Fogarty of Creedence Clearwater Revival was another who went to Clarksdale and his career boomed afterwards. Did Elvis visit? Never has this been implied, though he was born just over a hundred miles away and died the same day of the year (August 16) as Johnson. Two Indian trails were the progenitors of 49 and 61.
Little is known about Johnson, except that he died under mysterious circumstances at age 27 (perhaps poisoned) and that subsequent rock'n'rollers have also had the peculiar misfortune of dying at that same age.
Jim Morrison, Jimi Hendrix, Janis Joplin. Kurt Cobain. Brian Jones. Amy Winehouse.  There are about a dozen prominent names — called "The 27 Club" (prayer need here!).
Let us sign off by saying simply: not a good club to join.