---
What's in a name?
When it comes to the devil, perhaps more than a moniker.
Or is it just happenstance?
For example, on January 2 there was a horrible crash about thirty miles from Lima, Peru, in which fifty-two were killed when a bus plunged 330 feet over a seaside cliff after colliding with a truck at a bend called "Devil's Curve."
In this case, of course, the name almost certainly comes from the danger of that bend (as opposed to the other way around).
Still, perhaps not a wise toponym.
And this is true in other locales. One notes the peculiarities of what sometimes seem like periodic accidents at Devil's Lake in North Dakota. One can recall from the news a person killed and four injured in a boat accident there. 
The year before that, two men were found dead inside a vehicle underwater there.
There also have been folks hurt or lost amid the surrounding cliffs.
From 1995 to 2014, 34 people died in boating-related accidents in North Dakota. In Devils Lake, there were a total of 14 boating accidents in that time frame. Of those accidents, there were two deaths in 2002 when a boat capsized and two injuries in separate incidents in 2008. 
There is also a Devil's Lake in Wisconsin. Mysteries here.
And in Michigan — where two years ago a snowmobile driver died due to a crash. 
In Niagara Falls, many mishaps have occurred at a place in the gorge called Devil's Hole where Senecas once massacred dozens of European pioneers; in recognition of that, a nearby creek is called Bloody Run.
Folks who have fallen into the turbulent waters in the gorge itself below Bloody Run and next to Devil's Hole, which is a cave, claim that they felt almost pushed, while others assert hearing whispers from inside. (Is it only because such a cave lends itself to spookiness?)
In Ireland there's Devil's Elbow, and while no one is saying there is an extraordinary rate of incidents, accidents are certainly not unknown here, including a head-on a bit more than a year ago.
Accidents happen everywhere there are roads, we all know. It's hard to classify some as even vaguely related. How about Devil's Swamp in East Baton Rouge, Louisiana, where a strange black cloud has been seen and where chemical wastes have contaminated twelve square miles of what was once a haven for wildlife and fishermen (and where a puff of caustic smoke once killed a neighboring woman)?
Near San Francisco, there is Mount Diablo. Narrow roads and poor signage have been blamed for an extraordinary number of accidents, especially with bikes. In one four-year period there were twenty-four such accidents. The reason for most: three hundred curves. But what about the twenty-six-year-old male who fell at Mount Diablo in 2016, and more starkly, the woman who several years before took her sixteen-year-old son to the top, at a lookout with a panoramic view of the Bay Area, and there shot him to death before turning her .357 pistol on herself?
Or, the spectral figures claimed on the slopes of the mountain, near a cemetery in which there are 250 buried from a mining company that had been there — quite a number of dead, considering  the community's size, many of the deceased bafflingly young…
In Larryville, Pennsylvania, according to United Press International, "a school bus returning from a field trip overturned Thursday on a narrow road with a sharp curve known as 'Devil's Elbow,' injuring 60 children and parents."
In the UK, a man went over the cliff at Devil's Elbow on what they call the "Peel to Kirk Michael coast road."
As stated: some of these spots are named for the devil because they are inherently treacherous, or at least hazardous. Way over off Japan is the Devil's Sea (Ma-no Umi), where there are Bermuda-Triangle-like tales and also real wrecks and ship or plane disappearances: in the last thousand years, hundreds of vessels (most due to warfare; some "unexplained") have been lost.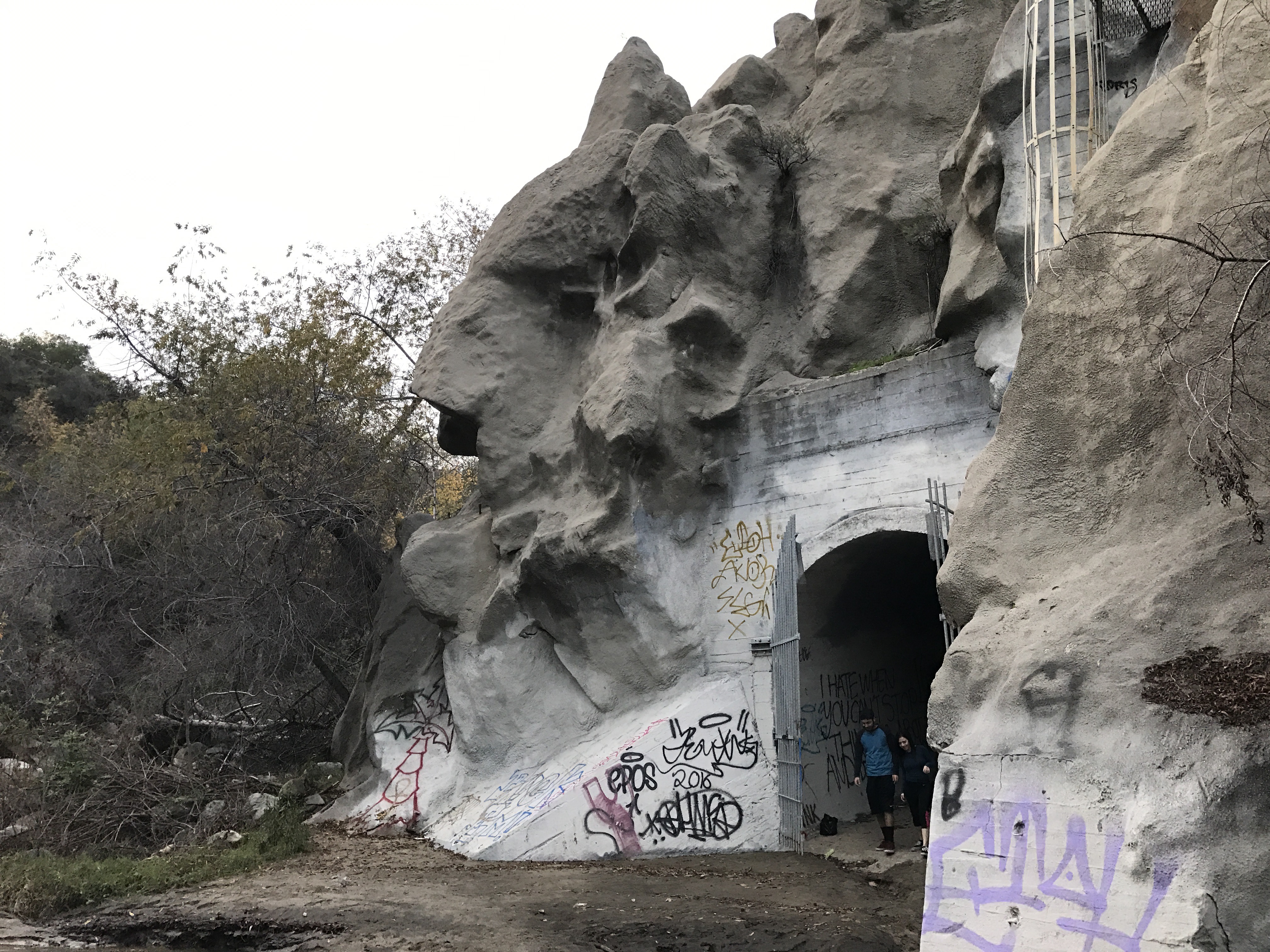 Spooky, in California, is "Devil's Gate Dam," right at the Jet Propulsion Laboratory in Pasadena. Here there have been dozens of suicides off a bridge (now known as "Suicide Bridge") in the vicinity. (Photo above, from California Curiosities.)
That's something that occurs whenever there is a high place from which to jump, but there also have been bizarre crimes committed in the area, and it is known that a rocket scientist named Jack Parsons — an adherent to black magician Aleister Crowley — used this area for major rituals.
More on Jack — a co-founder of the laboratory, and one of the most important rocket scientists in history — in an upcoming article…
[Resources: books on spiritual warfare]