---
Like so many of you, we have them — faceless angels, given as gifts — and never really thought much about them, until going back through a book about the late Irish mystic and deliverance expert, John Gillespie, who was from Newry, Ireland.
In this fascinating book (The Miracle Ship), John recounts the time a woman approached him after Mass in the sacristy (where he worked), acting very nervous and agitated. She told John she was having great difficulty sleeping at night, feeling no peace in her home. She was sure something was wrong. Among other things, a strange leak had developed in her upstairs bathroom, and the plumber was unnerved by the feeling he had trying to fix it, even mentioning to her that trying to fix it was "like wrestling with a demon," and soon after a tile in the bathroom crashed inexplicably to the floor — causing an implausibly loud noise heard downstairs. It didn't just fall; it had been smashed into pieces.
"As always, when I'm listening to people explaining their symptoms, I was already asking God to give me some insight into the root of this woman's problem," Gillespie told his biographer. "And as she continued to talk, I felt the Lord telling me that something had been brought into her house and that there was demonic activity there. The woman was suffering from the effects of it, even though she was going to Mass every day."
When he asked if there was something in her home that "was not of God," the woman assured him, of course, there was not.
But Gillespie (as relayed by author Dr. Brian O'Hare, left, a retired assistant director of a large Irish college), said he was given a vision from the Lord of two objects that had been given to the woman.
"And these two things," notes Dr. O'Hare, "were like a channel or an antenna, something that would pick up radio signals, except that in this case the signals were demonic.
"And I could see exactly what they were," he quotes the mystic as explaining. "One was a small figurine in the bathroom, a little statue of a faceless angel, and there was another one in a room downstairs. They were angels which the Lord had warned me about several times before. He had told me that there are satanic chants done over many of these faceless angels to bring harm to Christians who buy them and He was telling me again that it was through these statues that the demonic force was getting into the house and disturbing the woman's peace."
Now, before we all go about tossing out faceless angels, we should pray to the Holy Spirit ourselves. It seems unlikely that they are all hexed or even that most or many are. Let us note a website by a Catholic television personality, "Women of Grace," that looked into one source of faceless angels — a sweet woman named Susan Lordi — and issued a post called, "There's Nothing Sinister About Those Faceless Willow Tree Sculptures" (which are often found in gift shops, including at Catholic hospitals).
"I'm happy to report that there is nothing New Age about them," asserted the broadcaster. "These sculptures were created by Susan [of Kansas City, Missouri], who says her inspiration comes from a love of family, friends, and nature. When asked why her figurines have no faces, she responded: 'This ties into the viewer becoming more of a participant in the understanding of the piece. It makes it more personal for the giver and the receiver to envision what or whom they want. At the time I created Willow Tree, I had never seen it done before, except for my knowledge of Amish women who would sew dolls for their children. Because of their religion, they did not embellish the faces; I loved the simplicity and pureness of the way those dolls looked. It's the perfect example of 'less is more' – what is missing can speak volumes. Simplicity of form is one of my guidelines."
At the sam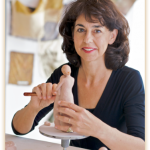 e time, Susan was quoted on the website as adding, ""The name Willow Tree directly reflects my love and reverence of trees; their graceful, columnar, beckoning, magical qualities. They have so much character and gesture. Trees are anthropomorphic—they possess human qualities. I carved a tree, a prayer as a metaphor for these 'tree-like' qualities we all aspire to: strength, beauty, and peace. I love willow trees in particular as they are self-healing; they bend with the wind…"
No one would accuse her of satanic chants, though to some, ironically, and decidedly, it might sound a tad "new age."
Getting back to John Gillespie, he further recounted that the woman with the disruption in her home had had the faceless angel blessed by a priest.
"I told her that there were evil chants done over them three times by Satanists and that if a priest blesses them only once, it doesn't do any good," claimed the mystic. "Undoing the evil from these things takes special prayers."
For your reckoning.
Gillespie said he had dealt with the issue of demonized objects in "hundreds of cases."
"Some houses are full of them," he wrote. "I came across a woman in Belfast who had about [four hundred dollars'] worth of them in her house. That woman told me that the mother wasn't well. How could she be with all that stuff in her house?"
This is not related to inspire paranoia — but to take to discernment. For all we know, the faceless angels are harmless (if, for sure, a bit uncanny). Why no face, we wonder (beyond the answer Susan gave)? Isn't that impersonal?
Again, perhaps no cause for concern.
But as Gillespie warned, "There is a huge battle going on all around us and every one of us is involved in it in some way and these things are part of the huge arsenal of weapons that Satan uses against us. And through them, we can leave ourselves open to demonic influences.
"When we buy them or accept them as gifts and take them into our homes, the spiritual forces start working against us. The woman who had the problem in her house threw out the angels that evening when she got home," says Gillespie. The home was also blessed. "That woman hasn't had a problem since and she's sleeping great."
An interesting account.
Gillespie also thought there were problems with some scented candles — but we'll leave that for a future article!
[resources: The Miracle Ship]