From Forums of the Virgin Mary: [translated]
Strange phenomena that Catholic exorcists have encountered.
There is a supernatural phenomenon, controversial, but no less real for that, the souls that are detained in the vicinity of where they lived, or lost their lives, or perhaps because they do not want to abandon their memories.
Exorcists have encountered these souls during exorcisms and claim that they differ from demons, because they do not curse and can even spontaneously pray and praise God.
But for some strange reason they are detained on earth.
Many perceive them as shadows that appear and disappear, without even trying to communicate with the living.
Popular culture calls them banshees or wandering souls.
Here we want to talk to you about these cases and show you how the places full of souls are cleansed, who do not find eternal rest, because they are stopped on earth.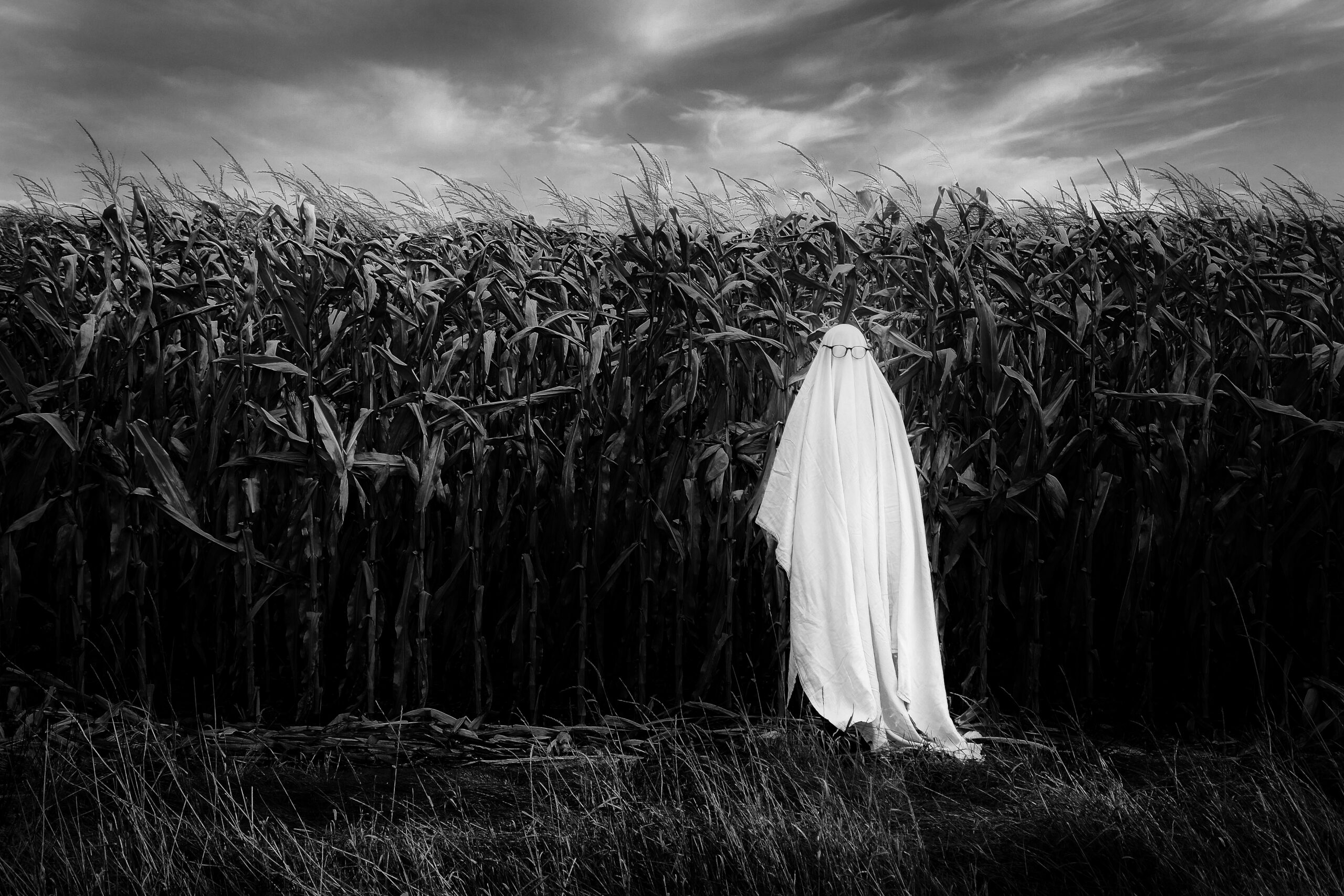 There is a strange phenomenon that people of all time have verified and it has been corroborated by the exorcists.
An issue discussed within the Church, but on which discernment has not been issued.
The demonologist and exorcist Father José Antonio Fortea describes them in his monumental work Summa Daemoniaca as lost spirits.
Souls that are neither demons nor doomed souls, at least not yet damned.
And who seek light and peace in the midst of great sadness and anguish.
Lost souls who pray, sing, and praise God voluntarily, without the need for prayers by the exorcist. 
Souls that do not blaspheme, therefore they are not demons.
Who apparently died without asking for forgiveness, but without rejecting or hating God.
Some of these spirits do not know anything about God or Jesus Christ or the Church, because no one preached to them.
Popularly they have been given the name of lost or wandering souls.
And they are the presences or shadows that many people have seen in old places and houses, and that are harmless.
Years ago, a Christian psychiatrist named Kenneth McCall from the UK described his experiences of patients with spirits who are in no condition to leave earth.
And he stated that they can be a serious matter because they can cause disturbances for those around.
Among those disturbances were those that happened in the famous Bermuda Triangle, on which McCall himself was operating and we made a video about it.
Many times these souls stay in the places where they suffered a tragedy, that is why people speak of ghosts of dead people in the house where they lived.
And that the new inhabitants can experience it as sensations of invisible presences in the house or visions of shadows that appear and disappear.
In almost all cases they are harmless and do not even try to communicate with living people. [SD Note: For your discernment; we believe they can be negative and harmful].
Dr. McCall has also found in his studies that although some people move from their home to escape the negative effects of lost souls, sometimes those souls accompany them to their new residences.
That's why when people move into a new house, it is worth having it blessed and saying frequent prayers of deliverance.
In his book "Healing the Family Tree," Dr. McCall recounted that he and eight other people, including a priest, went to Wounded Knee in South Dakota, USA. [see here or at bottom for McCall book on hauntings]
There was a massacre there on December 29, 1890, near a stream in what is now the Pine Ridge Reservation.
He related that there is a place on a small mound surrounded by hills, which marks the burial place of three hundred and fifty Indian men, women, and children, killed by shots from the American cavalry. 
And they decided to celebrate a Mass in that place, but since it was cold, they stayed inside the minivan.
But when Mass began, a rainstorm erupted violently and shook the truck.
And the priest interpreted it as an attack from the souls of the dead brave Indians.
McCall says that the black clouds appeared to be Indian women storming past him.
It was all so disturbing that they asked God for a sign that they were doing the right thing.
And at that moment the clouds parted and a strong beam of sunlight shone through the right side of the windshield, the wine glowed with a rich red light in the chalice.
But immediately the clouds closed again and the rain fell again.
When the Mass ended, after having confessed the massacre, asked for forgiveness, and commended the dead to God, the rain stopped.
They went out and walked to the royal burial area and noticed a great heaviness, it was an area of ​​ten by six meters.
According to his research, the apparitions of lost souls can cause physiological effects in some people, which can range from insomnia and reactive depression, to gastrointestinal disorders.
Some have skin allergies, eczema, hives, or edema, while others have respiratory problems such as chronic sinusitis, asthma, or hay fever.
For example, there is a case of a woman from Massachusetts, United States, who said that they acquired an antique, a bed from 1700 for her son.
And he began to have an unknown fever, which made him go to the doctor frequently.
But the boy said that he played with characters who would visit him when he slept.
Finally, the parents sold the bed and the strange visits and the fever stopped.
The boy did what he should not do, which was to play with the ghosts and talk with them.
We insist we must pray for the souls in pain so that they find the way to God. 
Many cases of restless souls are consequences of a lack of intergenerational liberation from family trees, says Dr. McCall.
There is also the case of a man who for 30 years was treated and medicated for schizophrenia, for what was believed to be hallucinations, until someone realized what was really happening.
In his supposed hallucinations there were battles, ships, seas, swords, fire.
And the one who assisted him realized that his ancestors had been pirates and corsairs since 1590.
The result was that he was released by doing a requiem mass for his ancestors, and as a result of the experience his brother became a priest.
Another case is that of Mother Teresa of Calcutta, of Albanian origin, who was called to perform prayers of liberation at the grave of Albanian dictator Enver Hoxha, who had died in 1985.
The dictator's widow summoned her in 1989 because screams were heard at the place of his burial and there were tremors every night, which terrified the soldiers who stood guard there.
Once Mother Teresa said the prayers, the phenomenon ceased; we have made a video about this [in Italian]: https://youtu.be/wGfbsC5aSZk
Also in Iraq, US marines detected something abnormal at an observation post built over an ancient grave.
Supernatural events were happening, there were disturbing weather, strange lights, and screaming at night.
In Uganda, Africa, at the scene of a massacre, members of a sect killed in a fire appeared on a hill.
While in the former Soviet Union, a strange bonfire was seen suspended in the air, near the ruins of a monastery. This was in the Leningrad region.
Also in Russia, near Novgorod, where they were found dead in the war, people reported strange sounds in a forest, such as songs, laughter, and footsteps.
In the US state of Georgia, on Saint Simons Island, the same thing happens.
There in 1803 ten slaves chained together drowned.
Fishermen avoid catching crabs there.
And after the great Asian tsunami of 2006, sounds were heard and apparitions were witnessed, to the point that tourists are kept at a distance, from those still contaminated places, especially in Thailand.
And so we can continue citing cases and surely you can, too.
One more case worth citing is what happened in the Vatican.
St. Peter's Basilica was built on an ancient pagan necropolis, replete with relics and the dead.
And at one point many crows appeared, so an exorcism was ordered.
This cleanliness is important in every place that strange events happen, even in the Vatican.
Exorcists know that some souls stop near where they lived or died or retain a memory.
And that's why older cities have ghost tours, which are dangerous.
And there is like a heaviness in old places in Europe.
Therefore there are places that evidently keep memories of the past and we recognize it from the Catholic point of view.
And that is why we recommend not to come into contact with the souls in distress, but to bless the places where they live and liberate them, thus opening the way to purgatory or heaven.
Also, a prayer never hurts.
Well, so far this is what we wanted to tell you about the so-called souls in pain that torment the living, and that evidently suffer until they are freed by masses, prayers, and blessings…