---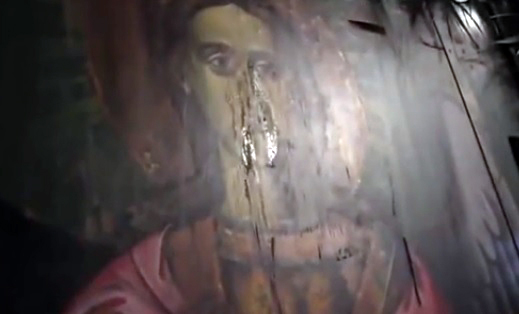 In the aftermath of his September feast day — and as a major hurricane bearing his name sweeps into the U.S. — one wonders what it means when an icon of the great warrior Saint Michael — hardly associated with weeping — seems to be crying.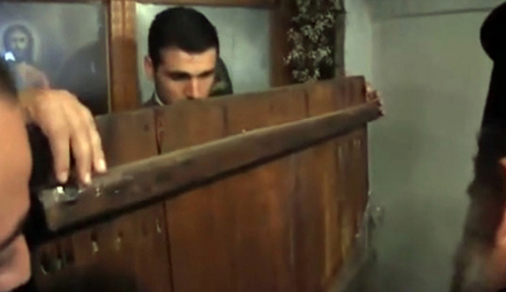 Such purportedly has been the case in recent years in Rhodes, Greece, where inhabitants have lined up to witness a likeness of him weeping at the Sacred Church of the Archangel Michael in the Old Cemetery of Ialyssos.
The painting dates to 1896. The exudation was first reported in 2013.
Is it healing liquid? Or a simple sign of concern, distress, or sorrow? Is it because the enemy rises with such force and deceives so many — so very many? Good or bad? A sign that he is short of human warriors, and that the enemy is multiplying? Or is it simply a case whereby the supernatural sought to show itself and this was the nearest outlet? 
The icon long has been labeled a "wonderworking" one. And apparently, those wonders have continued into our own era.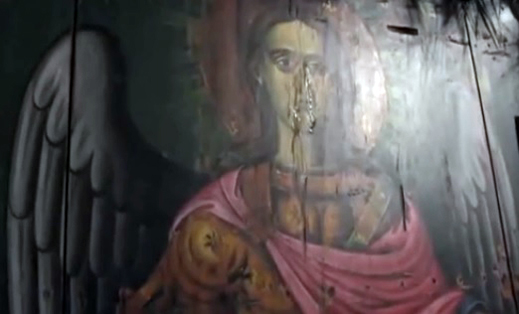 Said a report: "The [Orthodox] Metropolitan, after indeed verifying there were what looked like tears on the face of the Archangel, asked for the icon to be moved from the place it was hanging. They then examined the back side of the icon as well as the wall on which it rested to determine if there was moisture which passed on to the icon.
"Having established that this was impossible, the Metropolitan of Rhodes testified that this was in fact a miracle, and he asked that the icon be brought to the Sacred Church of the Dormition of the Theotokos in Ialyssos for public veneration, as well as to see if a change in environment would halt the phenomenon. 'We will move it to the big church to see how the phenomenon evolves,' Metropolitan Kyrillos told the faithful who had gathered in the small chapel."
Continue it did. A rarity, when it comes to such statues, most of which are of the Blessed Mother. An intense manifestation for intense times.