---
Chinese in North America and in China itself, like other ethnic groups, are, in general, good people — upstanding citizens who are very disciplined and excel in academic areas valuable to any society. More often than not, they are humble, kind, and considerate. This is not to besmirch them in any way.
But the nation of China itself?
It is a mystery — as is this bizarre virus, which we still can't understand.
China is officially communist — atheistic. The people are good; the government, perhaps with many good men in it, is based on evil.
This bears ill fruit.
There are superstitions. There is paganism. It is the "Land of the Dragon." Dragons represent Satan. Satan is the architect of both atheism and paganism. He also is a liar, and there has been deception with this pandemic.
It is also where until very recently there was forced abortion — with one baby per family allowed while additional ones were illegal and if born taken from their mothers and in some cases killed by police or soldiers in front of the weeping parents. (It now allows up to two children if the parents were from single-child homes.)
Meanwhile there were reports of moribund corona victims placed into body bags and screaming as they were shoved into crematoriums.
Suffice it to say human life is not valued as highly as it should be. (There is also too little regard for God's Creation: animals are treated cruelly, bears placed in cages barely larger than their bodies in markets that sell exotic meat, including cats and dogs.)
This is also a nation that in many ways is taking over the world — with its products, its loans, its technologies, its medical supplies, its cheap labor, and increasingly, its military.
The former commander of the U.S. Army in Europe, Lt. Gen. Ben Hodges, says it's likely the United States will be at war with China in 15 years.
This is a nation upon which the world is now dependent for everything from medication to ventilators and one that has thousands of firms operating in nations from Africa to Poland (and many workers in northern Italy, which is why the coronavirus struck there with particular breathfire).
And peculiar it has been, what has come from that part of the world through history and during recent times.
The coronavirus itself seems to have sprung either from a Chinese laboratory — right there in Wuhan (one that was studying coronaviruses in bats, and according to reports, synthesizing new versions of that insidious virus) — or perhaps its horrific "wet markets"; see here;, besides its other strange characteristics, the huge bat pictured to the left at one such market bears a formation, however implausibly, that nearly looks like Christ Crucified).
Remarkably, there are reports the Wuhan laboratory was funded — in a horrible irony — by the United States (to the tune of $3.4 million; see startling video at the bottom of this commentary).
Another irony: the virus causes many to die as if drowning or suffocating, and China's first canonized saint, St. Jean-Gabriel Perboyre, a Vincentian missionary priest from France, was martyred by suffocation on a cross in Wuhan: betrayed by one of his catechumens for money, bound in chains, tortured, tied to a wooden cross and strangled to death in Wuhan in 1840 [see here].
Do the pagan roots account for negative "exports"?
The great Justinian Plague that helped bring down Rome came from Asia. So did the "Black Death" of the Middle Ages (fleas on rats harbored on Asian  caravans). So did a bacteria that is decimating citrus crops in Florida (where olive trees are replacing them), and so did a weevil destroying giant palms. (Most recently:  a large wasp that with one bite can be lethal to those with an allergy to venom.)
Do viruses have a spiritual component? Does venom? Or is this picking on a region?
And then there is the persecution.
The authentic Catholic Church has been totally suppressed, with the government in charge of who becomes a bishop. "Religious observance in China is on the rise," notes the Council on Foreign Relations. "Amid China's economic boom and rapid modernization, experts point to the emergence of a spiritual vacuum as a trigger for the growing number of religious believers, particularly adherents of Christianity and traditional Chinese religious groups. While China's constitution allows religious belief [in Wuhan, long lines for Confession], adherents across all religious organizations, from state-sanctioned to underground and banned groups, face intensifying persecution and repression."
Perhaps this is one reason the Virgin Mary appeared — in an all-but-forgotten apparition.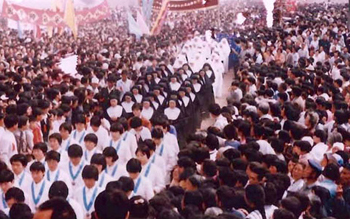 In a village known as Dong Lu in the Hebei (distinct from Hubei) Province of northern China, the phenomena started on May 23, 1995.
It occurred as an underground Mass was being concelebrated by four bishops and 110 priests for approximately 30,000 pilgrims (there despite threat of arrest) at one of the nation's two famous shrines.
As  described by several witnesses and confirmed by Bishop So Zhimin of the Baoding Diocese, the sun was seen to move and suddenly lose its overpowering brightness.
As elsewhere, it was as if a giant Host eclipsed its center.
"Rays of various colors emanated from the sun," said a report by the Cardinal Kung Foundation in Connecticut. "With the passing of the minutes, the sun changed colors, first to yellow, then to red and blue, followed by other colors. Subsequently people saw different apparitions in the core of the sun: a holy Cross, the Holy Family, Holy Mary, and the holy Eucharist. At times the sun would approach the crowd and then retreat. People were heard crying out, 'Holy Mother, have pity on us, your children,' and 'Holy Mother, please forgive my sins.'"
The crowd shouted out similar observations, often in unison. ("Yellow! Red! Blue!")
And so we see how dearly the Blessed Mother looks upon her precious suffering children in a nation that remains an enigma — mysterious and confounding and in need of prayer, not disdain.
---
[Further plague footnotes:
Look at how food lines in Europe (Barcelona) resemble those during Great Depression: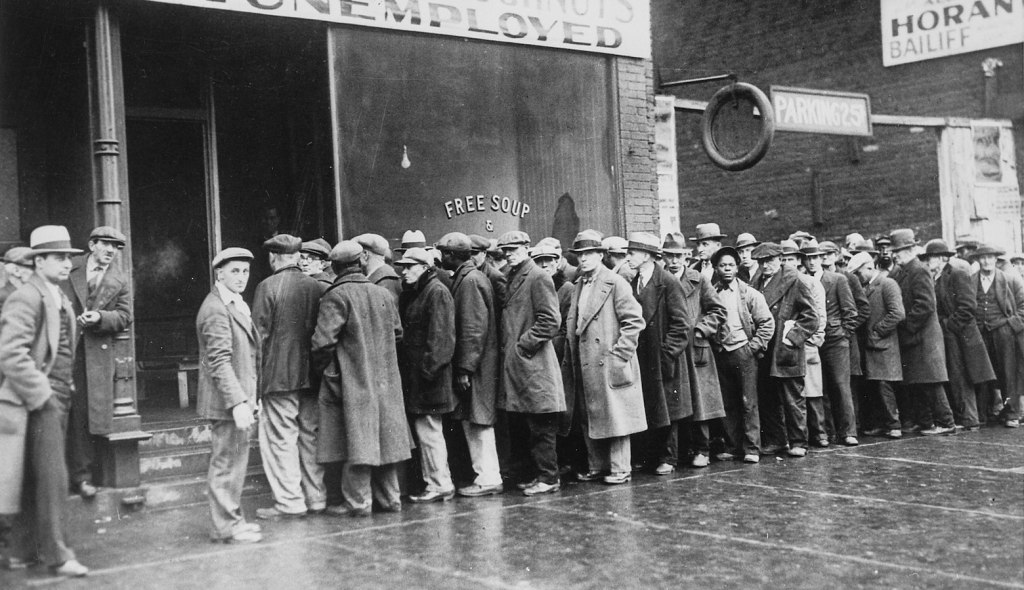 Ironic:
And look at how wildlife retook crowded beach in Peru: