---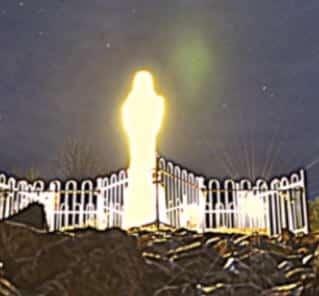 Is there light in your life? That's the most important question, when it come to luminosity: what's in and through our souls.
But let's take another question, when it comes to light: as we have occasionally asked, has it come through the lenses of cameras in a miraculous way? Are "supernatural" images really there, or imagined, or superimposed?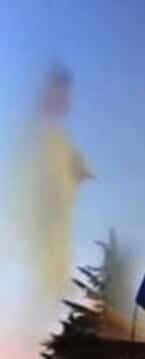 If something spurs us to inspiration or prayer, we'll take it. Let everyone glean from reflections and glints and scintillations what they spiritually glean, as long as there is no deception. Lights, camera, action (prayer action). 
As a Pope once said, it's better to believe than not believe. For if we believe and something is true, we have benefited from not falling into the realm of the overly skeptical (who believe in too little, and therefore lose spiritual vibrance ), while if we believe and it doesn't turn out to be true, we will be graced as if it were.
That's a Pope saying that, which makes sense, although a certain bit of analysis can make for an interesting discussion (and although manifestations of light and anything else "spectacular" should not divert us from serious prayer through simple faith; we should not have to rely on such things).
Meanwhile, right, look at what Chad Pergram, a Fox News reporter, posted: "A cross is now visible on the floor of the U.S. Capitol Rotunda."
A French website, www.croxacier.fr, recently posted a number of photographs from Medjugorje in Yugoslavia, long known for such photos. The Vatican is readying the shrine for expansion, following the prolonged visitation of a papal envoy (an archbishop, from Poland) who concluded that the place was "the spiritual lungs of Europe" (in fact producing far more vocations than anywhere else in the modern West and attracting the young people — who are missing in most churches — en mass).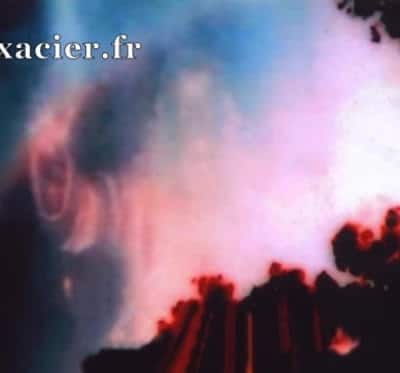 Are the photos from there supernatural?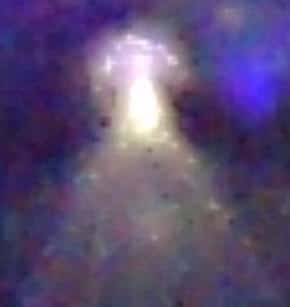 There is the one at the top, which skeptics could easily dismiss as the glare from a camera's flash.
Can such a flash cause so much of a luminosity on a marble statue? We'll let photographers ponder that. Does it detract from the power of the photo? Better asked: can Heaven not use natural forces to impart supernatural attentiveness?
That one at the top left, that is not so much light as a partial color silhouette. Is it a bit too unusual? Is God not more subtle? Has it been photo-shopped?
We have no answer to that, as we also are not very sure about the one under it, this time seeming to be Jesus but perhaps also a bit too defined. Was it superimposed?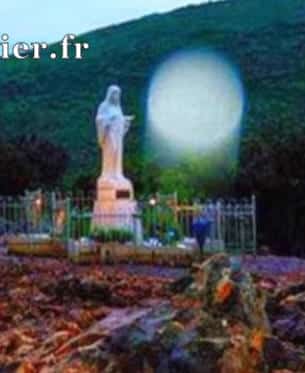 The next one, above, on the right, looks more natural, and thus more authentic, as if to form Our Lady's crown of stars. And to the left is a huge orb of light next to a statue on "
Apparition Hill." Orbs of light are well-known to those who research spiritual manifestations (when they are not effects of a moist camera lens; this one seems a bit too large for such a ready explanation).
We have no doubt a good number are manifestations. On the right is a fulguration captured as a pastor visited an orphanage. It materialized in several photographs. 
Said the friend who sent this to us, "A ray of light came over Father  Peter as he was praying. Wow. I do hope and pray to be a channel of heavenly blessing to this humble Christian orphanage in a very rural village of Uganda." 
A defect in the cell phone? Or better seen as a spur to prayer?  We'll go with the latter: better to believe than not to believe. It seems to us that Heaven rewards faith more readily than it does skepticism.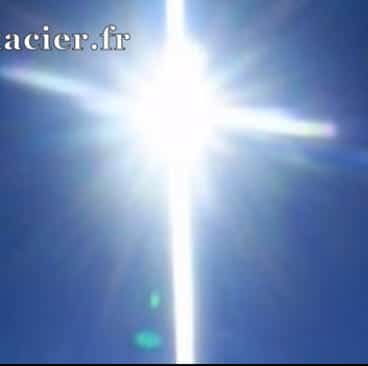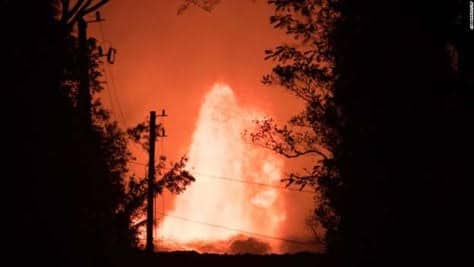 [Michael Brown upcoming retreats in Tampa and New Orleans]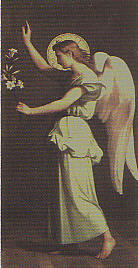 Pray always for purity and love
+
Please report any inappropriate ads or content
---