Ironic it is how far we, a Church, have strayed from the vision of the great Francis at Assisi, for if we followed his way, we would strip ourselves of all signs of worldliness and embrace the mystical way of communication through sacrifice and simplicity and long deep prayer to God.
This was the way of Francis of Assisi, whose day we celebrate and whose mysteries inspire us to such prayer, the means to the miraculous Mystical Body here on earth and the way, with sacrifice — with unworldliness — to life eternal. This is a saint — patron of all Italy — who gave away even the clothes he wore as a demonstration of detachment, a saint to consider at a time when the Church is bedecked with protocol, with complexity, with the theological, with the vestiges and accouterments of royalty, with self-ceremony, with politics, with power, precisely what Francis had set aside and fled; at a time when the world tramples nature itself.
He gave us the creche — the foundation for the Manger at every Christmas Mass — yet we forget his miracles.
Those mystical gifts — so rarely practiced at present — included God's Voice in prayer, not as long allocutions but brief powerful words that cut to the heart and spoke of Christ's own simplicity.
In that brevity was authenticity.
"Francis!" he heard the Lord say. "Everything you have loved and desired in the flesh it is your duty to despise and hate, if you wish to know My Will. And when you have begun this, all that now seems sweet and lovely to you will become intolerable and bitter, but all that you used to avoid will turn itself to great sweetness and exceeding joy."
He forsook the wealth of an aristocratic child and embraced the lepers. He emptied himself of self. (Do we? Does the Church?)
From the Cross in the neglected field-chapel of San Damiano, notes a Franciscan site, Christ told him, "Francis, go out and build up my house, for it is nearly falling down."
Do we build up or tear down?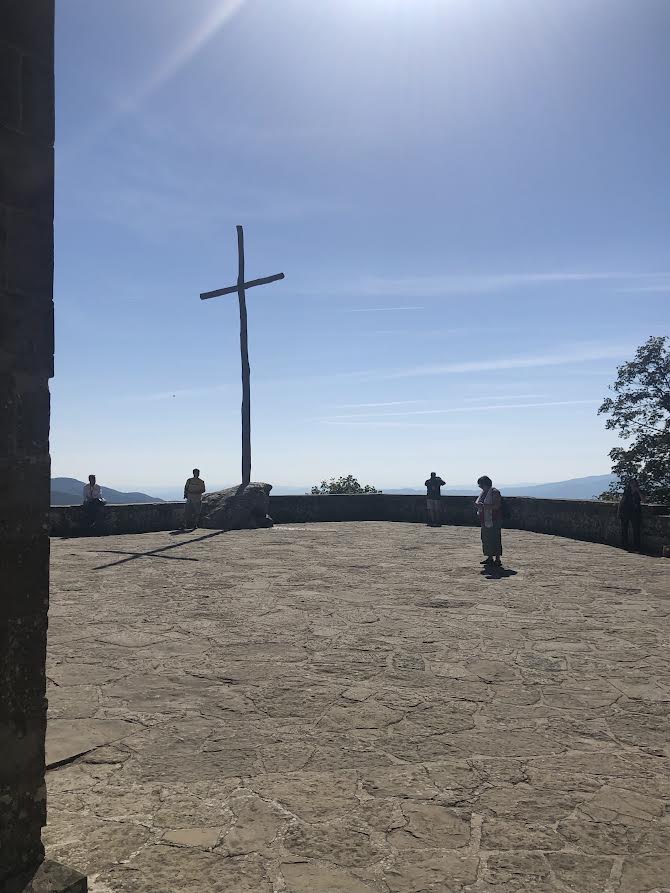 "Francis became the totally poor and humble workman. He must have suspected a deeper meaning to 'build up my house.' But he would have been content to be for the rest of his life the poor 'nothing' man actually putting brick on brick in abandoned chapels. He gave up all his possessions, piling even his clothes before his earthly father—who was demanding restitution for Francis' 'gifts' to the poor—so that he would be totally free to say, 'Our Father in Heaven.'"
He embraced fasting — which has been watered down to such an extent in current times as to be unrecognizable.
Francis limited himself once to half a loaf of bread over a period of forty days in imitation of the Lord.
"Francis' first rule for his followers was a collection of texts from the Gospels," we're reminded. "He had no intention of founding an order, but once it began he protected it and accepted all the legal structures needed to support it. His devotion and loyalty to the Church were absolute and highly exemplary at a time when various movements of reform tended to break the Church's unity."
It was at Assisi 1990 that this writer heard simple words that transformed his writing. ("Communicate with confidence.")
But never contention. Never ill will.
On his deathbed, Francis said over and over again the last addition to his Canticle of the Sun, "Be praised, O Lord, for our Sister Death." He sang Psalm 141, and at the end asked his superior's permission to have his clothes removed when the last hour came in order that he could expire lying naked on the earth, again in imitation of his Lord.
It was at San Damiano that this writer, walking up a steep pathway back, took an olive from an overhanging tree and biting into it, was stopped by its extreme unripe bitterness — a bitterness that moments later transformed inexplicably into the sweetest taste — sweet in a way sugar cannot present — one could recall.
As for his stigmata, which he received two years before his death, like Padre Pio it involved an angel (along with Jesus).
While in prayer on the incredible remote mountaintop of Mt. Alverna (also known as La Verna, which we visited last month on pilgrimage — a truly mystical highland), Francis had gone there with two other friars, Brother Leo being one. While deep in prayer on a day near the Feast of the Exaltation of the Cross, a seraph (angel) appeared. The seraph was seemingly crucified on a cross. Thomas of Celano, writing within a few years of Francis' death (around 1229), described what happened as Francis contemplated the possible meaning of the vision:
"…the marks of nails began to appear in his hands and feet, just as he had seen them slightly earlier in the crucified man above him. His wrists and feet seemed to be pierced by nails, with the heads of the nails appearing on his wrists and on the upper sides of his feet, the points appearing on the other side. The marks were round on the palm of each hand but elongated on the other side, and small pieces of flesh jutting out from the rest took on the appearance of the nail-ends, bent and driven back. In the same way the marks of nails were impressed on his feet and projected beyond the rest of the flesh. Moreover, his right side had a large wound as if it had been pierced with a spear, and it often bled so that his tunic and trousers were soaked with his sacred blood."
St. Bonaventure later wrote: "The sight of it amazed Francis and his soul experienced joy mingled with pain. He was delighted with the sight of Christ appearing to him so graciously and intimately and yet the awe-inspiring vision of Christ nailed to the cross aroused in his soul a joy of compassionate love."
How much do we contemplate all this? How often do we think of what Francis relinquished to follow Christ? How frequently do we and does the Church, does the Vatican, do the dicasteries, do the nunciatures, do the episcopal offices (or "palaces," as they are also known), do the parish offices, do we in the pews?
They are questions to ask as the Church embarks on meetings to set its future course.
–MHB
[Suggested reading: The Little Flowers of Saint Francis]
[resources: Spirit Daily pilgrimage to Holy Land]
+