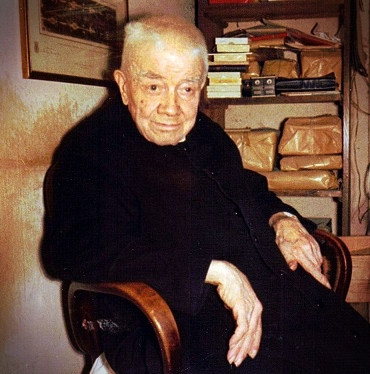 So many miracles. So many obscure souls who exercised remarkable faith.
One example seems to have been (and we always discern) Dolindo Ruotolo, a diocesan priest and Franciscan tertiary who died in 1970. With Father Pio of Pietrelcina, whom he knew — and who died two years before — Father Ruotolo is said to have been what a website dedicated to him describes as "a twentieth-century spiritual cornerstone of the Catholic Church."
According to one blogger, "Of him, St. Pio once said 'The whole of paradise is in your soul.' In fact, in a postcard to Bishop Huilica in 1965, Father Dolindo predicted that 'a new John will rise out of Poland with heroic steps to break the chains beyond the boundaries imposed by the communist tyranny.'" That, of course, was fulfilled in Pope John Paul II.
But perhaps Fr. Dolindo's greatest legacy was the Rosary of Abandonment [as well as his Novena of Surrender] that he left the Church in which Jesus unfolds how to abandon to Him. If Saint Faustina's revelations guide us on how to trust in Divine Mercy, Father Dolindo's revelations teach us how to abandon ourselves to Divine Providence.
Father Ruotolo's re-released book, Meditations on the Holy Rosary, is now available here.
The mystical priest received the gift of understanding those things that are "above" through the intercession of the Blessed Virgin Mary, it is pointed out. "He devoted his best energies to studying and commenting on Sacred Scripture so as to make it easy for everybody to understand. He was faithful to his priestly vocation, which he cherished above all of God's gifts, spending himself heroically for the salvation of souls in humility 'before God and men.'"
As for the mysticism: Jesus and the Virgin were said to have visited him "with intimate consolation," which came with "crosses to bear, crosses of incomprehension by both his family and his parish, crosses of expiation for his brothers' sins, crosses of redemption for the salvation of God's flock." He tended to those with "leprosy of the heart and diseases of the soul."
Isn't this what we all need during Lent, which is a special window of opportunity for purity?
Father Dolindo, as too occurred with Father Pio, was exiled in solitude, as Christ was alone on Calvary, becoming a person hidden from sight — led it was said by the devil into the desert and there tempted. Those crosses?
The mystic's family doubted him, many believed he was possessed by a foul spirit, and his church removed his main and only consolation: celebration of the Eucharist. Like Padre Pio, who was also removed, for a time, from public ministry, Father Ruotolo was prohibited from celebrating Mass for seven long years, reduced instead to reciting psalms and declaring — imploring — the triumph of God deep down in his soul.
During the tempest that assailed him, he had the comfort of prayer and of private consolation from the Virgin and Jesus — visions, words of knowledge, perhaps apparitions.
The testimonies of miraculous healings associated with him constitute a lengthy list: tuberculosis healed, limbs made well, suicide attempts thwarted due to tempestuous intervention. "All these wonders dealt with helping the daily needs of ordinary people such as the illness of a child, a test to overcome, a job to be found, the miracle — in other words of getting through the day — which can be most extraordinary in a city like Naples," which he was from and where everyone seemed "afflicted by poverty and degradation," says the website.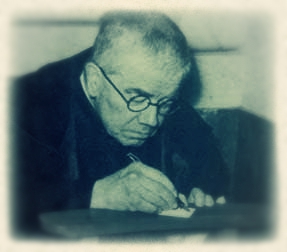 Comfort for the suffering was his unique offering, one that never ended even if his own health was at stake. For Father Ruotolo prayed for everyone; turned away no one; and suffered for all who sought his intercession. Like Saint Pio, he didn't care for elaborate food or clothing, withstood cold and hunger, and was seen to have walked through the snow without protection on his feet. This is detachment!
"He went to the most contagious of the ill and caressed them, kissed them, and in cases where disgust would have put off compassion of others, with Dolindo there was only mercy.
"His patience was heroic virtue; he knew from inspiration from within that worldly evil is dispelled through the charity of a patient heart. In man he saw the son of God's suffering and preferred to put himself in the background to allow others to shine in the limelight Divine, however subtle, which illuminates each and every man, woman, and child born on earth and is the life of God within us. Nothing was dearer to him than the Church. He allowed no one to pity him and in so doing discredit the Mother-Church. He professed that it is the Mother of Saints, that only through obedience to the Catholic Church and the Holy Pontiff can the flowers of Paradise blossom, and that sainthood is a good bought through the bank of tears.
"That's why Dolindo found love through suffering and the more his arthritis crippled him up in knots, the more he felt joy from the fruits he brought to the Church.
"Sustained by ulcerous, pus-filled, wounded legs, he went onward in his journey along love-strewn paths towards the Divine, towards peace foreseen only in his grave. When he entered the church he kissed the hand of the poor begging at the door.
"Dolindo's heart swelled with joy upon feeling the presence of the Virgin, the saints, and of the Guardian Angels.
"His heart was large, overflowing with love to the point of rupturing his rib cage. His benign nature aided souls in distress even from afar. He is known to have covered the sick destined to the operating room with his cloak, thus helping them pass a night of anguish. He also was known to have taken part himself in grave surgical operations." To patients otherwise abandoned by medical science, he prescribed "quite miraculous remedies under the name of Doctor 'Cretinico Sciosciammocca.'"
At 88 death hovered over Father Dolindo himself, afflicted as he was with bronchial pneumonia. At his deathbed, the scent of lilies filling the air, and for a fleeting period, as he seemed to be "seeing" into eternity, his apparently reanimated body floated lightly — levitated — from the bed as if going towards a vision — that of his Celestial Mother to whom he had consecrated his life and works.
(After death, the miracles have allegedly continued. When those who seek intercession knock on his tomb in the Virgin of Lourdes' Church in Naples, it is said, he "never hesitates to listen.")
As Jesus once allegedly said to him: "Why do you confuse yourselves by worrying? Leave the care of your affairs to Me and everything will be peaceful. I say to you in truth that every act of true, blind, complete surrender to Me produces the effect that you desire and resolves all difficult situations."]
[resources: Meditations On the Holy Rosary and Novena of Surrender]
[A prayer and meditation of the Servant of God, Father Dolindo Ruotolo:
"JESUS YOU TAKE OVER"
Jesus to the soul:
"Why are you upset and agitated? Leave your cares to Me and all will be fine. I tell you honestly, every act of true and blind reliance on Me, results in what you desire and will resolve all your difficulties. Abandonment in Me does not mean being frustrated, becoming anxious and desperate, offering Me your anxious prayer, that I may follow you and have your anxiety be a prayer. Abandonment means to shut the eyes of your soul in peace, moving your thoughts away
from your troubles, and instead of thinking about your worries and pain, let Me take over your troubles. Simply say: Jesus, You take over.
"To be worried, restless, and to think of the consequences of an event is the opposite of reliance, it is really contrary to it. It is like a child, who wants his mom to take care his needs, but in the way he wants: and with his whims and childish ideas he hampers her work. Shut your eyes and go with the flow of My Grace. Do not ponder over your present moment and put away thoughts of your future as a temptation; rest in Me, believe in My goodness, and I swear on My Love that if you think like this — 'Jesus, You take over' — I indeed will do it for you, I will comfort you, free you, and guide you. If I have to take you in a different direction from the one you are looking at, I will train you, I pick you up in my arms, and you will find yourself, like a baby sleeping in his mother's arms, on the other shore. What gives you immense stress and hurts you, is your reasoning over it, your thoughts and the pains it gives you; it is wanting at all costs to take care by yourself of what is afflicting you.
"How many things I can do, be it a material or a spiritual need, when the soul turns to Me, looks at Me and says to Me: 'Jesus, You take over,' and closes its eyes and rests in Me! You do not receive many graces because you insist on getting them by yourself; but instead you will receive numberless graces when your prayer is in full reliance on Me. When you are in pain, and you pray that I may act, you want Me to act as you believe I should… you do not turn to Me; instead you want Me to submit to your ideas; you are like a sick person who does not ask the doctor for the cure, but tells him what the cure is to be. Don't be like this, but pray as I taught you in the Our Father: Hallowed be your name, which means: may You be glorified in this need of mine; Your Kingdom come, which means, everything may work toward Your Kingdom in us and in the world; Your will be done on earth as it is in Heaven, which means, 'You direct it as it seems best to You for the good of our eternal and temporal life.'
"When you truly tell me: Your will be done, which is the same then to say: Jesus, You take over, then I do intervene with all My omnipotence, and I will resolve every situation, even if there is no way out. For example, do you see your sickness becoming worse instead of improving? Don't become anxious, close your eyes and tell Me with trust: 'Your will be done, Jesus, You take over.' I repeat it, I do take care, I intervene like a doctor, and even accomplish a miracle if it is necessary. Does a patient become worse? Don't be frightened, close your eyes and say: Jesus, You take over. I tell you again: I will indeed do it for you, and there is no medicine more powerful than my loving intervention. I take over only when you close your eyes.
"You never sleep, you want to appraise everything, to think, to delve into everything; you choose to rely on human power, or, worse, on men, trusting their intervention. This is what hampers My words and My will. Oh how much I long for this reliance in order to assist you, and how much I grieve to see your anxiety. Satan does just this: he gives you anxiety to remove Me from you and throw you into human initiative.
"Trust only in Me instead, rest in Me, rely on Me in everything. I do miracles in proportion to your complete reliance on Me, with no thought of yourself. I spread treasures of graces when you are in the most squalid poverty. If you have your own resources, even a few, or if you seek them, you are at the natural level, thus you follow the natural way of things, which often are dominated by Satan. Never a thinker or a philosopher has done any miracle, not even among the saints; only he who relies on God does Divine work.  When you see that things become complicated, say with your eyes closed: 'Jesus, I abandon myself to You; Jesus, You take over,' and stop worrying about it, because your mind is sharp and for you it is difficult to distinguish evil; but trust in Me, and let your mind wander away from your thoughts. Do this for all your needs; all of you, do this, and you shall see great things, endless and silent miracles. I swear it on My Love. I shall indeed take over, you can be sure of it.
"Pray always with this loving confidence and you shall have great peace and great fruits, even when I choose for you the grace of immolating yourself for reparation and the love that entails suffering. Do you believe it is impossible? Shut your eyes and say with all your soul: 'Jesus, You take over.' Don't be afraid. I indeed will take care of you, and in humility you shall bless My Name. A thousand prayers do not equal one single act of abandonment; don't ever forget it. There is no better novena than this: 'Oh Jesus I abandon myself to You, Jesus, You take over.'"]
[The Rosary of Abandonment]
God come to my assistance
Lord make haste to help me. Glory be.
Our Father.
Hail Mary.
1st Decade: Jesus, You take over!
(10 times on the beads of the Hail Mary).
Glory be.
2nd Decade: Mother Mary, guide me.
(10 times on the beads of the Hail Mary).
Glory be.
3rd Decade: Jesus you take over!
(10 times on the beads of the Hail Mary).
Glory be.
4th Decade: Mother Mary, guide me.
(10 times on the beads of the Hail Mary).
Glory be.
5th Decade: Jesus, you take over!
(10 times on the beads of the Hail Mary ).
Glory be.
In conclusion:
Hail Holy Queen
[Fr. Dolindo Ruotolo (1882-1970) Napoli, Italy His body rests in his Parish Church Our Lady of Lourdes and St. Joseph of the Aged, Via Salvatore Tommasi, Napoli, Italy]