From Forums of the Virgin Mary [translated and unedited]: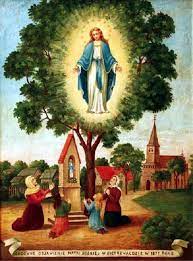 Gietrzwald's apparitions show how every human being must decide their future.
God has a plan for us from the moment we were conceived.
It is the best plan for us, because if we obey it, we are sure to receive the abundant graces that He has destined for us.
But if we don't, not only will we not receive those graces, but the path we choose may lead us to disaster.
This is clearly reflected in the apparitions of Gietrzwald, in Poland, approved by the Church, which give us great teachings.
Here we will talk about how the Gietrzwald apparitions were, what happened in them, what happened to the two visionary girls later, and what the message was and should remain for each one of us and for the humanity of our time.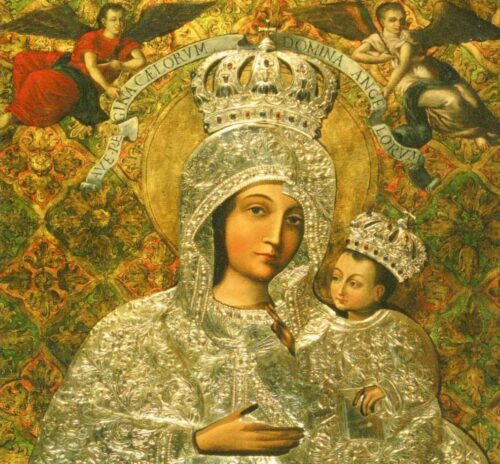 When the Virgin Mary appears to visionaries it is a truly extraordinary event, because the power of God, His graces, and His guidance become visible on earth.
The seer becomes the privileged communicator of what the Virgin wants to indicate to the people.
And he or she is not chosen for being holy, but as a channel of communication.
But in the apparitions, Our Lady catechizes the visionaries so that they lead a life of obedience to God.
And many times she tells them what he wants from them in the future, after the appearances.
So his or her life will be sanctified, if the seer uses his free will to follow the life of obedience to God, which was asked of him.
It is more nor less also what happens to humanity, especially in our times.
There is a group of people who have been privileged with faith, have responded to the call, and who believe in God.
But that must be transformed into obedience to the plan that God has for each person, so that graces flow more abundantly.
And if the person uses his free will to do something else, he will not receive the graces that God had reserved for him and he will often lead a disastrous life.
This conclusion is made the case by one of the recorded apparitions in Poland, at that time under Prussian rule, and the later lives of the seers.
The apparitions of Gietrzwald happened in 1877, and the sanctuary that resulted is one of the great places of pilgrimage for Poles, attracting one million pilgrims a year.
From June 27 to September 16, 1877, the Virgin Mary appeared 166 times to two girls, daughters of poor peasants: 13-year-old Justyna Szafranska and 12-year-old Barbara Samulowska.
The Blessed Mother was presented sitting on a throne among angels, wearing a dark blue robe, holding the Christ Child dressed in a long red robe.
And two angels hold a banner that says in Latin "Ave Maria de los Cielos, Ave Maria de los Angeles."
[scroll for more]
The Virgin told them that she came as the Immaculate Conception and recommended that they recite the Rosary always and everywhere, but especially in the family.
She also promised an end to religious persecution and the reopening of Catholic churches.
In her final appearance she blessed a source of healing water, claiming that it would perform miraculous cures, and today this pilgrimage is known as the Polish Lourdes.
And the final message was, "Do not be distressed, I am with you always."
So it is with us.
The later lives of the seer girls are a clear message for today's humanity.
The two girls were studying with the Sisters of Charity of Saint Vincent de Paul and after the apparitions had to transfer to Pelplin by order of the Prussian authorities, so that they could continue primary school.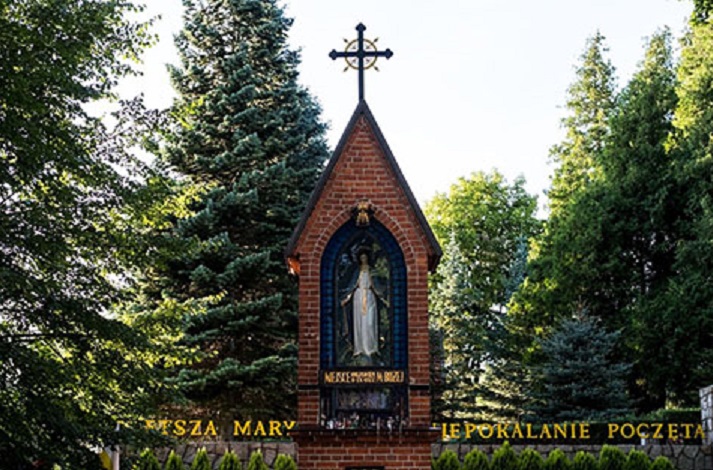 And Our Lady had told each one that she wanted them to be nuns.
So the two girls decided to become Daughters of Charity of Saint Vincent de Paul and were sent to attend the seminary at the Mother House in Paris, where they arrived on January 19, 1884.
It should be noted that not all visionaries are asked by Our Lady to become religious, as some erroneously believe.
For example, we have the case of Conchita de Garabandal, who was told not to enter a convent.
But on February 7, 1966, she entered the Carmelite Convent in Pamplona, ​​seeking peace and fleeing from the world.
And she had a message from Jesus for her to remain in the world, so that she may sanctify herself in it.
He tells her that He hasn't called her to be a nun, to which Conchita asks why He doesn't love her.
And the Lord reproaches her by telling her that if someone loves her, it is He and that if her soul is willing to listen to Him, then He will fulfill His promise.
Then Conchita left the convent.
And what happened to the later life of the Polish seers Barbara and Justyna?
Sister Barbara makes her solemn vows in 1889 and takes the name of Stanislawa.  
In 1895 she is transferred to Guatemala on an important mission, because there is a shortage of priests and religious due to persecution.
In this country the Sisters of Charity were the only ones the government allowed to carry out their work, because they cared for the sick and all those that no one wanted to care for.
It is there that the sister began to carry out her apostolate, and sanctify herself by working hard for the poor, becoming a prominent figure.
She was also formator of the novices.
She died on December 6, 1950, from cancer.
Her beatification process concluded at the diocesan level in 2006 and that cause is now in Rome. 
And today she bears the title "Servant of God."
[scroll for more]
Justyna's life took another course, oblivious to the recommendation of the Virgin.
In 1897 she left the convent because she believed that her vocation was not that.
She feels an impulse for the things of the world, marriage calls her attention and she believes that in that she will be happy.
But in later letters she wrote to her cousin Josefa, saying that she deeply regretted leaving the congregation.
And she asked for financial help because she lived in poverty.
It is unknown when, how, and where she died.
Practically as soon as she leaves the congregation she begins to disappear from the historical documents, and for that matter from history.
So what do we have at the end of the lives of these visionaries?
Bárbara accepted the plan that God had for her, she became a very prominent person in Guatemala helping the poor and today is in the process of being beatified.
While Justyna reneged on God's plan for her, she was unhappy in her marriage, lived in poverty, and ended her days no one knows how.
And what is the message of these two lives for humanity?
Arguably, Justyna and Barbara represent people who have heard of God and are primarily willing to do His will.
Justyna represents the part of humanity that listens to God, but over time forgets God's commands and advice, and ends up being unhappy and lost.
She believes that she can be happy without obeying God, leaving aside the paths to which the Creator invited her.
You make your own life, whether motivated by curiosity or by temptation.
Barbara represents the humanity that has heard from God, that believes in His Word, and wants to fulfill it.
She is aware of what she has seen and the importance of what she has experienced.
She keeps that memory and it is easy for her to fight for the lifestyle that the Virgin asked of her, because she knows that it is the best.
In the same way, the humanity that has welcomed the Virgin as Mother knows that it cannot stop loving her, being in contact with her, and obeying her.
Justyna represents today's humanity that does not obey God's commands and therefore suffers the consequences of its mistakes.
To the point that she is unhappy and dies in abandonment.
While Barbara would represent the future of humanity if she obeyed God.
Clearly today humanity is reflected in Justyna, because it does not know the Creator, it does not seem to know where life begins or where it ends. It mocks all that is decent, ridicules the holy, and exalts the profane.
And the oblivion and that darkness at the end of Justyna's life, also represents the days of darkness of humanity, where the human being will feel totally abandoned.
He will regret having left the way of God, but it will be too late and he will not be able to do anything to correct the situation.
In those moments, only those who turn their eyes to Our Lady will have the consolation of knowing that She is with them.
In the end, both the good part of humanity, as well as that which has distanced itself from God, should take into account the words of Our Lady in Gietrzwald "I am with you always."
In such a way that even when they are lost on the way, or at the moment of death, the presence of the Immaculate is their salvation.
Well, up to here what we wanted to tell about the teachings that Gietrzwald's apparitions leave us, especially once the apparitions ended and the seers lived their later lives.
+