---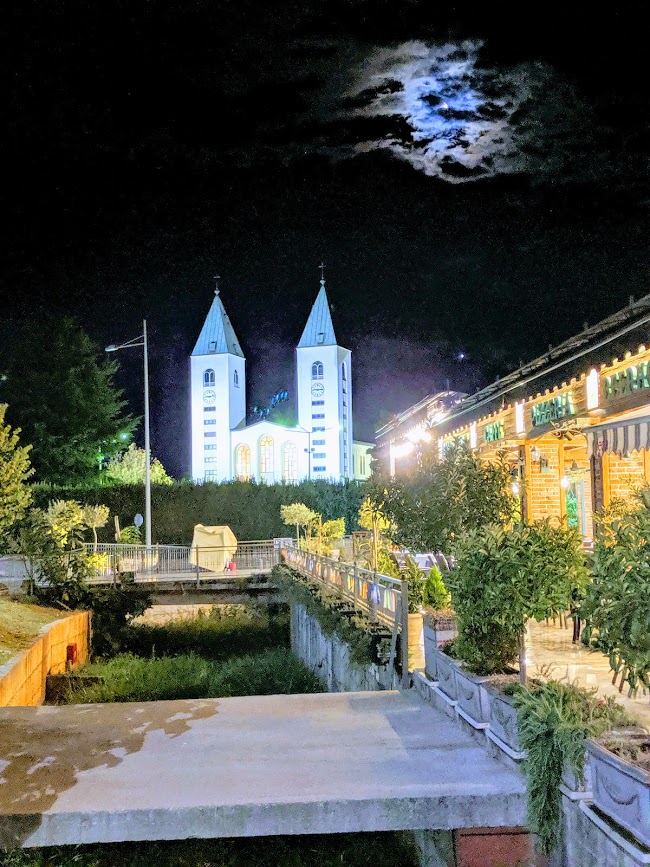 The photograph above, taken at night at Medjugorje, in Hercegovina, from the walkway in front of a hotel, last week, shows a number of things.
First and foremost, it looks more like a painting than a cell photo — and ironically was snapped by a pilgrim who paints pictures (but of course not this one). In other words, her photo of Saint James Church looks like a piece of art, in accordance with what she appreciates! Things like that happen over there…
It also shows the spiritual battle.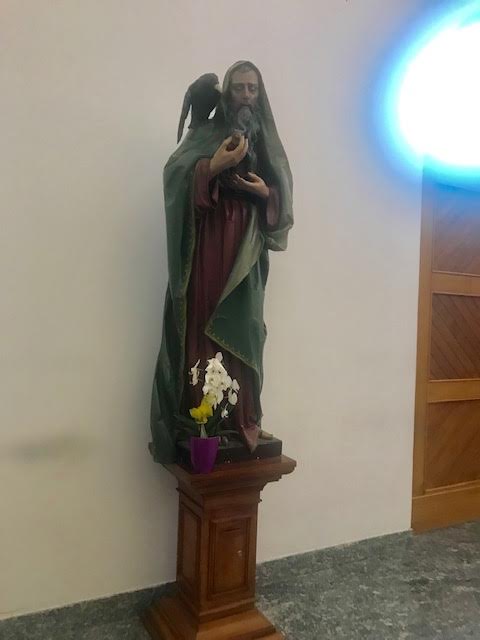 Always — as with a fantastic storm the night before the sun miracle at Fatima, and at Lourdes, where growling voices were occasionally heard from the grotto — there is invisible (and sometimes, visible) warfare. That too is depicted: Mary versus the serpent in the night sky (within a patch of light to the right of the church).
And then there are orbs. 
At LaSalette in France, Our Lady appeared in an orb or oval of luminosity back in 1846 (Church-approved), and often smaller orbs of light are seen at apparition sites, cemeteries, and "haunted" houses, in the sky, inside churches, thought in some cases to be angels, spirits of the deceased, or, again, sometimes, agents from the dark side. Good and evil use the same media. Usually, orbs are a pale shade or white. Sometimes they're other colors. Most times, they are simply the way a cell lens refracts light (especially if there is moisture).
Above at left, the statue of Elijah at a holy church in Tihalinja.
At Medjugojre, interestingly, a flurry of blue or turquoise orbs (Mary's color; Mary's mantle) showed up in photographs from different cameras during the recent pilgrimage there.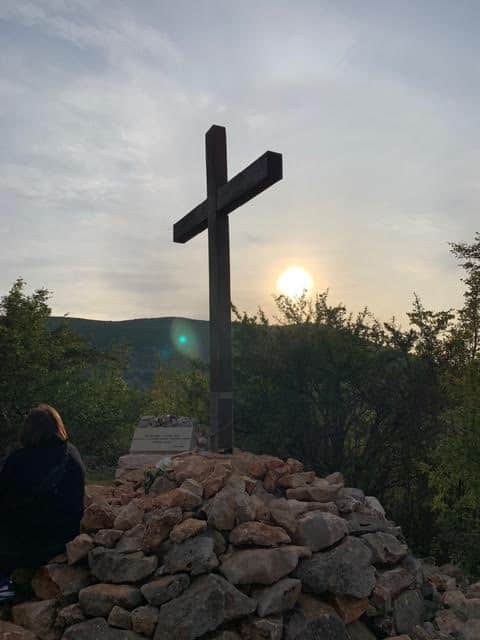 Is it simply the way the sun and other lights play in that part of the world (blue not the most common color of orbs elsewhere)?
(Back at top, see the blue lights between the church's two towers.)
Now, on Apparition Hill, does orb move around simply by the motions of the person taking the video (below)? Or does the pulsing sun (in the background) indicate more about it? That solar motion was also witnessed for at least ten minutes by pilgrims with naked eye.
Your discernment.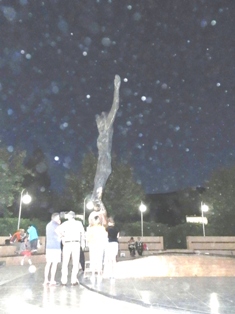 Some other examples, upon which to masticate (including one at Lourdes):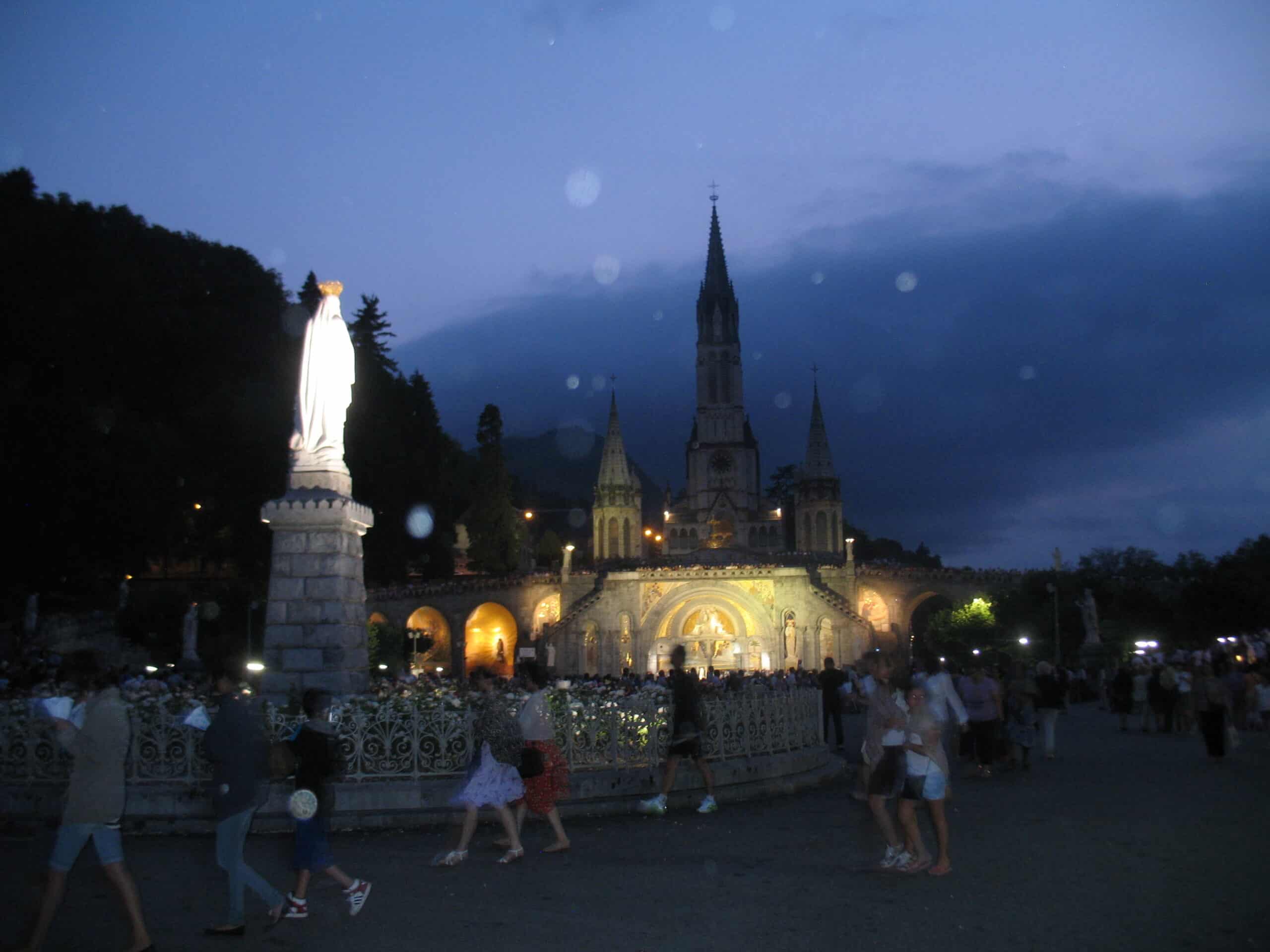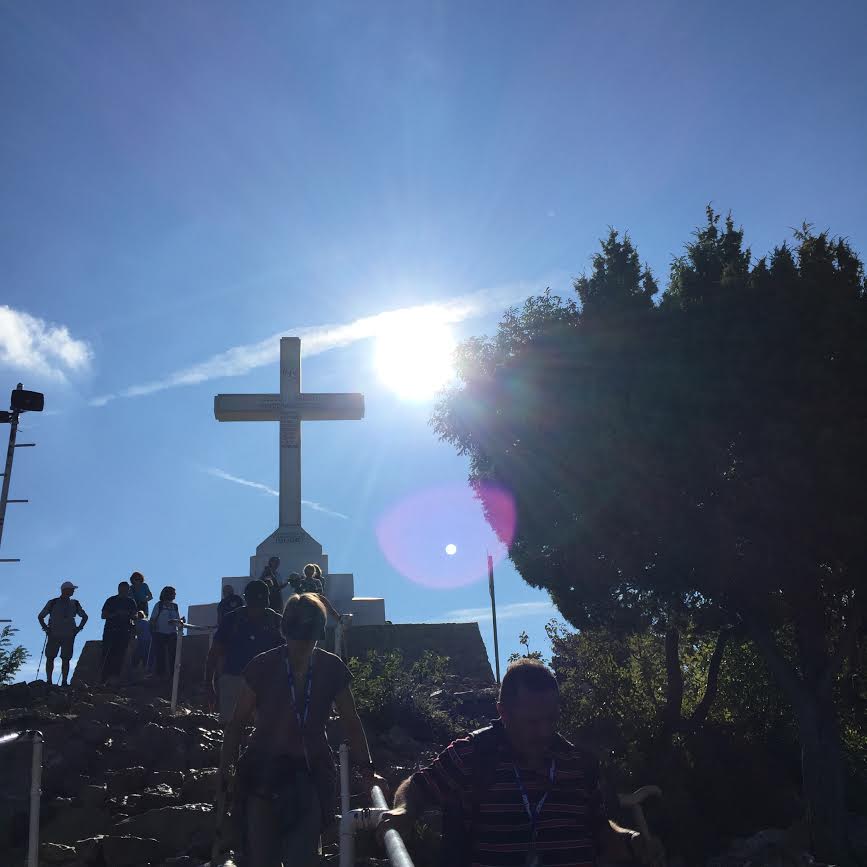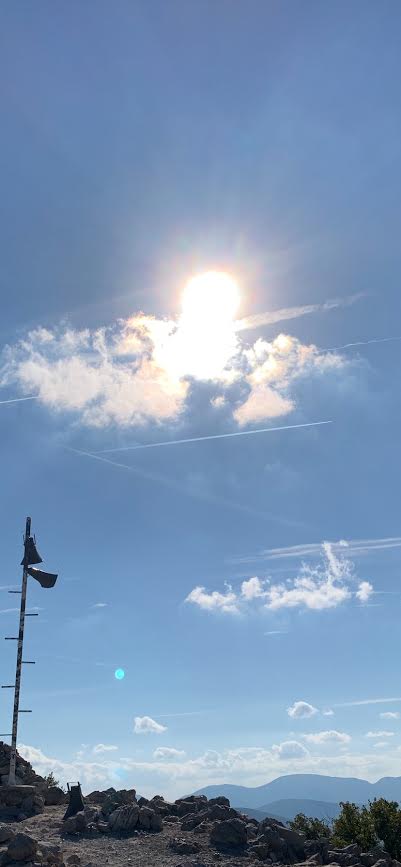 Faces in cloud? Orb at bottom?
In the photo below, can you see Padre Pio's face at the upper center (right of the tree) of a cloud photo (at a site of apparition known as "Blue Cross")?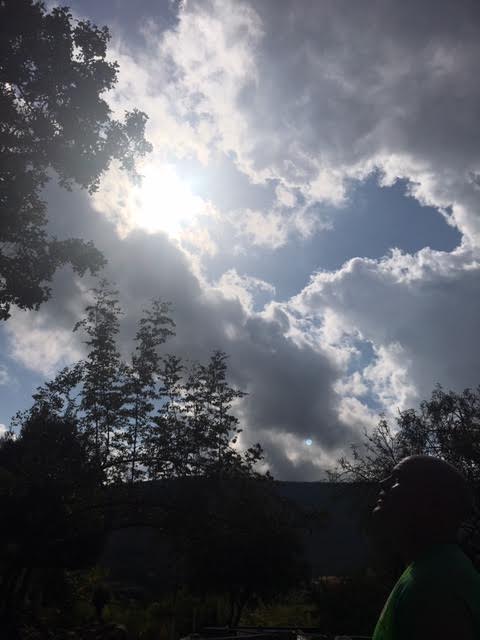 And so forth.
Surely, some are just the way cell cameras capture-distort light. But God can use anything, can He not, since He created everything, including, and especially, light? "The clear vault of the sky shines forth like Heaven itself, a vision of glory," says the Book of Wisdom (43:1-2).
"The orb of the sun, resplendent at its rising: what a wonderful work of the Most High."
[Return to www.spiritdaily.com]
[Feedback: "Dear Mr. Brown, I was in Medjugorje last week.  I see that you were there with a group also.  I went with my brother-in-law Leo and his friend Bob and we stayed at the visionaries Yakov and Mirjana's houses. We were in a total group of about 40 people from various places. Leo was diagnosed with ALS a little over two years ago. We had an amazing experience that I wanted to share with you. We were all changed in a way that increased our faith significantly. How many places in the world can one go where you are transformed in one week?  I wish the Church was like this everywhere. One trip to Medjugorje can do this. This was my second trip so it was a little different for me watching the first timers go through what I did 2.5 years ago.
"On Oct. 6th a group of about 12 of us finished the Rosary and then the Divine Mercy chaplet near the Blue Cross when Bob noticed an outline of Mary in the clouds. It was about 5:40 pm.  I saw it with the naked eye and said it looked like she was was accompanied by a legion of angels due to the other clouds around her.  I then took the photos that are attached to this email.  The clouds we saw at Blue Cross were spectacular (attached).  The day after we got home, Bob texted me and said the face of Jesus shows up at the 11 o'clock position (symbolic?) on the inside of the Mary cloud.  In the cloud pictures from Blue Cross, both the mouths of Jesus and Mary are turned down. Also, one can see many faces, angels and demons, especially the angel in the middle of the Mary cloud, and the demon (Satan?) at the base of Mary's neck. Based on what I read in many of your articles and books, this shows we are in a spiritual war.  This picture shows that.
"I was hoping you would share these photos with your Spirit Daily members.  I believe they were not only meant for our group.  Let me know what you think. A short time later while still on Blue Cross, we all witnessed other supernatural events in the sky across the way over Cross Mountain. Some people over there must have been experiencing an amazing event (similar to mine in 2017?)  I made a cell phone video of these Cross Mountain clouds moving wildly all over Cross Mountain but they did not show up on the video.
"I have to add, we saw a sun miracle on three separate occasions in the filed located behind St. James Church.  Each time this occurred after 5:40 pm.
PS:  As I was walking to Mass through the farm fields, I noticed the sun was directly over the Cross on Cross Mountain.  I took a picture and was surprised to see the result.  I have attached that photo too. Thanks, and God Bless, Phil O'Brien."
[Footnote: Last week we circulated another photo taken on Cross Mountain by another pilgrim group. Note how what seems like a distant orb upon closer inspection resembles the apparitional form of a man in Franciscan garb, with cincture, not far from the spot where a Franciscan priest died years ago of a heart attack: