---
It was exactly nineteen years ago today — the anniversary of Fatima May 13, 2000 — that Spirit Daily had its first headline, and quite a headline it was, in fact the biggest we have ever carried: THIRD SECRET RELEASED, in red 48-point font.
We didn't plan that. We didn't even plan to officially begin this website on May 13. It was how things fell into place, a "coincidence" as now, nearly two decades later, on this same date — from yesterday into this morning — was another blaring monumental headline about another monumental apparition site that an apostolic visitor there has compared to Fatima: POPE AUTHORIZES OFFICIAL PILGRIMAGES TO MEDJUGORJE.
It was watershed news — the first time since the apparitions began in 1981 that official pilgrimages have been allowed. Up until Sunday, trips there were allowed, as long as they were not formally organized by a parish or diocese. Now a parish or diocese can freely do so. We plan one in October.
The Vatican said that this approval does not mean it has authenticated the apparitions themselves — a fact the secularized Catholic media will focus upon — but very heavy odds are now that they will be, and while it will go unmentioned by most media, a Vatican commission assembled by Pope Benedict XVI studied Medjugorje in tremendous depth for four years and concluded that the Virgin Mary, at least during the first week (its research could not branch beyond that, into individual apparitions that then occurred), did in fact appear there.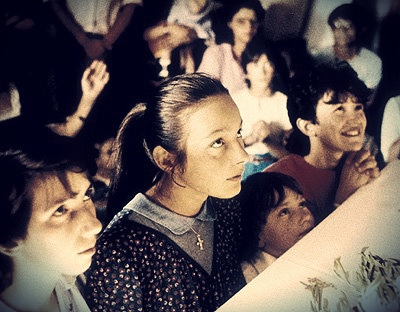 This bears repeating: the Vatican Commission said the Virgin Mary appeared at Medjugorje in June of 1981 over a period of days that, when the apparitions over the course of those days are tallied, amount to more than at Fatima.
Meanwhile, Archbishop Henryk Hoser, the Vatican representative at Medjugorje — who was neutral at first — is now Medjugorje's chief supporter, calling it the "confessional of the world" and the "spiritual lungs of Europe." He also has noted the tremendous vocations to the priesthood it has spawned, and others point to how young people — missing in the rest of the Catholic Church — gravitate here in large enthusiastic crowds. More than two million visit each year. That number will jump.
It was said by Jesus that by the fruits we know the truth of situations. Who but the devil would oppose fruits like that?
From Vatican News:
The announcement was made by the Apostolic Visitator, Henryk Hoser and the Apostolic Nuncio. Ad Interim Director Gisotti: "Attention given to favouring and promoting the fruits of good", but this does not mean "an authentication of known events".
Massimiliano Menichetti – Vatican City
Pope Francis has decided to authorize pilgrimages to Medjugorje, which can now be officially organized by dioceses and parishes and will no longer take place only in a private capacity which as has so far been the case. The announcement was made today during Mass, at the parish shrine which has become a destination for millions of pilgrims, by the Apostolic Nuncio Luigi Pezzuto in Bosnia-Herzegovina and Archbishop Henryk Hoser, the Holy See's Special Apostolic Visitator.
Pilgrimages do not authenticate known events
The "ad interim" director of the Holy See Press Office, Alessandro Gisotti, responding to journalists' questions about the announcement, specified that the papal authorization must be accompanied by "care to prevent these pilgrimages from being interpreted as an authentication of known events, which still require examination by the Church. Therefore,  care must be taken to avoid creating confusion or ambiguity from the doctrinal point of view regarding such pilgrimages. This also concerns pastors of every order and level who intend to go to Medjugorje and celebrate or concelebrate there even in a solemn way".
Pastoral attention
"Considering the considerable flow of people who go to Medjugorje and the abundant fruits of grace that have sprung from it – continued Gisotti – this authorization is part of the particular pastoral attention that the Holy Father intended to give to that reality, aimed at encouraging and promoting the fruits of good".
The apostolic visitator, concluded the ad interim director, "will have, in this way, greater ease in establishing – relations with the priests in charge of organizing pilgrimages to Medjugorje, as well as, safe and well-prepared persons, offering them information and indications to be able to fruitfully conduct such pilgrimages, – in agreement with the ordinary people of the place."
The Pope's decision comes a year after the appointment of Hoser, Archbishop Emeritus of Warszawa-Prague in Poland, as "Apostolic Visitator for the Parish of Medjugorje, on May 31, 2018.
Both that nomination and today's announcement do not, therefore, enter into doctrinal questions relating to the authenticity of the account of the six visionaries of what has happened in Medjugorje since June 1981, a phenomenon that has not yet been concluded. Of the six visionaries, at that time children or young people, three assure us that they still have a daily apparition of the "Queen of Peace", always at the same time in the afternoon and wherever they are: they are Vicka (who lives in Medjugorje), Marija (who lives in Monza) and Ivan (who lives in the United States but often returns home). A fourth visionary, Mirjana, says that she receives an apparition every month, on the 2nd, while for the last two this happens once a year.
12 May 2019, 11:47