---
It may be lost on most, but the wildfires in California are now engulfing more than a million acres, meaning that, as a composite, the swirls and walls of inferno have equaled the famous Peshtigo wildfire in Wisconsin in 1871, at 1.2 million acres the greatest wildfire in recorded U.S. history.
In fact, though not just a single wildfire, as perhaps in Wisconsin, yesterday they equaled it in acreage exactly.
Noted Associated Press: "California has had more than 13,000 lightning strikes since mid-August [see photos below from Facebook] and more than 600 wildfires statewide have burned more than 1.2 million acres, or 1,875 square miles (4,856 square kilometers), said Daniel Berlant, assistant deputy director with California Department of Forestry and Fire Protection, known as Cal Fire." Take this in: more than 1,200 structures have been incinerated.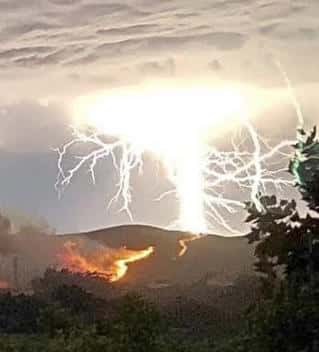 Both Peshtigo and California involved and involve land that, in the aggregate, was and is bigger than the state of Rhode Island.
Says a report today: "This is the fourth consecutive year of major conflagrations in California, but this year they feel more inescapable, a ring of fire around the eight million people who live in cities arrayed around San Francisco Bay. There are fires sandwiching Silicon Valley, which on Monday was smothered by a sickly white haze. Wildfires are raging in the Salinas Valley to the south and in the wine country of Napa and Sonoma Counties to the north." Silicon Valley, huh?
Here's the further twist: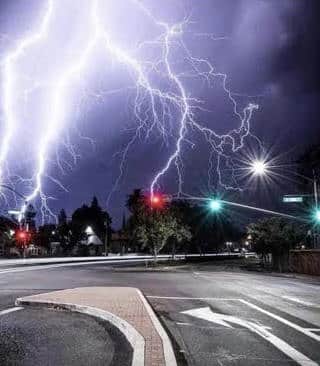 The 1871 Wisconsin fire was foreseen by the Virgin Mary in the first and thus far only apparition on U.S. soil formally approved, in a pastoral letter, by the Catholic Church in 2010.
Twelve years before the conflagration, Mary had told a devout Belgian immigrant named Adele Brise, "I am the Queen of Heaven who prays for the conversion of sinners, and I wish you to do the same. You received Holy Communion this morning and that is well. But you must do more. Make a general confession and offer Communion for the conversion of sinners. If they do not convert and do penance, my Son will be obliged to punish them."
What do the current fires signify or portend? Have we not noticed that record-breaking ones are now happening every year?
When the Wisconsin fire came, it was with the temperature of a crematorium, at times moving in "firenadoes" at an estimated hundred miles an hour. It even burned out the roots of trees and killed horrified farmers and their families who sought refuge on open pastureland, wrapping themselves in wet blankets, or townfolk who waded in the Peshtigo River. At one point a ceiling of blazing red somehow undulated over the waterway for an hour, according to a priest, Father Peter Pernin, who famously wrote a book about it, managing to survive along with a wooden tabernacle (in a fire that fused coins).
This occurred the very same day as the greatest urban fire in U.S. history — that being Chicago more than two hundred disconnected miles to the south. There were also wildfires across Michigan. Something unusual clearly was on ruinous display. Doesn't it seem like too much of a coincidence? Did that part of earth touch the vaporous remains of a comet called Biela that was breaking apart, as some speculate? Was it not the kind of regional event many now anticipate as a "warning"?
Incredibly, in the sea of ash was an oasis of emerald — a five-or-so-acre shrine dedicated to the Virgin's apparition.
For as it turns out, Adele and friends prayed the Rosary and processed a statue of Mary during the inferno, and the flames never entered the property, though they roared up to the fence encompassing it and scorched the wood.
In any inferno or maelstrom, Mary will protect you also.
---
Speaking of America and apparitions, the next most famous though not formally approved one took place, among other sites (it involved a single seer, Sister Mildred Neuzil, who lived in a number of locations), in a sanitarium at Sylvan Springs (also known as Kneipp Springs) near Rome City, Indiana. The sanitarium-convent had once been run by nuns known as the Order of the Precious Blood but later fell into the hands of a cult.
It was on September 25, 1956, as she was making her Holy Hour between 7 and 8 p.m., that the Precious Blood nun named Sister Mildred Mary Ephrem Neuzil felt a presence by her side as she was praying in the chapel and caught a glance of a white gown and blue sash.
"I was under the impression that she came as Our Lady of Lourdes, and she herself confirmed this," the nun once wrote. During a vision the next morning, the Virgin came in a veil, robe, and mantle of pure white as "Our Lady of America," requesting Americans to honor her by the purity of their lives. (Have we?)  The building has been largely vacant with an uncertain fate for years — but caretakers have installed a beautiful statue of the Our Lady of America there. Hats off!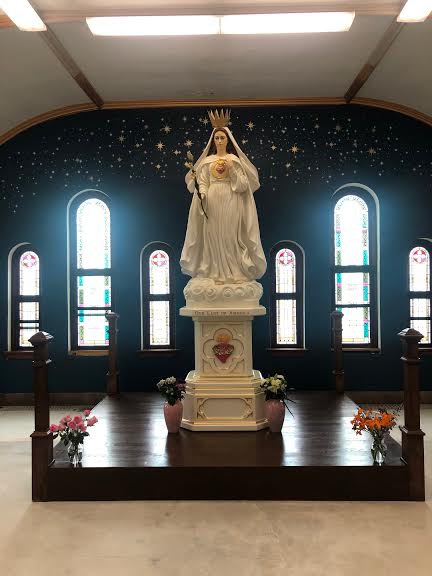 ---
From the mail (about actress Loretta Young at Medjugorje):
"I read the article on Spirit Daily about Loretta Young in Medjugorje," writes Cindy Forman of Omaha, Nebraska. "That brought back memories. I had lived in Medjugorje three different times in the 1990s and brought three groups over with me during that time. The longest period that I spent there was in 1994 when I was there for nine months. So many experiences that I had…
"Loretta came in a group

and I met her. A number of us had lunch with her and her husband, Jean, at Columbo's on several occasions while she was there. I remember being so impressed with her gracious disposition; she was so nice and humble. Though I think she was in her early eighties at that time, she was still beautiful. An amazing person. I do wish I would have talked to her more on a personal level, but there were others at the table too and I didn't want to take the spotlight away.
"Her husband, Jean, was such a sweet man. He was very quiet but peaceful and kind. The amazing thing too about meeting her was that when I was 18, many years ago, I went to Israel with a Catholic group. Of all things, in our group was Tom Lewis who had been married to Loretta at one time. I was surprised that he was with us though I didn't know much about them then. How strange that I would meet him and years later, I would meet her.
"I also was living in Medjugorje when Martin Sheen came to do the movie 'Gospa,' which I think has been renamed. I met and talked with Martin. I was very pleased that he was such a nice person and easy to talk to. He was so friendly. That was quite an experience, seeing them making the movie there in 1994.
"I am a singer and played the guitar so I did a lot of singing for the English Mass and also sang in the Croatian choir to help me to learn the language. I met so many wonderful people while there. I had lived with a family for a while who was located right next door to Vicka's family pansion and the hostess was a good friend with Vicka's. So she came over a lot to visit and I got to know Vicka some. Vicka began to have me help her as a kind of bodyguard at the family old house where she spoke to pilgrims. That was so wonderful!"
"Now with the Covid issue, I don't know if I will ever get to return again. I miss my friends there. I was given so many precious gifts in being able to live there in Bijakovici and being among the happenings there, especially to be present for apparitions. I got to see so much while there including several miracles. I keep track of your website almost daily to see what's been going on. We are at a very crucial time in history and I wonder what will happen in the months ahead with all the unrest in our country.
"If you get a chance, there is a pastor named Dana Coverstone who had a prophetic dream last December which I encourage people to listen to his revelation on YouTube. It's about 15 minutes long but the Lord showed him a calendar of this year and indicated things that would happen. So far, it seems to be accurate. He had another dream recently with more details for October. September to November will be very rough and the Lord kept emphasizing for Dana to 'brace' himself so we need to really cling to the Lord for what is to come."
Indeed, we have discussed him in a "special report." Stay tuned.
A recent message from Medjugorje:
"Dear children, also this evening I bring you Love. Bring love in these troubled times to others. Bring hope, especially to those who are left without hope. Bring peace to all those into whom unrest has entered. Dear children, this is a time of great temptation but at the same time it is a time of great graces; therefore, dear children, welcome this time of trials to be able to come out of this time purified in faith. The Mother prays for each of you and intercedes with her Son for each of you. Thank you dear children because today you have responded to my call."
Some ask us about an alleged seer-priest named Father Michel Rodrigue from Quebec.
We make no judgment on seers. We may be "mystic central," but we are not "discernment central." That's for dioceses and bishops (and chancellors). But in the mailbag:
+
"Latest news from a Catholic Bishop, a Vicar General and a Catholic Theologian on Alleged Messages of Fr. Michel Rodrigue"
"As a member of the International Marian Association, I am happy to provide you with the following information on the Church's present-day position on the alleged messages that have been circulated in Canada and elsewhere," writes Sharon Freeman, President House of Loreto.
"Below are three communications from a Catholic Bishop, the Vicar General and my interview with a Catholic priest and theologian who has obtained several advanced degrees from the Pontifical Universities of Rome" [we are not carrying the full interview; that is available elsewhere].
Overview
1 – Catholic Bishop addresses a website and book that promotes Fr. Michel
Rodrigue's alleged messages
2 – Catholic Bishop's Vicar General addresses Fr. Rodrigue and exorcisms
3 – Interview with a Catholic Priest and Theologian on Dr. Mark Miravalle's
Theological Evaluation of the alleged messages
Communication from The Most Reverend Bishop Gilles Lemay:+
"Peace be with you, I thank you for your e-mail requesting some information about the teaching and the standing of Father Michel Rodrigue, a priest incardinated in the diocese of Hearst-Moosonee, Ontario, and working in this diocese of Amos, Québec, for a few years. He is the founder of the Fraternité Saint-Benoît-JosephLabre, a lay association of the faithful which is not a religious institute.
As you probably did too, I read on the Countdown to the Kingdom website related to Fr. Michel and also in the book of Christine Watkins, 'The Warning. Testimonies and Prophecies the Illumination of Conscience' (Note 84, p. 278 and p. 280), that: "Michel Rodrigue receives the full support of his bishop, and all of his locutions and visions are submitted to his local ordinary for approval." This quotation was removed these days from the website after a request I sent to Fr. Michel. No mention is made of the reason for the removal, that is to say, because it was untrue. However, the quotation remains in the book mentioned above. I have to tell you that Fr. Michel never submitted to me any of his locutions and visions for discernment or approval. Accordingly, I could not have supported the content of his talks which are not presented in my diocese nor elsewhere in the Province of Québec as far as I now, but mostly in the United States. Moreover, I learnt about his teaching while reading some reports on the website mentioned. I did not and do not approve of his teaching with regard to his locutions and visions. Consequently, it is untrue that he "receives the full support of his bishop" as it is written in the Countdown to the Kingdom website and in the quoted book ("The Warning: Testimonies and Prophecies the Illumination of Conscience").
I thank you for your request. If you wish any further information, I will be pleased to respond as much as possible.
Truly yours in Christ,
+ Gilles Lemay,
Bishop of Amos, Québec
+
Communications of July 23 2020 from Bishop G. Lemay's Vicar General Fr. Raymond Martel:
Thank you for your email. Being in the Diocese of Amos since August 2011, Father Michel Rodrigue has never received from Bishop Gilles Lemay the faculties of exorcist for our diocese.+
Blessings and communion in prayer,
Raymond Martel, prêtre
Vicaire général au diocèse d'Amos
450, Rue Principale Nord
Amos, Qc (Canada) J9T 2M1
Tél. 819-732-6515 Poste 206
[email protected]
[resources: Our Lady Speaks From Medjugorje and Praying the Rosary With Our Lady of Medjugorje]