---
A potpourri of various ponderings today.
Do you remember that old song, This Heart of Stone?
It was from the Rolling Stones — possibly a "rock" band wise to dismiss.
But a point is made in the very expression.
Don't we all harden at times? Don't we all feel "dead" spots in our hearts?
It is with irony that we recall how among the warmest hearts (and most penetrating eyes) we have encountered belonged to mystic Maria Esperanza. In a recent interview, a priest who is spearheading the cause for her beatification (at which we testified), Father Timothy Byerley, said, "She had a heart for souls." 
Once, while visiting with a special nun, Sister Margaret Sims, near Boston — a nun, now deceased, who was building a replica of the original Betania apparition site in Venezuela (from whence Maria came)  — the great mystic suddenly stopped a bus filled with her family, hopped out, dashed to a spot on the property in Medway Sister Sims had purchased, and started digging, coming up with a rock that seemed to have a likeness of Jesus. (Above; do you see any images in it?)
Another such stone, this one a religious item, was found by Maria, who has been officially declared a Servant of God, at Betania itself.
"Maria used to say that '[God's] justice will start in Venezuela, '" noted a son-in-law named Dr. Samir Gebran, a biologist who became convinced of the unusual nature at Betania after his first visit. "We crossed the river, carried Maria across the river – there wasn't a bridge back then – and anyway, that day, she started praying the Rosary, and when we approached the grotto, all of a sudden she showed us a light — how a light from the sun in the woods was forming an image like Our Lady of Guadalupe. I saw it myself in the woods, and I'm a scientist! After that, petals began appearing on Maria's hands. And she received a message from Our Lady, about praying for the young and drugs. After that she felt from Our Lady that she should approach the river and pick up a stone, and that's what she did. I accompanied her to the river and she took a stone, a pretty heavy black stone, right out of the water, and when she took it she felt something on the bottom and was afraid, so she turned it up — and when she opened her left hand Our Lady of Guadalupe, like we had seen in the wood, was exactly there in like a plastic or ceramic material stuck on the stone, and the smell of roses was very strong." Summer pondering.
---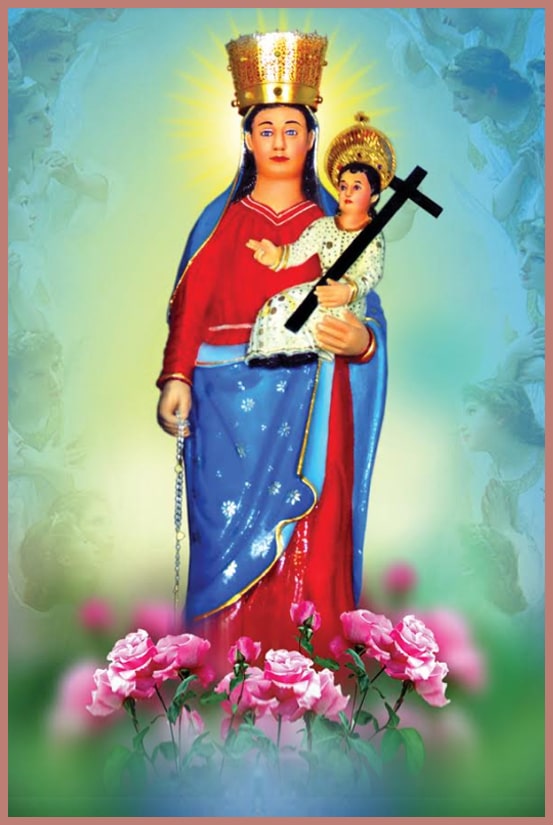 The other night at dinner with a priest from India (who is also a journalist) we learned of what may be a very old apparition of the Virgin Mary in his homeland of Kuravilangad.
We were aware, of course, of places such as Zaragoza in Spain, Le Puy in France, and Guadagnola in Italy (first and second centuries; see The Last Secret), and a smattering of others, but father told us about St. Mary's Forane Church, which claims to date to 105 A.D. and to be the site of the "first" Marian apparition in world history, with the appearance of the Virgin Mary to three young boys at a spring in 335 A.D.
There were, as indicated, apparitions before that — again, at spots like Zaragoza — but it is old and obviously anointed. We may do a "special report" on the hidden apparitions of India. (There are a number, including current ones!)
---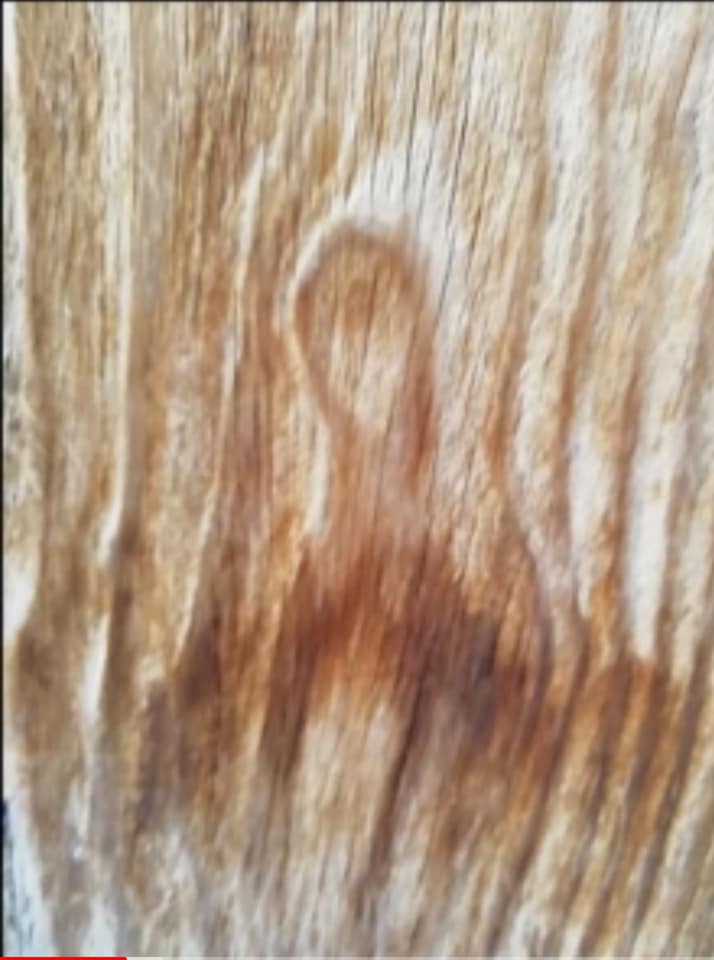 On our Facebook page: "Today this YouTuber saw this stain on the bottom of his door as he was writing some Catholic songs he's getting ready to put together. He plans on putting this image on the cover of his album."
We're always interested in Grace.
The other day, in a similar potpourri, we noted the experience of a priest at Medjugorje who was disappointed and shall we say devastated that he didn't see Mary during her daily apparition to the seers (no one else does). There was a photo to go with his account, but we didn't have it at the time. We do now. [Below]
Noted the viewer who sent it (if you recall):
"My best friend's uncle named Father George Kerber (now deceased) was a 'Marian priest' for over thirty years, and back in 1983 (I believe) took a pilgrimage of parishioners to visit Medjugore.
"In those early days, the apparitions were located in a small room off to the side of the altar and could only hold a limited number of people. Father Kerber was fortunate enough to be allowed to be in the room with the six children during an actual apparition.
"The apparition began, and Father Kerber kept looking up to the corner of the room where the children were focusing. He did not see nor hear anything during the entire apparition, and left the room dejected, angry, and extremely disappointed.
"Back in his room, he was reflecting on the event (while alone in his room) and he began to express this anger, by verbally yelling at the Blessed Mother and explaining how easily it would have been to show herself to him since he was literally only a few feet away from her. In essence, he chewed out the Blessed Mother for not honoring his request to see her, and ended his tantrum with the words 'thanks for nothing.'
"The next morning, still upset, he was with some of the parishioners when one of the individuals took a picture of him (with his camera) sitting in a chair.
"Once he returned to Detroit, he took the roll of film to be developed. As he was reviewing the pictures, he noticed a strange picture that caused him to 'lose his breath' as he realized what he was looking at.
"The picture shows Father Kerber sitting in the chair, but enveloping his entire being is the image of a beautiful young woman wearing a blue veil on her head, and he is inside of her image. The thought that came to Father Kerber is that the Blessed Mother seemed to be saying, 'I appreciate everything you have ever done for my son, and here is a thank you and a visual reminder that I am ALWAYS with you.'"
A double exposure? Superimposed? (It is a prevalent image of her.)
If so, exquisitely timed!
As we noted, even when we are petulant: a gracious mom indeed.
[Footnote: 

Most recent message from Medjugorje: "Dear children! My call for you is prayer. May prayer be a joy for you and a wreath which binds you to God. Little children, trials will come and you will not be strong, and sin will reign but, if you are mine, you will win, because your refuge will be the Heart of my Son Jesus. Therefore, little children, return to prayer until prayer becomes life for you in the day and the night. Thank you for having responded to my call."]
+
[resources: The Last Secret (a complete history of Mary's appearances during the past 2,000 years]
[Michael Brown on Joe Escalante radio show last night: podcast]