---
[adapted from Where the Cross Stands]
Though founded and led, overall, by good, God-fearing men, interesting it is how much a role hidden occultism has played in the history and current times of America.
There has been a remarkable struggle and confusion, a jostling between God and His adversary (just as was seen in the confused spirituality of Indians). 
A number of the "Founding Fathers," starting with George Washington himself, belonged to Masonic lodges (though they were also Christian). The same has been true of presidents since that time. Of the forty-five, fourteen (and by one count fifteen) have been Masons. That's one-third [list here].
One could debate what was intentional and what was not — what was clever design and what was in the imagination of those seeking conspiracy (what even tends to paranoia) — but without question Masons built the White House (laid its cornerstone) as well as the Capitol, and if there were intentional symbols, imbued (in the Masonic tradition), with occult power, then there was a potential influence.
On October 13, 1792, a parade of Freemasons assembled at the Fountain Inn in Georgetown with architect James Hoban (a Mason and Catholic) and proceeded to the site of the excavation for what was then called the "President's House."
Though the White House would eventually be destroyed by seizing British (during the war of 1812), the point was that the original house for U.S. presidents had an occultic taint. One could add that a Masonic French architect, Pierre Charles L'Enfant, designed the streets of D.C. to form Masonic symbols. Did such symbols actually transmit power? Did they hold a sway that was not detectable? For that matter, what was one to make of the dollar bill with an all-seeing eye atop a pyramid and underneath the word Novus Ordo Seclorum (new world order)?
We all can be deceived.
Abraham Lincoln participated in at least one White House seance as spiritualism (mediums conjuring "spirits") swept the United States.
The list is long.
As author Mitch Horowitz has written, "Indeed, the robust growth of occult and mystical movements can be traced through to nineteenth-century America — aided by the influence of Freemasonry and Transcendentalism — helped transform the young nation into a laboratory for religious experiments and a launching pad for the revolutions in alternative and New Age spirituality that eventually swept the globe. In the early twentieth century, the new spiritual therapies — from meditation to mind-body healing to motivational thinking — began revolutionizing how religion was understood in contemporary times: not only as a source of salvation but as a means of healing. In this sense, occult America had changed our world." 
Even the most well-intentioned can be led down a primrose path.
It was President Franklin Roosevelt who personally oversaw placement of the eye-and-pyramid on the back of the dollar bill (alongside the Latin maxim, "God Smiles on Our New Order of the Ages"). Actually, it was initially added by an engraver who wasn't a Mason. "The official term is that's the eye of providence. The eye of God, in some general way," says Steven Bullock, a history professor at the Worcester Polytechnic Institute. Masonic or Godly?
Gerald Ford was a Mason. It's unfortunate because the very first Europeans to establish permanent settlements in North America were outspoken and devout Catholics.
Jimmy Carter spoke about witnessing a "UFO" and his CIA deployed psychics to obtain information through clairvoyance. "Carter told a group of Emory University students that during his presidency, clairvoyant spies helped identify the coordinates of a crashed Soviet spy plane in Central Africa, netting a significant intelligence gain," writes the author.
As we detailed in a "special report," a famous psychic named Uri Geller has been used by various intelligence agencies since the early 1970s — and still is.
But it is the evolution of occultism to the "human potential" movement that is intriguing at the moment — the idea of raking in money through a thought process that reaches into the ether.
The first ESP lab in the U.S., at Duke University, was funded by W. Clement Stone, a political activist who served as a confidante of Richard Nixon's and collaborated on a money-metaphysics book, Think and Grow Rich.
Nancy Reagan was a keen follower of astrology, and it was reported that some of President Reagan's actions were even based on "charts."
President Ronald Reagan adopted phraseology and ideas from the writings of an occult scholar, Manly P. Hall, of Los Angeles, according to Horowitz, who in 2009 wrote a book called Occult America.
Hall's work included an encyclopedia of arcana entitled The Secret Teachings of All Ages — "among the most influential books in American culture," notes the author in a recent article for Salon magazine.
Hillary Clinton had a number of New Age advisers right there in the White House, one of them even assisting in the writing of her book, It Takes a Village — which seemed by its very title to convey a New Agey approach to raising children in a modern, post-family, globalized world.
Some of the New Age is derived from deeply dark writings such as those of Madame Helen Blavatsky (The Secret Doctrine), who, though originally from eastern Europe, received her inspiration from "ascended masters' and spoke of an American transformation.
She wed esoteric spirituality with patriotic ideals, in certain circumstances — deceiving and ensnaring well-meaning Christian presidents. Offshoot organizations — many not even fully aware of their origin — sometimes promote a single world philosophy-theology that is more "self-help, self-actualization" than Christian.
Even televangelist Pat Robertson speaks of the "law of reciprocity," which Horowitz claims is a "reprocessing" of a concept in The Secret, "but rooted in an American mystical tradition extending back to 1854, when a spirit medium named Andrew Jackson Davis coined the term."
President Donald Trump was a follower and admirer of — and was twice married by — a Masonic minister, Reverend Normal Vincent Peale, who wrote the smash bestseller, The Power of Positive Thinking.
The mistake of many preachers such as Peale is an admixture of occult principles of an "inner god-like force" with sincere Christianity (no one doubts the good intentions).
When Horowitch published his book, he said he received a call from Steve Bannon, now a close adviser to President Trump, who was fascinated by Horowitz's work.
President Barack Obama had an affinity for Islam, which has its own esoteric spiritual concept. He also carried a good-luck charm. I discuss such matters at our retreats.
It is odd, is it not, that during the first Gulf War ("Desert Shield"), in a speech to a joint session of Congress on September 11, 1990, President George H. W. Bush, promoting the possibilities for more cooperation and international trade, said: 
"Out of these troubled times, our fifth objective — a new world order — can emerge… An era in which the nations of the world, East and West, North and South, can prosper and live in harmony"? [See video above for various of his comments on such a new order.]
As we now know, this was a pipe dream, a mirage. Perhaps happily so. For while it's very admirable to seek unity, any move to a single global entity with overarching power is another matter entirely, if that's where a new order would lead.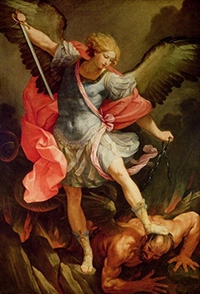 Odd, tragic, and fascinating it is that exactly eleven years to the day of that speech, the worst attack by foreign forces on the mainland U.S. since the War of 1812 would occur, throwing everything — including plans for a new world order — into disarray (for the time being). The president at the time of that attack was none other than George H. W. Bush's son, a well-meaning man, and Christian one, but who would initiate a second Gulf War (with disastrous results).
It is called bad fruit.
The most positive and "newest" and most ordered thinking comes from Scripture.
It is also the most powerful way.
— Michael H. Brown
[resources: Where the Cross Stands and retreat, New Jersey]
[Return to www.spiritdaily.com]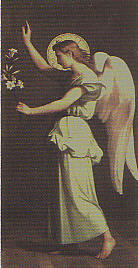 Pray always for purity and love
+++
---
Please report any inappropriate ads or content