Those who have had near-death experiences, virtually to a person, return with no more regard for money or anything else beyond what they need to exist comfortably — and many of them outright warn against materialism as their major message (as has the Blessed Mother at places such as Kibeho, Rwanda; San Nicolás, Argentina; and Medjugorje in Hercegovina).
Christ said He would spit out the lukewarm (never mind those who are blatantly irreverent), and people who have had near-death experiences consistently present a stark and dismal picture as far as what awaits materialists.
Upon return, they shuck concern for their bank accounts, focusing on service. This was true of Ned Dougherty, a wealthy nightclub owner, Richard Bingold, who owned a lucrative private-detective agency, Dr. Rajiv Parti, who found himself headed for hell (for focusing on how much he made from patients, more than their welfare), and Dr. Howard Storm, who when he returned candidly and harshly called the money his wife — a prominent attorney — was making "nothing but dog food." The list is long. On of the most terrifying encounters with hell was described by a wealthy U.S. man who owned an engineering firm [see here].
These folks come back and, in the words of one scholar who researches the topic, Dr. Kenneth Ring, following such an experience, "a life centered on materialistic values and acquisition for its own sake tends to be seen as empty and pointless."
Yet, does not our society revere this?
"Many comment that afterwards, they can no longer follow the common, socially approved pathways that require one to compete with others for material rewards or success in lie. Being somebody important or impressing others ceases to be important. Caring, rather than achieving, is what really matters."
Take stock.
It's what the Virgin Mary also has said.
While we revere the rich, it is good to remember that a life lived only for self (and that's not to say this is the case just because a person is wealthy) can lead to very unpleasant places in the afterlife.
We know this from Lazarus and the rich man (Luke 16:19), from what Jesus Himself said, and from folks like Don Brubaker, who when he glimpsed the levels of the afterlife, and was being shown hell, saw a "red ball rush toward me, I knew terror like never before," he wrote. "As it approached, I realized that it was really a large, eerie red eye. It stopped when it got close to me, and then began traveling alongside me through the tunnel. I could hardly stand to look at it, its gaze was so piercing."
Next to it were diamonds, expensive cars, and gorgeous women — temptation from the netherworld.
Meanwhile, the fellow
. There was Don Brubaker, who found himself plunging in a dark tunnel in the presence of Satan, who told him he could avoid all pain and anguish and have anything he liked if he would just follow him. "Visions of wealth appeared before my eyes," said Don, "like a three-dimensional movie. Diamonds, money, cars, gold, beautiful women, everything. I was overwhelmed by the vision. I could almost touch it, it seemed so real."
A visionary once saw the devil as an extremely handsome man who offered the seer "happiness in life and love" if she would follow him (instead of the Blessed Mother).
What Mary said, when she appeared, was that if we are close enough to her we may have our trials on earth, but we won't even feel the passage of death.
On the other hand, an obsession with something material can detain a soul to a purgatory on earth, if not worse.
[Return to www.spiritdaily.com]
[February retreat in Vero Beach; details here]
[March retreat in Atlanta]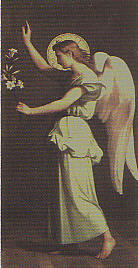 Pray always for purity and love
+++
---