---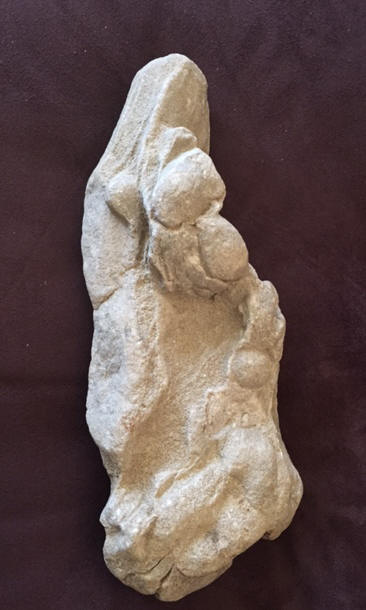 Many decades ago, newspapers in and around Remiremont, France, reported on "prints" that were found in or on hailstones — what seemed like images of the Blessed Mother (English Mechanic, 87-507). The hailstones fell with a preternatural slowness, it was claimed. It was recorded by a scribe of oddities, Charles Fort.
Now, that is quite odd! A hundred and seven people gave witness to the Bishop of Sainte-Die, who consulted with scientists such as M. de Lapparent, secretary of the French Academy. His conclusion, said Fort: lightning must have struck a medal of the Virgin Mary and then reproduced the image upon the hailstones.
Quite an explanation.
In 1892, when the dean of an English cathedral called Llandaff died, a large patch of dampness or minute fungi formed into a life-like outline of his face.
Just fungus. Right?

On February 23, 1932, newspapers in New York reported on a clearly discernible figure of Christ in the variegations of the sepia-toned marble of the sanctuary wall of St. Batholomew's Church on Park Avenue. It had not been there, and then it was. (Surely there was an explanation here as well!) 
An easier explanation:
Often, the supernatural intertwines with the natural — more often than skeptics would have it.
Admittedly: it's usually in the eyes of the beholder. Photographs may not convey the Grace felt at the time the photo was taken.
Various images, in different forms, arrive in our mailbag, most rather engaging.
Writes Alexandra Ireton, Orange County, California: "I was at the time doing an exposition of two hundred images of the Blessed Mother from all over the world when a young man approached me and said he had a something he wanted to show me. He laid in front of me something wrapped in blue velvet.
"When he unwrapped it he asked, 'What do you see?'
"Immediately I responded, it's Mary. 'Yes,' he said, 'you see it too.' He said he wanted to leave it with me as part of the collection. I asked if he carved the image; I needed background on it.
"He said, no — that he found it while hiking in Diablo Canyon next to small river at the bottom and that it was completely natural. I told him that we would show it and that he could return for it in three days at the end of the exposition.
"He and the couple who were with him never returned.
"I was shocked that he didn't come back. Nor did anyone inquire at the hospital, where the showing was at to locate me. Something as precious as this you would think he would have come back for. As you always say, 'for your discernment'" [stone is at top].
Below is a photo of a friend of ours, Ethelyn David, who at the time of the picture was in the Houston area, visiting a spot of alleged miracles called the "House of Tears" and also the home of a family where statue miracles are said to occur. Often, nature intercedes with luminosity. Lights, cameras, Grace!
Are such effects often camera/cell-phone effects? Of course. But can Heaven send a message through them, and shape light as it enters a camera? The answer to this is also "of course." (Reminder: God invented light.)
There does seem to be Grace around her!
"I wanted to share this photo with you," writes another viewer, John Palumbo. "I was visiting my mother in Cincinnati and took this photo of a statue of Our Lady of Grace in her garden at the Hour of Mercy." It's below.
We'll take it for what it was: a gift. Right at three p.m.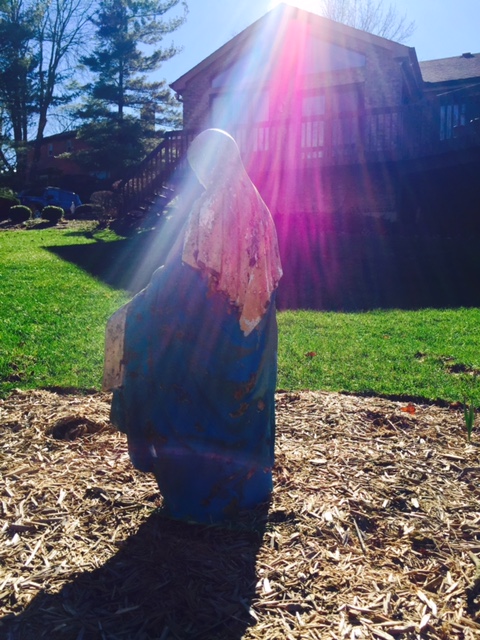 A newspaper explains the photos below: "The figure appeared in the clouds above Tonga, leading some people to claim it was a miracle. According to local reports resident Joey Mataele spotted a cloud in the shape of Mary, that was then lit up by the sun as he photographed it. It was taken above his brother's house in the village of Halaleva in Tongatapu." If not lightning, there is always the explanation of Photoshop.
Below: "We have our own God-given "sign" here in Rochester, New Hampshire," writes Larry Landolfi. "As you can see from the pictures, our permanent Adoration chapel has some very cheap looking, not-too-inspiring plexiglass windows facing east. But when the early morning sun starts to shine through them, for all intents and purposes, the 'Face of Jesus' appears on the wall. It seems pretty blatant to most. And unlike the photos you post of shafts of light, sun flare, this can be seen every morning that it's clear outside! One note though: this is best seen from about September-March when the sun is 'low.' Now that it's getting higher and higher in the sky each day, by the time it actually shines through the window, the shadow doesn't really make it to the wall (it's on the floor, unseen). As you would say: 'for your discernment."
One would naturally wonder, however: Is there a similar image anywhere of Jesus nearby — in that glass? Is it being projected by the sun as it moves through the day?
Even if so: God's Grace!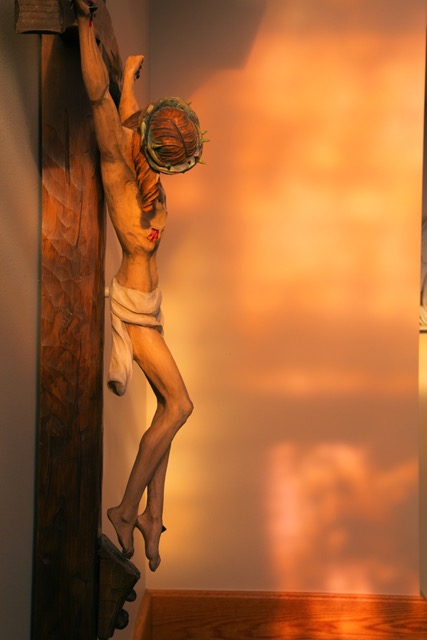 Many times, the sun is very strong around  Popes. It streams so nicely! Sure, it's just the sun.
But with it is a feeling. (Below, from Vatican Insider this week)
Lastly, a video that stretches the limits. Is it really a natural formation, or a nice charcoal drawing?
It's a bit too perfect. Supernatural manifestations are usually a bit more oblique.
But who are we…
A weeping picture (Houston):