---
[Note: A bit more than a month ago, you may recall, New Mexico Governor Lujan Grisham invoked the state's Riot Control Act to slow the spread of coronavirus and sealed off the roads into and out of the hard-hit city of Gallup. To help control a surging outbreak in the city, the governor locked down the city at the request of Gallup's mayor. It was the first town in the U.S. thusly isolated. One of the roads was Route 491, once Route 666. Let us pray down all roads. Here is an excerpt about the strange things associated with that "devilish" road]:
[adapted from Lying Wonders, Strangest Things]
It's said one of Elvis Presley's experiences with strange occult lights (he had a good many) took place en route by car from Memphis to Las Vegas when, as he crossed New Mexico, in the late 1960s, Presley claimed he and two companions, Jerry Schilling and Larry Geller, watched a saucer cross the night sky in a huge arc, growing larger and more brilliant until it cut a sudden ninety-degree turn and slung itself into the unobservable distance. We don't have a fix on what city they were near. We do know that afterwards, Presley took to reading the Book of Ezekiel. We also know the highway he was on: Route 66.
Therein lies the mystery—or better said, mysteries (plural).
For as it crosses New Mexico, Route 66 passes through a nondescript town called Gallup, where a branch of the highway veers north and, because it's the sixth "leg," was officially designated "Route 666"—a road bedeviled not only by its ominous numbers but the lore (some would say, the curse) that went along with it.
No joy ride, this: travelers suffered more than the expected number of accidents or breakdowns—especially unexplained electrical disruptions and encounters of the phantasmagoric kind. Some called it "Satan's Speedway" and with grim recollection (and straight faces) reported everything from apparitional hitch-hikers and a phantom truck to a pack of vicious dogs that somehow could keep up with any vehicle and glowered with luminous eyes. Did the juxtaposition inflame imaginations? According to researcher Dr. Avery Teicher of Phoenix, several of the accounts were well documented.
One involved unworldly canines that chased a group of motorcyclists, two of whom were badly mauled, medical records show. Others insisted they saw a woman in white hitchhiking along the side of the route or even standing in the center of the pavement before vanishing. And then there is the black sedan—some say a 1930s-era Pierce-Arrow roadster that roared alongside in a most threatening manner. As the sun sets, flickering headlights were and perhaps still are spotted, moving inexorably closer. Some say the sedan has bumped into them or, honking angrily, has forced them off the road. When folks try to see who's driving, what they observe are only darkened windows—or suddenly, no car at all . . .
Another who has written of the route in New Mexico, author Linda Dunning, said on one drive near Gallup (a one-stoplight-type town composed mainly, on the route, by gas stations, diners, and motels), her husband encountered a phantasmal semi that "looked like it was on fire heading straight for him, right down the middle of the highway. It was going so fast that sparks were flying up off the wheels and flames from the smokestack. He pulled over and got out of his car and walked way off the road into the desert till the truck passed him going what he estimated was a hundred and thirty miles an hour." "Walked"? (Rather hurriedly, one imagines.)
Meanwhile, the sprawling Navajo Reservation it borders is known for the gamut of alleged preternatural happenings — so many that a ranger was assigned full-time (along with a partner) to investigate them. (We interviewed him.)
Some of the accidents—if not all—can be rationalized. Route 666 had four hundred curves in one stretch of just sixty miles—ascending and descending steep, dangerous highlands. In 2002 a female driver suffered a heart attack
and drove head-on into a speeding truck, injuring a baby and costing four others their lives. Once known as the Old Mexico Trail, Route 66 coursed not only across the sweeping deserts of New Mexico but also the bony western spur of Colorado and into Utah, slicing through a huge Indian Reservation and a towering natural monument called Shiprock. . . which Navajos believed was magical and gave roost to flesh-eating bird-monsters . . .  More modern accounts tell the tale of folks who, encountering car trouble, have walked along the ominous trail, only to disappear with no trace—in some cases, leaving their vehicles behind, in other cases, their cars disappearing with them. In still other cases, people have vanished for hours or days. When they resurface, they experience what is known as "missing time": unable to recall where they went and how long they were gone. In Utah, north of where 666 ended, and along Route 66, similar phenomena (bigfoot, UFOs, and crop circles) are reported at Skinwalker Ranch— land that was under study by the same billionaire who funded the Nevada institute studying mutilations; for there were mutilations here also. I found the same upon journeying on a similar aggregation of bizarre occurrences called Clinton Road in West Milford, New Jersey: accounts of a preternatural pickup, roadside apparitions, ineffable creatures, and the omnipresent aerial lights and crop circles. Old ritual grounds, they said. There had been covens. And Masonic meetings. The Mafia (this is Sopranos territory) supposedly dumped bodies there. In New Mexico, fears were assuaged when the U.S Department of Transportation renumbered the road in 2003.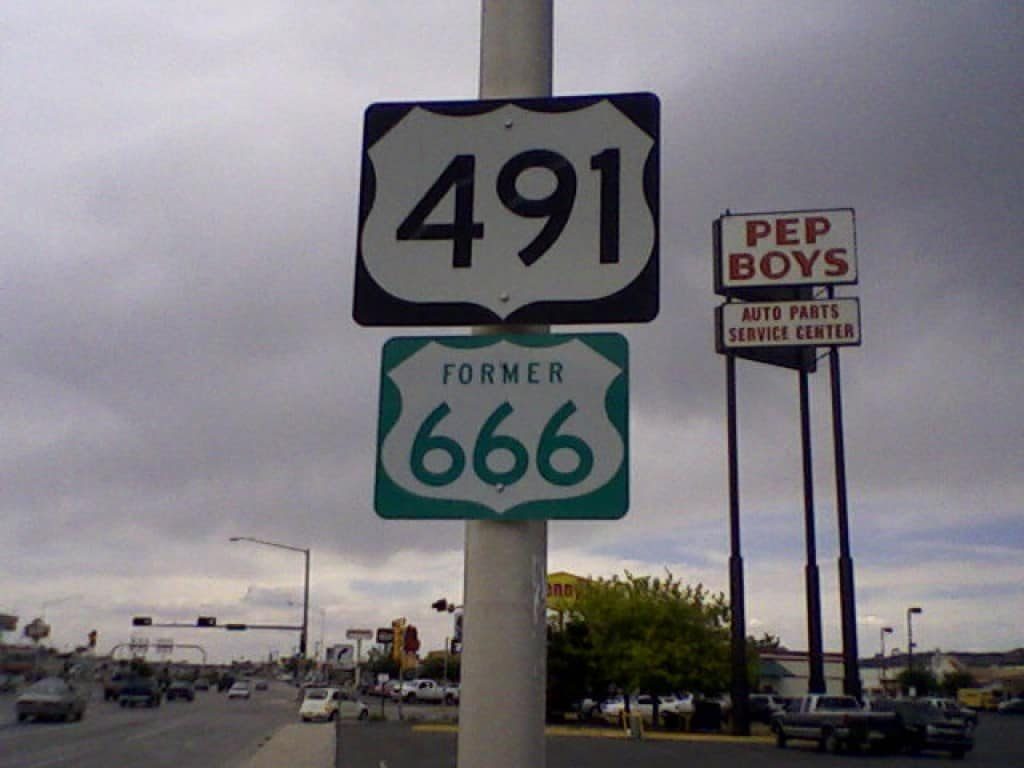 That was done after the three states petitioned the department with a resolution that included such clauses as: WHEREAS, people living near the road already live under the cloud of opprobrium created by having a road that many believe is cursed running near their homes and through their homeland; and WHEREAS, the number "666" carries the stigma of being the mark of the beast, the mark of the devil, which was described in the Book of Revelation in the Bible; and WHEREAS, there are people who refuse to travel the road, not because of the issue of safety, but because of the fear that the devil controls events along United States route 666; and WHEREAS, the economy in the area is greatly depressed when compared with many parts of the United States, and the infamy brought by the inopportune naming of the road will only make development in the area more difficult . . .  [And in the New Mexico application, let it be known that]: "There has been such an outcry from people living on or near US 66 in New Mexico and from the traveling public who avoid traveling on US 666, that House Joint Memorial 60 and Senate Joint Memorial 49 were passed by the 2003 Legislature of the State of New Mexico, to request assignment of a new designation for US 666 as quickly as possible." Has it worked? Noted Dunning: "In Arizona the road is now Highway 191. In Utah it is known as New 491/Old 666. This new moniker has not stopped the strange incidents from happening on the road, nor has it stopped people from telling stories about it. "Drive Route 666 at night, and you drive at your own risk."
–MHB
[resources: Lying Wonders, Strangest Things]