We've been speaking of family healing and note news sources swarming a week ago over one story in particular: the tragic death, because she was just 54, and had a challenging life, of Lisa Marie Presley.
She was the daughter of Elvis, same surname of course, who was likewise plagued, his whole life, with problems.
First, Lisa Marie.
As synopsized by a tabloid: "She was just nine when she saw her father's dead body slumped on the carpet. Lisa Marie went on to have four failed marriages and struggled with drugs. The star was thrust into the limelight from a young age as the child of Elvis. She was hit again by tragedy in 2020 after her son Benjamin committed suicide. Lisa Marie Presley, 54, died after suffering cardiac arrest."
Her father died even younger (42).
And so there are short lives and tragedies, as in many cases, in the family lineage.
Pray for her, her father (who had many good, Christian attributes), and the children left behind. Pray for everyone, "famous" or not famous.
There may be a lesson in it all.
Like her father, Lisa had a drug problem. Like her father (who — though he sang wonderful Gospel music — dabbled with the profoundly dangerous "religion" of Theosophy, based on spirit mediumship, and had a library of the occult) — she belonged to (but later quit) the Church of Scientology.
That "religion" was founded by a science-fiction writer named L. Ron Hubbard, who was closely associated with notorious British occultist Aleister Crowley — who also greatly influenced: Theosophy.
Tragic? Spooky? What goes around, comes around? We all have issues. It is a planet of challenges.
Notes the newspaper: "Many Elvis fans believe that the Presley family is cursed in the same way the Kennedy dynasty has been and Lisa Marie's sudden and early passing will further fuel that theory. Elvis, his brother, his parents, and now his daughter died young. At the star's funeral, two young fans were killed trying to see his coffin when a car plowed into crowds outside Graceland. And a fortnight later grave thieves tried to steal his body, which was holding a bangle left there by his beloved Lisa Marie."
Many don't know that Elvis had a twin, Jesse, who was stillborn 35 minutes before Elvis arrived, nor that when Elvis Presley was born, around 3:30 a.m., on snowy January 8, 1935, an inexplicable blue light was reported as hovering above his family's modest house. His father referred to it often as rock's own "star of Bethlehem" and explained that "as I looked around, I noticed something strange. The whole area around the house was lit up with a blue light. It seemed to surround the house. And just at that moment, the wind stopped blowing. It was so still you could hear a pin drop," notes one biography.
Perhaps it was no happenstance that the rest of his life, Elvis had a predilection toward blue (including songs called "Indescribably Blue," "Blue Moon of Kentucky," and "Blue Suede Shoes…") and "UFOs."
Also in the news: the Catholic-schooled Damar Hamlin of the Buffalo Bills, who nearly died after going into cardiac arrest during a game against Cincinnati on national television. After a hard tackle, and regaining his feet, his heart stopped for some reason. It brought an entire nation together to pray, with the quarterback crediting Hamlin's recovery to God.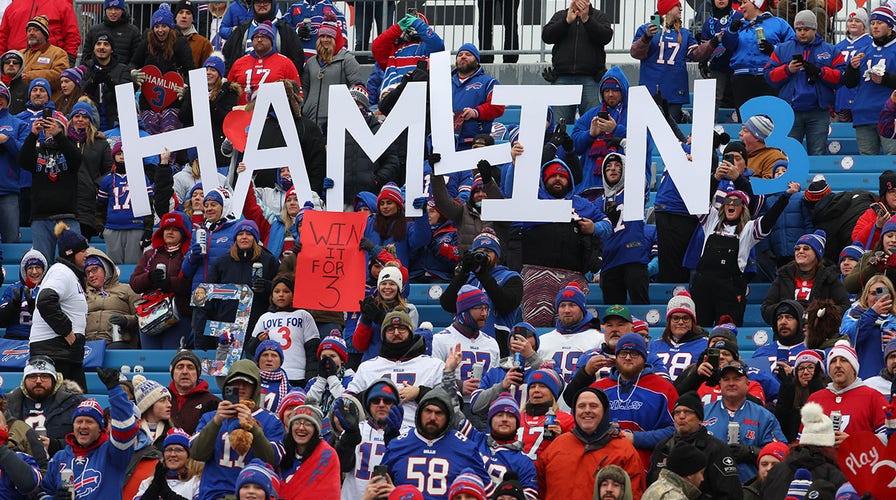 Pray for him. Pray also for Buffalo. This city, filled with good, hard-working people, has suffered much during the past year, including a mass supermarket shooting, a record November snowstorm, a historic blizzard just before Christmas, and now Hamlin, whose injury temporarily threw the Bills off their quest for a Super Bowl (they were favored this year, after losing four Super Bowls, but lost their playoff game in a rematch with Cincinnati yesterday — yet another blow to a beleaguered area.
Perhaps all the prayers for Hamlin will break the Buffalo "curse," if curse it was/is. Many cities or areas have what seem like shadows. Interesting, in looking back, is the case of Chuck Hughes, a reserve receiver for the Detroit Lions who was hit after his first reception on October 24, 1971, and died that day at 3:30 p.m.
It was a heart issue, which also had killed his parents. Lions doctors explained that Hughes also had suffered pain in an exhibition game September 4 and had required two hospitalizations. His wife Sharon said Chuck never felt the same after the exhibition game injury. The team they played had been Buffalo.
[resources: family tree healing books and Lying Wonders, Strangest Things]