---
One of the most learned men of the early Middle Ages was the Venerable Bede, an Anglo-Saxon monk who lived in Northumbria in the late seventh and early eighth centuries. In chapter 25 of his scientific treatise, De natura rerum ("On the Nature of Things"), he describes comets as "stars with flames like hair. They are born suddenly, portending a change of royal power or plague or wars or winds or heat."
In the news lately is a new comet detected on March 27, called "Neowise." It has two tails, one of gas, one of dust. It is unusual and one of the brightest this century.
Does it portend anything?
Are comets omens?
Who knows. But consider a few concurrences.
In March of 44 B.C., a group of Roman senators assassinated Julius Caesar over concerns that he would declare himself king.
Four months later, a huge funerary festival called Ludi Victoriae Caesaris was held in his honor and "a great comet appeared in the skies during the ceremonies and remained visible for seven days before disappearing," explains Listverse.
Does Heaven really note worldly figures in such a fashion?
More often, signs in the sky are tied to events.
It's believed an unusually noteworthy appearance of Halley's Comet occurred in 66 A.D. — noteworthy because that was the time of the historic Jewish Rebellion (against Rome) and just four years before destruction (by those same Romans) of the Temple in Jerusalem.
The Temple's demise, as those who read Scripture know, had been predicted by Jesus — Who mentioned signs in the sky (Luke 21) in the same passage.
So: what we see up there in the heavens may have meaning, according to Jesus.
This is for certain: nation rose against nation; tens of thousands were killed during that conflict after the Lord's death; and in general the forces of nature were in a fury. In Rome floods struck in the very vicinity where the apostle Peter was crucified.
Some believe a comet — plausibly Halley's — shed fragments around 530 A.D., kicking up dust that blocked some of the sun and caused global cooling. Once more, strong and strange weather — a shift in climate — was noted.
Shifts in climate led to plague.
In 1066 astrologers in England suggested that Halley's had something to do with an upcoming battle with the Normans.
Says Listverse: "[But] they could not determine if it was a good or bad omen. They discovered it was a bad omen when King Harold was killed. However, what was bad for King Harold was good for William the Conqueror, who had also spotted the comet in France while traveling to England for the battle. He called it 'a wonderful sign from heaven' and suggested it was evidence that he would win the war. He was right."
Meanwhile, Pope Urban IV is said to have become ill immediately after another comet was sighted July of 1264. He died in October, reportedly on the last day that the comet was visible.
Then there's the Incan emperor named Huayna Capac (circa. 1464 – 1527), who predicted upheaval after he spotted a large green comet. Soon after, his kingdom was overtaken by arriving Spaniards.
A stretch?
Many of the connections are.
They are also intriguing.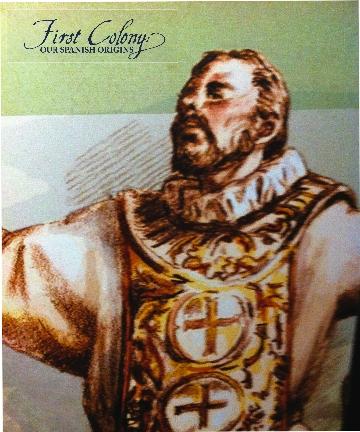 Speaking of Spanish explorers (much maligned these days, often unfairly): It was an unusual comet in 1565 — recorded by Father Francisco Lopez, a priest aboard Admiral Pedro Menendez's ship — that was taken as a sign they would find the new world, which they called La Florida. Father Lopez wrote that the daytime comet was as bright as the sun and lasted through two Credos. (They spotted land the next day.)
As for comets tied (on earth) with "forces of nature": on October 20, 1811, Europeans and Americans watched in awe as a bright comet made its closest approach to the earth. Weeks later came the most powerful earthquake ever to strike America's mainland (the New Madrid disaster along the Mississippi River). Additional and powerful quakes lasted into 1812 — a year of war between the U.S. and England…
Not always "omens," some postulate comets as causing catastrophic events. This is true for inexplicable inundations more than a thousand years ago in Europe, and there are those — in North America — who believe vapors from a disintegrating comet called Biela were behind historic fires in Chicago and Wisconsin on the same day in 1871 (a chastisement foreseen, twelve years before, in Champion, near Green Bay, by the Blessed Mother in what is now an approved apparition).
Did a part of North America brush incendiary vapors from that comet?
Remarkably, Halley's appeared on the day famed author Mark Twain was born (November 30, 1835) and (as he predicted) the day he died (April 21 1910).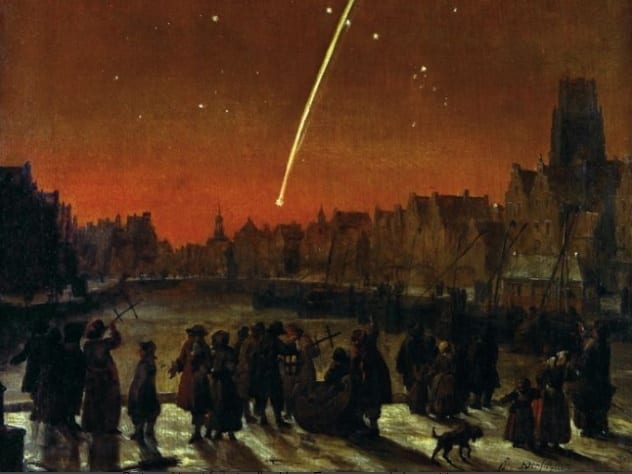 Those are simple facts.
If a comet had an elongated tail, that represented a sword. That was a sign of war and death. The one over Jerusalem was said to have hung there like the sword of Damocles.
Notes a NASA writer, "Caesar and Napoleon aside, comets generally have been regarded unwelcome visitors over the years. Pope Callixtus III excommunicated Halley's Comet in 1456 as an 'instrument of the devil,' and in the following century the appearances of comets were seen by Inca and Aztec astrologers as signs of divine wrath leading to the downfall of those empires to Spain. The 1835-36 return of Halley's Comet was said to have caused a large fire in New York, a Zulu massacre of Boers in South Africa and the Mexican slaughter of Texans at the Alamo. In 1910, charlatans sold 'comet pills and 'comet insurance' and a number of fearful Americans tried to board up their houses as protection against poisonous cyanide gas as the earth passed through the tail of Halley's comet."
By the way, to quote him verbatim, what Mark Twain had said was:
"I came in with Halley's comet in 1835. It is coming again next year, and I expect to go out with it. It will be the greatest disappointment of my life if I don't go out with Halley's comet. The Almighty has said, no doubt: 'Now here are these two unaccountable freaks; they came in together, they must go out together.'"
[resources: Lying Wonders, Strangest Things]