---
Is there "high strangeness" in our time?
There is high strangeness!
It gets particularly uncanny in Brazil.
Does one sense the evil one, up to his games? Perhaps one standard: does it lead you to distraction or holiness?
Notes a blog post:
"Since 1917, there has been hundreds of Marian apparitions worldwide, with various degrees of eyewitness reliability. Many, involving unusual cloud movement, unusual movement of the sun with strange disks seen before and after an apparition. The messages are also interesting as they often involve warnings of doom, war, and destruction. The same messages often given to individuals who claim to have been in contact with aliens. One of the modern cases reminiscent of Fatima occurred in northeastern Brazil. April of 1994, a luminous figure appears to Jose Ernani dos Santos, who was at the time praying. The figure announces that she would appear again in the first days of September and October.
"Word spread quickly and an estimated three thousand arrived on September 1st to witness the apparition and a unnatural darkening of the sun. One witness, who was also a UFO investigator, described seeing a cloud in the sky that was emitting multicolored light in all direction, and how the top of the trees were illuminated by the lights.
"Another sign was promised for the following month. This time, a crowd of over five thousand believers and a handful of scientists, members of the Brazilian UFO Research Center, came together on October 1st. At around two in the afternoon while Jose Ernani was praying, two large clouds moved rapidly towards the sun, in effect darkening the sun. One of the scientists, Reginaldo de Athayde, mentioned that there seem to be a large amount of static electricity in the air.
"As people were crying, praying and falling to their knees, a silver disk appeared briefly before the cloud. By this time Jose Ernani was is a trance, apparently receiving a message from the 'holy virgin.' The disk disappeared briefly only to reappear next to the sun. It was described at about the size of the full moon. It disappeared once again and all was silent, until someone shouted 'look at the beads of the Virgin's rosary.' In the sky was four metallic looking discs.  Three were line up in a row, and a fourth was off to the side slightly obscured by a cloud."
Trances? Silver discs? It certainly doesn't sound like Fátima or Medjugorje.
Deception? (We'll let you determine.)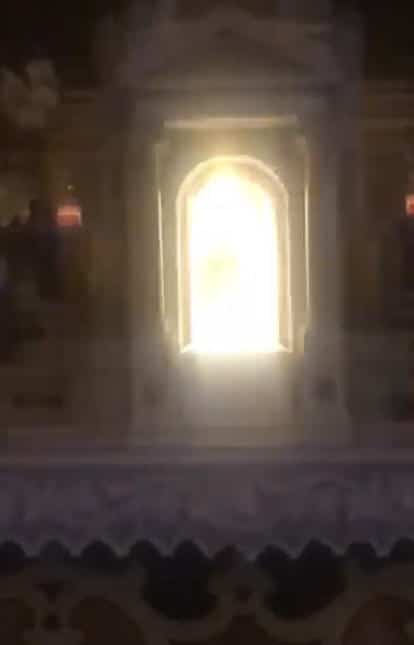 In Italy, at the Sanctuary of the Madonna of Frassino Peschiera del Garda, a stroboscopic-like light flashes from a statue — a bit too neon, too flashy? Or an extraordinary dovetail with its history?
A brief on-line background of the phenomenon (very rough translation):
"It is May 15, 1510 — while a farmer named Bartolomeo Broglia from Mozambano was in the countryside in the Pigna district to trim the vines, seeing a frightening snake nearby, he remained out of fear.
"Raising his eyes to Heaven, and to the Most Holy Virgin, his Advocate, he saw her — a statue of Our Lady — among the verdant branches of an ash tree; before which, genuflecting, driven away from every fear, indeed full of great consolation, he gave the due graces, stood up, and made himself bold, and approaching her, stretching out his hand, and all jubilant, brought it to home, and showed it to his servants; he locked it in a chest, wanting only to be the custodian of the purchased Treasure. But the small statue of the Madonna returned to the ash tree. The image of the Madonna is brought to the Church of the Discipline to be kept, but still returns to the ash tree, and from here, like a large river, it continues to spread its love as a mother. Appearance on the Ash of the Madonna, in the form of a statuette illuminated by a beam of light, to the peasant Bartolomeo Broglia."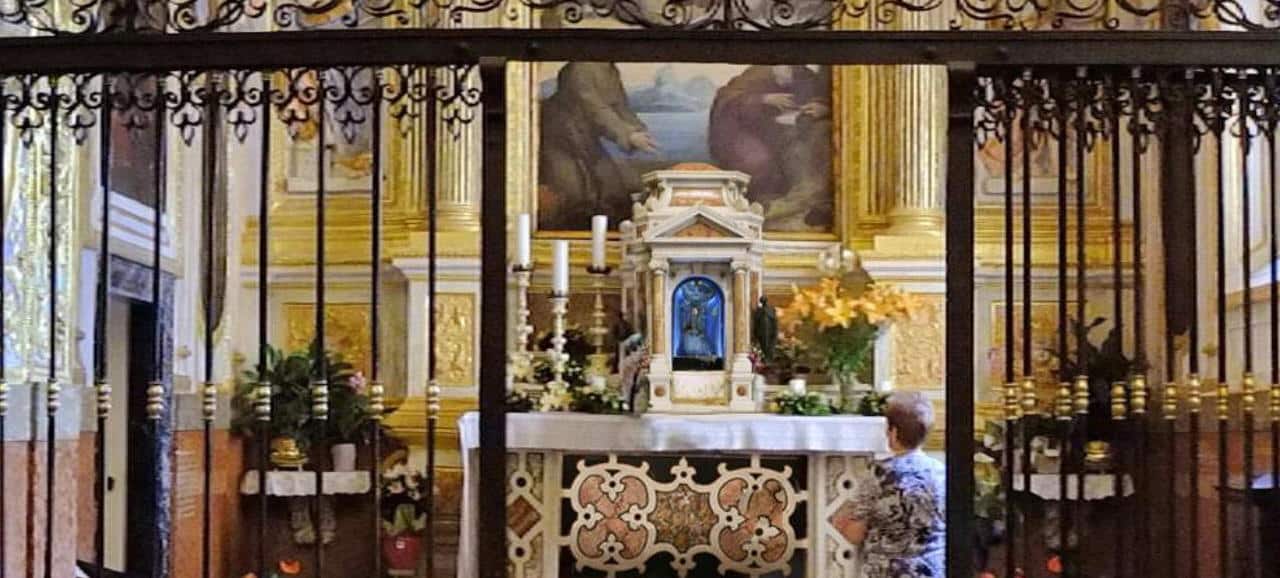 "We are looking for an image of the Madonna and we find ourselves in front of a small statue, but so small: it is the humility of her smallness, of her who always loved to be called little. 'You too never try to be big, stay small, stay that way. Then the Lord will make you grow, it will be his love that will make you great, it will be his love that will give you prestige, because you are his son. But don't forget that you have to be small ' (from a homily by Mons. Eugenio Ravignani, Bishop of Trieste, 11-5-1990).
---
In another matter, there are all those strange rumblings and booms during the past ten years.
Continue they do.
"Around 5 a.m. Monday, a loud sound moved through parts of Anchorage," says a news report we purviewed. "It came in bursts, getting louder, then evaporating. It was heard from Midtown to West Anchorage, from Spenard to the Old Seward Highway. Some heard it once, others repeatedly for hours. People miles apart reported the tone abruptly waking them up. 'It's almost like a foghorn, and screeching metal on metal,' said Jamie James, who heard the sound as she was getting ready for work in her home near Lake Spenard."
Like others, James knew the sound, but the origin was mysterious. It's eerie, described by some on social media as symphonic. It's also sporadic, ramping up for about twenty seconds and then disappearing. No official or private business can come up with an explanation. As in so many cases, police are befuddled. Is it a submarine out there in the depths? Some sort of secret subterranean project? Sonic booms? A demonic invasion? Guesses as to origin range from the mundane (heavy equipment, though this has been discounted; earthquakes; methane releases in deep sediments) to the bizarre ("UFOs" and supernatural "trumpet" sounds ).
Notes the newspaper: "One of the most popular theories has an unusual name: ''trumpets in the sky.' A noise similar to what's being heard around Anchorage has been recorded around the world. People subscribing to the theory tend to believe the phenomenon happening in Anchorage is related to the noises elsewhere, but there isn't a consensus on what, exactly, that phenomenon is." One has to admit, despite skepticism, that the sounds in some places remind one of the tones on the mothership in Close Encounters. As if moaning, the earth is soniferous.
Seismic? Or does it represent the intense engagement of spiritual warfare?
---
And then there's what is sometimes called Alaska's Bermuda Triangle, "a place in the untouched wilderness of the Frontier State where mystery lingers and people go missing at a very high rate," says another blogspot. We're back in Alaska!
"The Alaska Triangle connects the state's largest city of Anchorage in the south, to Juneau in the southeast panhandle, to Barrow, a small town on the state's north coast. Here, is some of North America's most unforgiving wilderness.
"The area began attracting public attention in October 1972, when a small, private plane carrying U.S. House Majority Leader Hale Boggs, Alaska Congressman Nick Begich, an aide, Russell Brown, and their bush pilot Don Jonz seemingly vanished into thin air while flying from Anchorage to Juneau. For more than a month, 50 civilian planes and 40 military aircraft plus dozens of boats, covered a search area of 32,000 square miles, but no trace of the plane, the men, wreckage or debris were ever found."
---
Okay, maybe. There are strange, inexplicable places! That's for sure. Stay tuned for more.
But are there too many "mysterious triangles"?
How about a rectangle or a square, even a parallelogram, for a change?
[resources: Michael Brown's Lying Wonders, Strangest Things]
[Feedback: "God revealed this to His Saints, to include Saint Faustina.  The Revelation " A Cross will form in the sky " just prior to the return of Jesus – for all mankind to see/witness. This should be a celebratory event but dire warnings are foretold.  He returns in Great Glory not as a Merciful Savior but as a Crowned King with Judgement on His agenda. God, during Creation hung these stars in a certain way for mankind to read and interpret. Its simple, Jesus Christ Son of God the Father is the Majestic Holy King of all Creation. We must bow and kneel before Him our Lord, Merciful Savior, Just Judge.
"The name of the stars and constellations and their role in Creation and First and Second coming of Jesus Christ have been lost or changed and or ignored throughout the centuries. But fast track and not dwell on details the Betelgeuse Star is about to explode and go supernova. It's 'just down the road' from us in astronomical terms. If Betelgeuse goes Supernova it will be ten times larger than our sun.  So,  if Heaven is wrapping up the Time of the Gentiles, and the end is near,  the Betelgeuse Supernova will explode out and form a 'cross' that will light up the sky night and day. Our Lord spoke to Saint Faustina and described these end time events and what to do to spare yourself from the Wrath of Judgement.  Pray, especially the Chaplet of Divine Mercy. — Leonard Ameika"]