Can a bridge be cursed?
You have perhaps heard this about the Golden Gate in San Francisco: all the suicides that have taken place there. (They stopped counting at 997, so as not to encourage record-breakers.)
That doesn't mean it's a "curse": high, famous spots are often a dramatic convenience for those who so unfortunately want to take their lives. One also thinks of the George Washington Bridge across the Hudson River at New York City (ten suicides a year) and the cataracts of Niagara Falls (between 1856 and 1995, an official count — at least according to one source (it sounds a bit high) — of 2,780. Some claim twenty to forty a year.).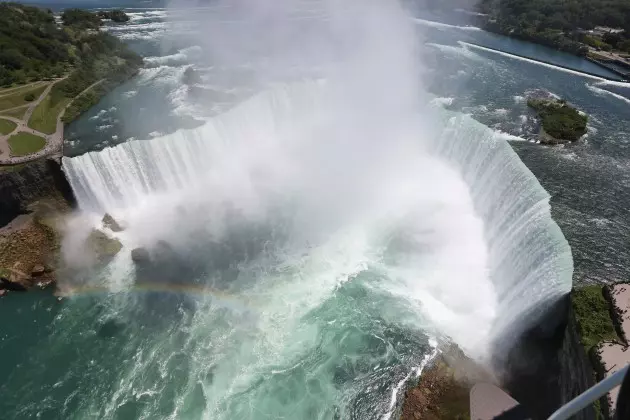 But sometimes there's more than just the lure of a "dead-sure" (if terrifying) way of ending it.
Case in point:
In Tampa is the Sunshine Skyway Bridge, rumored to have been built over a Tocobaga burial mound.
That extinct tribe of Native Americans believed a curse would torment anyone who violated sacred burial plots (and there are certainly claims to this effect around North America).
Since its opening in 1971, according to author E. Lynne Wright, well over a hundred pour souls (135 by 2012) had jumped from the span. A period from January to early August, 2012, was especially tragic, with nineteen people reportedly jumping from the bridge. Some locals call it "Suicide Skyway."
Suicides are one thing. Accidents are another. They can speak more directly of "luck" that is suspiciously bad. And there have been plenty of those.
In 1980, in near-perfect weather, a Coast Guard boat called Blackhorn was headed from Tampa to Galveston, Texas, when it had a head-on collision a mile from the bridge and capsized. One case does not a curse make.
Just four months later, however, a 608-foot freighter, Summit Venture, slammed into the bridge and 1,200 feet of the span crashed into the bay with six cars, a bus, and a pickup. Some thirty-five "terrified humans lived the last few moments of their lives hurtling 150 feet to their deaths," said the author. It was one of the worst accidents in the nation's history.
Undamaged parts from the bus were later used to repair other buses and "it has since been reported that nearly all of the repaired buses have subsequently burst into flames for no apparent reason," claims Wright.
A new bridge was built in its place, and some aver to see a phantom bus motoring along a nearby fishing pier, the driver staring eerily ahead as it disappears off the pier. Parts of the bridge were used for piers.
In 2004 a nearly identical fate threatened another bus when the driver slumped over and fell unconscious onto the floor.
Here there was a happier ending: three passengers managed to get to the steering wheel and guide it to safety as it bounced and scraped against the concrete safety barrier!
Bizarrely, a small-engine plane was once spotted at the southern end of the causeway by several witnesses crashing into the bay, but no sign of any such plane was ever found by the Coast Guard.
Clear day. No debris. No bodies. But witnesses that a plane had crashed.
A tractor-trailer also went over the side, but fortunately with no fatalities.
Meanwhile, stories abound of young women, some blond, some dressed in white, positioned to jump from the center of the bridge or simply walking at roadside. One such woman was reportedly hitchhiking, and after she was picked up, supposedly disappeared from the car without a trace. Just gone.
"Other motorists claimed to have picked up a woman in white who demanded to know if they accepted Jesus Christ as their Savior,"  said Wright, "then disappeared."
Maybe one message: there can be hidden curses in all our lives. Scripture speaks of them. Meanwhile, when things don't go our way, maybe God wants them to go His (sky)way.
[resources: Lying Wonders, Strangest Things]