---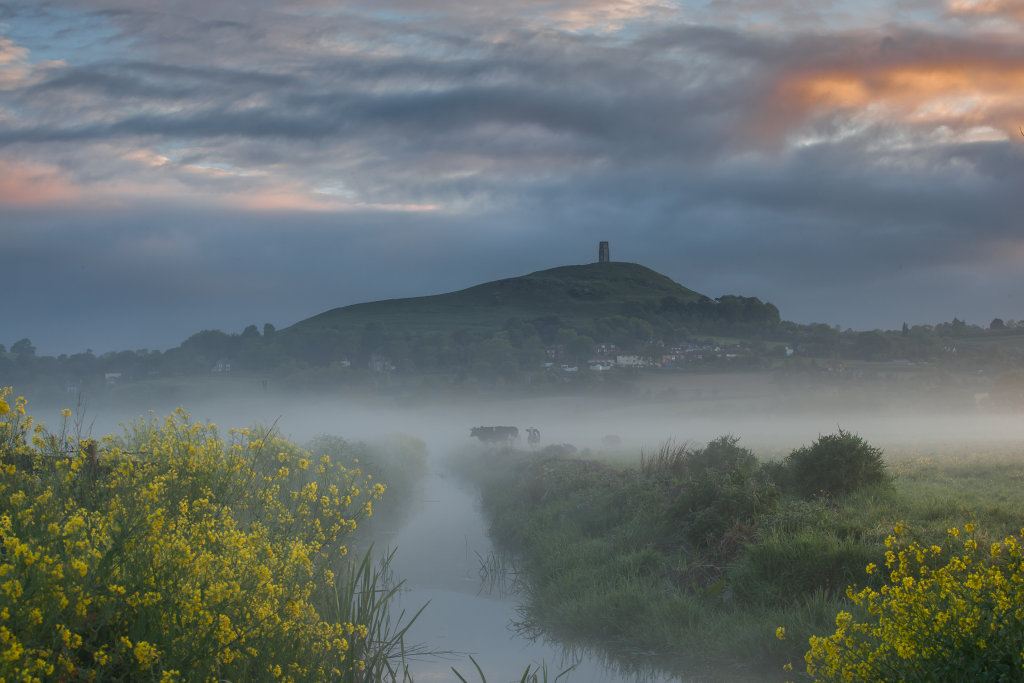 It's a place, for certain, of unusual spiritual dynamics — and likely, spiritual warfare.
You've probably not heard of it, "Glastonbury Tor," in England, an island-like parcel in that it once was surrounded by marsh and features a large hill (in old English, "tor") upon which are the remains of a structure named for the champion of spiritual warfare, Saint Michael.
Through time, forces of good and evil seem to have battled here. While Catholics built churches — pointedly named for the great warrior angel — through the centuries some occultists believe there was a labyrinth and large zodiac in the area, which is considered sacred by the modern "goddess movement." New Agers believe nature reduced the church to a tower that is representative of occult power.
It's a place with incredible history when one considers the ancient monks who once roamed here, the abbot who was drawn and quartered during a suppression of Catholics by King Henry VIII, the speculation that legendary King Arthur may have been buried here (that it is the legendary "Avalon Isle"), and even that the Holy Grail had been hidden here.
It also might be where Arthurian legend had it that the dead meet and are taken up to a new level.
Notes a New Agey commentator: "Centuries of legends and folklore have gathered around this Tor. In their various ways, these tales all demonstrate one thing – that the Tor is a place where the veil between the worlds is thin. Strange experiences here are usually interpreted according to the beliefs of the times. An otherworldly being met on the Tor might be called a fairy in one century, a nature spirit in another and ET in more recent years. Legends say that the top once sported a stone circle like Stonehenge."
A famous Tor story is the encounter between St. Collen with Gwyn ap Nudd. St. Collen, a devout Christian monk, had heard about the heathen fairies of the Tor, and decided to do something about it. He found the special place on the Tor that locals said was the entrance to Annwn, settled himself down, and put out for an encounter. Before long, Gwyn the mediator answered him in person. He led St. Collen into his court, where the fairies offered their food and drink. The monk refused these offerings, and threw Holy Water at his hosts. At that, he was instantly back on the grassy slopes of the Tor surface."
The original wooden church of Saint Michael was destroyed by an unusual, powerful earthquake in 1275 — on September 11 of that year, felt even in London.
It was the stone church and tower built to replace it now that now are evidenced by three remaining corners of the tower.
The low-lying marsh produces what scientists believe is an optical effect ("Fata Morgana") whereby rays of light are slightly bent as they pass through different atmospheric layers, causing the Thor to seem like it rises out of the mist itself.
An optical illusion — or a mystical quality?
UFOs are reported as balls or triangles of strange light. One alleged witness: rock singer Mick Jagger (he of Sympathy for the Devil) who encountered a luminous cigar-shaped "ship" in 1968 while camping there. 
The pertinent point is that the only thing left — of this site that may have been settled more than ten thousand years ago (in neolithic times)  — is a tower linked to Michael, who one day, after other earthquakes, other suppressions, after other warfare, may rise here once more.
Glastonbury sets on what some called the "Michael Line," as well as the "Sword," a "ley line" that slashes on the map across nations and intersects at important shrines dedicated to the archangel, including Mont Saint Michel in France.
\
What goes on at St. Michael' Tower?
If the St. Michael Sword is said to highlight formerly pagan strongholds, conquered by the archangel, and if paganism is arising again, at places like Glastonbury, it may tell us something about the battle that now ensues worldwide.
[resources: books on spiritual warfare]