We tackle a wide range of topics here, from strange places to science to politics, and sometimes a combination.
That's the case this month.
Originally, I was going to focus solely on the fascinating mystical hot spots in America's Southwest, which I recently visited. And still will hold them at the center of this report. "The Land of Enchantment," they call it (at least in the case of New Mexico). There are massive burial grounds. There are the bizarre events reported in certain places (especially along a highway once designated as Route 666). There are strange lights over places like Phoenix — witnessed by thousands, including baffled public officials who have been left speechless.
The "enchantment" includes seers and prophecy. I have dedicated a number of "special reports" of late to prophecy. I had no intention of doing so this time. But once more events overtake us. There are the floods, which are growing — as drought does also. There are bizarre manifestations cropping up everywhere — in a way that to my eye is unprecedented, particularly in the Southwest — a front in the pitched spiritual war!
And so we'll look at both in this "special report": the link between unusual mystical locales and the prophetic realm — for a link there is: not just "enchanting" but, at some turns… also chilling.
When I say "Land of Enchantment," I am including New Mexico — of which I have previously written. Think about it. This is a state that has:
— Roswell, where an "alien" craft supposedly crashed in 1947. (If not a high-tech military balloon, I believe it was a deception: "Big Foot" is also seen in the area.)
— Skinwalker Canyon, in northwest New Mexico, near Farmington — one of many spots in the Southwest where Indian adepts (witches) supposedly transformed themselves into demonic creatures. (Another deception.)
— A second alleged UFO crash site in 1948 near Aztec — not far from Farmington
— Route 666. Though now called Highway 491 (officials decided to change the name due to many bizarre events and accidents, and fear among those who called it "Satan's Highway" or "Highway of the Anti-Christ"), it runs from the intriguing — and haunting — Old West town of Gallup straight up west of Farmington into Colorado and Utah.
As I discuss in my new book (Lying Wonders, Strangest Things), numerous people have reported extraordinary phenomena while driving on that asphalt. There are those who have gone missing for hours or even days — and can't recall a thing transpiring during the time they were gone.
There are copious reports of unusual airborne orbs of light.
There are those who insist that a phantom semi-trailer truck barrels down the road, throwing sparks and forcing cars off the road (or into accidents). A Franciscan priest I know who lives in Gallup says he has heard some such accounts (though not directly).
There are roadside packs of fire-eyed "hellhounds" that allegedly have chased cars. "Even after the highway shed its demonic name, paranormal rumors persist," noted one writer. "Tourists have reported ghost encounters —faceless hitchhikers, mystical skinwalkers –– and evil specters."
All of the above are exploding in our time as signs of our times.
Make no mistake. This sort of thing, dismissed outright by those who never really investigate it, is as relevant as predictions by reputed seers — one of whom I met during a recent retreat in Albuquerque (more on that in a moment).
During the incident I mentioned in Phoenix, a massive and triangular formation of unexplained lights swept over the metropolitan area and down toward Tuscon. Even the mayor of Phoenix witnessed them — a huge "something" in the sky that made virtually no sound.
The first mass sighting was in 1997 and made international headlines due to the thousands who saw it, repeating itself about ten years ago. The lights were also seen in Nevada and Mexico — probably far more frequently than reported in  newspapers or police logs.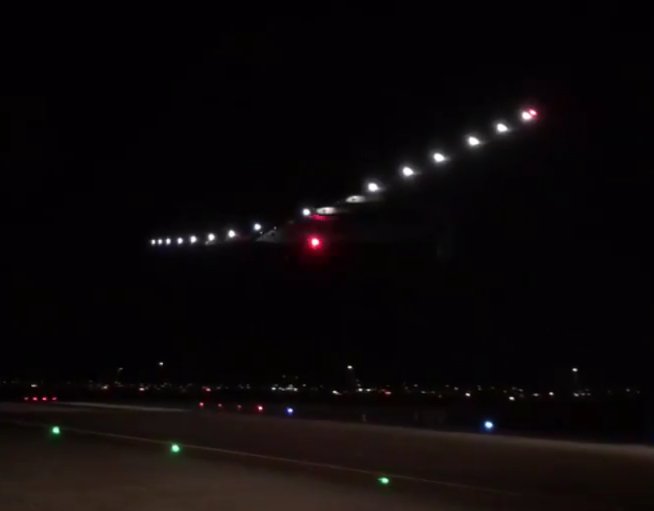 That much is known.
What has gone unreported, however — what I have learned — is that before their appearance in Phoenix, an identical formation was observed to the north over
Navajo Nation — the largest reservation in the world. This I learned from a ranger, Sergeant Stan Milford (comparable to state police), who said he and others saw a triangle with three panels or rows of lights side by side — seven or so unusual craft moving in a counter-clockwise direction. "The lights circled us for forty-five minutes," he told me. That was the night before the famous Phoenix sightings.
Let's be frank. Native Americans were wonderful people, in so many ways, but as the ranger, a Navajo himself, openly acknowledges, they were steeped in their own form of witchcraft.
Did you know that totem poles had occult symbols, and that smoking tobacco was invented by Indians as part of a ritual to contact spirits, and that even the beads on moccasins can have magical meaning?
As a result, says Sergeant Milford — who once was assigned to investigate such reports first-hand — the reservation (stretching from Flagstaff to Gallup, seventeen million acres in size) is filled with reports of poltergeists, ephemeral creatures such as werewolves (skinwalkers), and related alleged phenomena.
He says while investigating Big Foot reports, he and a partner saw a strange creature themselves.
"It was like what seemed like a classic form of a Big Foot through our night-vision equipment," says this sober, serious-minded officer, who had been with a special unit investigating paranormal reports and now heads the reservation's Department of Resource Enforcement.
"We were walking along one road and there were rocks that came flying from the trees from an area about five hundred feet away. The largest of those rocks — there were probably about ten — probably weighed twenty-five pounds and these rocks would land with ten feet of us. No human could have thrown them so far. That twenty-five-pounder could have killed someone!"
They have seen tracks. They have a hair sample (or what they thought was such a sample). But about those tracks: though they were extraordinarily large, going as far as a mile, none of the vegetation is disturbed around them – implausible, felt the detective, if it had been a massive animal.
It was a spiritual deception, both a chastisement (we bring such evil upon ourselves) and a sign of intensifying times? "For not without means was Your Almighty Hand, that fashioned the universe from formless matter, to send upon them… new-created, wrathful, unknown beasts to breathe forth fiery breath, or pour out roaring smoke, or flash terrible sparks from their eyes," says Wisdom 11:17-19.
"The coming of the lawless one is according to the working of Satan, with all power, signs, and lying wonders, and with all unrighteous deception among those who perish, because they did not receive the love of the truth, that they might be saved," warns 2 Thessalonians 2:8-10.
At LaSalette, the Blessed Mother foretold not only of war and natural disasters — not only of the seasons being altered (as is definitely happening) but also said, "May the Pope guard against the performers of miracles. For the time has come when the most astonishing wonders will take place on the earth and in the air."
It's serious business. And it is happening all around us — especially at hot spots such as those in the "enchanting" Southwest, which has the residue of Indian occultism and "portals" to who-knows-where.
It is bursting upon our times — coming out of the woodwork at the same time that we see or hear about or feel those magnitude-7 quakes in southern California, or encounter wildfires (and temperature of 90 degrees) in Alaska, or see floods swamp D.C. and Louisiana. As I have often emphasized, what to look for are extremes. For example, parts of Honduras, which is also home to Big Foot, have recorded just about no rainfall for several years now — especially a place called El Rosario (The Rosary). In San Pedro Zula, a river that was always full in the 1980s is now an inch-and-a-half deep.
But back to New Mexico:
"I also had an experience with what they call a skinwalker that looked like a greyhound about four and a half feet tall, all white head to toe, large head that looked like what people call a werewolf," Sergeant Milford recalls. "As I was driving I looked over and it was looking right over to me and its eyes had like illumination — as bright as an exit sign in a theater. It was looking right at me and I just floored the car and slouched down as far as I could and still see out of the front window."
Route 666 runs up just west of a place called Shiprock, a 7,000-foot rock formation said to harbor mythic creatures, and in the direction of the San Luis Valley in Colorado — famous for its UFOs and cattle mutilations — while in Utah a branch of the old trunk road (Route 66) is not so far from "Skinwalker Ranch" — a 512-acre spread of acreage in Utah so renowned for bizarre reports that a billionaire purchased it and hired scientists to conduct studies. 
When not skinwalkers or "Big Foot," then: aliens. One man back in Milford's territory reports an object "bright as the sun shooting out beams of light, with no sound," and spotting typical "extraterrestrials" under a street lamp: four of them, each holding "flashlights" that focused what resembled a laser beam about an inch in diameter at the dirt, as if looking for, or detecting, something.
As they approached his solar walkway lamps, says the cop, the lights would blink out. 
A young dog penned nearby ran up to them and yelped and "passed away within a week," said the ranger, this near a town in northern Arizona called Burnside.
It is a territory, is this reservation, riddled with old witchcraft ritual buildings; forts where Indians were detained before being shipped elsewhere; and areas of crime or graves. These places, theorizes the ranger, retain "negative energy." 
When, during a recent exploratory trip out that way, we stopped on Route 66 for a restroom break at the El Rancho Hotel in Gallup — unaware of its fame — we felt that telltale creepiness on the nape of the neck and two of us saw a pile of towels suddenly fall right before our eyes with no one around (we looked for a maid) and no cause. (Later we learned this hotel is the "most haunted" on the old highway.)
Satan plays many games.
Winslow, Mesa, Coalmine, and Cameron: all are among dozens of locales in this occult hot zone,  None were more threatening than what the rangers investigated near the town where Milford grew up: Fort Defiance.
There, said the ranger, they were sent to investigate a case where at an office facility on the reservation, sixty-five coins materialized one by one out of nowhere before Milford and other officers. When one man joked that "it" should send higher denominations, Sergeant Milford says a dollar bill materialized in front of their eyes and flew about ten feet across a room in one officer's home, smacking a woman in the face. "When I picked it up, I saw the letters 'DIE' were on it, as if by magic marker, the 'E' shaped like a… pitchfork." In the kitchen was also a three-tiered wire fruit basket on an island counter top. In front of disbelieving eyes, a butcher knife wiggled out on its own accord and allegedly sailed four feet and into a grapefruit, cleaving it in half.
In another case a woman's car was followed by a strange orb of light before she encountered a large, preternatural "rabbit." Of course, it was no rabbit — just as there was no actual werewolf or Big Foot, at least not in the way of earthly mammals… 
As the spiritual conflict heats up, such darkness is offset (and will hopefully be exceeded) by the holiness in this region — apparent in spots such as San Miguel Chapel in Santa Fe (the oldest standing parish in the U.S.); the miraculous spot of Chimayó, where we venerated a miraculous Crucifix; and the nation's oldest church dedicated to Guadalupe.
There is also what may be the oldest statue of Mary — La Conquistadora — in the U.S.
But for now, darkness is gaining ground here and elsewhere — deepening. The Southwest is simply emblematic. Ground zero. Two days after we visited the Grand Canyon, saucer-shaped objects were reported in the sky there. Is it surprising that the canyon is known for haunted Indian caves?
But where there is darkness, there is Light. In Albuquerque, I met a woman who has claimed to hear and see Jesus since the 1980s — including exterior (auricular) locutions that speak of our topsy-turvy times. 
"From 1983 to the present, she has received and recorded visions and messages from Jesus, Our Blessed Mother, and Saint Michael the Archangel," the priest from Gallup, who serves as a spiritual director, told me. "In one of her visions Jesus told her that 'a light will come from New Mexico.'"
In yet another vision, the visionary allegedly saw Jesus with His arms wide open and "New Mexico" on His chest — along with a beam of luminosity going skyward from a Cross and another coming down from His Heart, connecting together.
As they connected, they was an explosion of glorious light.
"This is the same prophecy that you have had on your website," said the priest. "Is it a coincidence? I do not think it is a coincidence!"
(He was alluding to that word of knowledge from 2010 that I have often quoted: "Only those in union with God will be able to see in the darkness which so many expected and that already is upon the earth. New Mexico I have ordained as a beacon of light…") 
As I have noted, at Chimayó, which is northeast of Santa Fe, in 1810 or thereabouts a supernatural beam of light bursting from the sandy soil directed a friar to a buried Crucifix (the one we visited). Is there a link? Is there a clue in that long-ago event of the near future, to what kind of "beam of light" might one day play into the prophetic picture — and also to the pitched spiritual battle that surrounds it?
As some of you may recall, when I first reported the locution about a "beacon of light" in New Mexico, a priest from St. Louis named Father Mark Bozada informed me that once, in discerning where they might one day take refuge, when events intensify, out of the blue his prayer group had once come up with the name "Angelfire."
That turns out to be a town in northern New Mexico seventy miles from Chimayó, a place known chiefly today as a ski resort now but — I discovered — one with an enthralling history. 
For in the 1780s, during an annual autumnal celebration, three young braves told of a strange glow at the top of a peak called Agua Fria. It was orange and red and flickering. These Indians were always in nature. It seems they would be able to discern it from the setting sun! They saw it as the "fire of gods" blessing them, while Franciscans later interpreted it as the "place of the fire of angels." Thus, Angel Fire.
Might such a place one day hold relevance as events ramp up and eventually reach a climax? You discern. Your guess is as good as mine.
Said that seer I alluded to, speaking about one vision, "I saw the world red, like fire. It was very frightening to see this. Then Jesus extended His Hands out to the world, pleading with humanity. I heard Him say, 'My children, come back to Me. I love you.'
"But, also, next to Jesus was Satan and I heard Satan telling humanity, 'Don't listen to Him. Come this way with me.' I saw many people going with Satan. This was very frightening. But I also saw many people going with Jesus. These people had a light around them and looked very happy, with a heavenly joy on their faces. This was beautiful to see. Then Jesus spoke again: 'My children, do not listen to the voice of Satan. He is paving the road for you to destruction. Come back to Me.' Then I saw the world again. I could see a lot of turmoil and war in the world, and the world was in darkness."
"As I saw the beam of light going through the name 'New Mexico,' it flashed brilliantly," said the seer. "Looking up at Jesus, I was filled with an immense sense of joy and awe."
A pitched battle. Angels versus creatures. Do you need more signs? I recently walked along the Mississippi and observed flooding right there in New Madrid, Missouri — epicenter, ironically (if you believe in irony), of the greatest earthquakes in the history of the contiguous states.
In Ukraine, an angel representing the one in Revelation has been erected over Chernobyl (a name that translates as "wormwood"). Look wormwood up in your Bible!
And look around at your own weather. The signs are cropping up everywhere, for those who have eyes to see and ears to hear. Freakish storms form something resembling a skull over France at the same time that a court there ordered food and water disconnected from a disabled man who needed nothing but that nourishment. New Orleans floods before an occult "Hex Fest" event (next to the cathedral).
The Hopis in this part of the nation followed ancient teachings that refer to the nine signs.
The first sign said the white-skinned men would come.
The second said: "Our lands will see the coming of spinning wheels filled with voices. In his youth, my father saw this prophecy come true with his eyes—the white men bringing their families in wagons across the prairies."
The Third Sign: A strange beast like a buffalo but with great long horns, will overrun the land in large numbers. These White Feather saw with his eyes—the coming of the white men's cattle.
"This is the Fourth Sign: The land will be crossed by snakes of iron (rail lines?).
"This is the Fifth Sign: The land shall be criss-crossed by a giant spider's web (power lines).
"This is the Sixth Sign: The land shall be criss-crossed with rivers of stone that make pictures in the sun.
"This is the Seventh Sign: You will hear of the sea turning black, and many living things dying because of it.
"This is the Eighth Sign: You will see many youth, who wear their hair long like my people, come and join the tribal nations, to learn their ways and wisdom.
"And this is the Ninth and Last Sign: You will hear of a dwelling-place in the heavens, above the earth, that shall fall with a great crash. It will appear as a blue star. Very soon after this, the ceremonies of my people will cease."
Last December — the day before the lunar eclipse appeared over the White House — a publication called Breaking Israel News published an article in which a rabbi named Mordechai Genut discussed alleged coming events based on esoteric Jewish sources. "A lunar eclipse in the month of Shevat is a sign of the rise of the aspect of din (judgment) in the world," Rabbi Genut claims. "This eclipse will rule over the Americas but for Israel, it will bring chesed (loving-kindness)."
"There will be a marked increase in earthquakes and volcanoes, even more than we have seen in the past year," he asserts. "Just as the eclipse is a conflict between the sun and the moon to rule over the heavens, there will be a similar conflict on earth. This will begin a time when governments are in balance. Some governments that seem powerful right now will fall and others will rise in their place."
Said one person who had a near-death experience, "Here's the point: whether the world follows a tough path to higher states of consciousness, or a gentle one, we can help by staying connected to the parts ourselves that know everything is okay."
"While few in number, some near-death experiencers are shown apocalyptic visions of the future," writes researcher David Sunfellow. "Earthquakes and tsunamis rage across the earth. Governments and civilizations collapse. Vast numbers of plants, animals, and people die. Other near-death experiencers are shown that the worst is behind us. We are now on a path where everything is going to get better and better."
Right now, things are certainly not getting "better and better." There is that pitched battle — symbolized by those bizarre creatures reported in every area of the world, and full in play in America's Southwest, which may also be the epicenter of civil uprisings. Portals are opening — and not just on the Navajo Reservation.
"While the specific and severity of end-of-the-world predictions differ, there is one thing they all agree on: a new world is coming; heavenly states of consciousness will eventually manifest in this world."
I look to messages that though serious have an economy of language and bequeath Grace.
Very interesting was the most recent from Medjugorje (6/25/19), in which the Blessed Mother said, "Dear children! I am thanking God for each of you. In a special way, little children, thank you for having responded to my call. I am preparing you for the new times that you may be firm in faith and persevering in prayer, so that the Holy Spirit may work through you and renew the face of the earth. I am praying with you for peace which is the most precious gift, even though Satan wants war and hatred. You, little children, be my extended hands and proudly go with God. Thank you for having responded to my call." 
That's serious enough — use of terms such as "new times" and "renew the face of the earth." Serious yet also hopeful. It's how Heaven speaks.
+++
Previous Report: