---
Let's go to the mailbag, this sultry last week of July (already?).
Wrote Rosalie Elliott:
"Thank you for Spirit Daily. The articles are interesting, educational, and uplifting, and it has become part of our daily prayer life.
"My daughter and I live together and we try, as much as possible to go to daily Mass and say the Angelus at noon and the Chaplet Of Mercy at 3 p.m.
"We read your recent article about miracles that often have a logical explanation, but are still 'amazing'… We experienced such a 'miracle' a short while back and would like to share it with you.
"We have a statue of the Sacred Heart and Our Lady of Fatima on the mantle over the fireplace in the living room, and this is where we usually say the Chaplet of Mercy.
"A few months ago we went in the living room at three p.m., and were awed by the halo around the head of the Sacred Heart. No matter where we stood in the room the halo was there. We looked for an explanation and found that a tiny shaft of sunlight came in the window at exactly the right angle to light up the back of Jesus's head. The halo remained for the entire Chaplet of Mercy, and faded just about the time we finished. 
"We have not had a recurrence of this phenomena.
"I took [photos] with our phone, including the one that shows the sunlight on the back of the head. Perhaps it was just a ' God wink', but it was special for us…"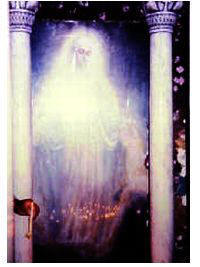 Share yours.
We try to provide a wide range of items across the Catholic spiritual spectrum, from mundane Church matters to items that are, well, less than mainstream! They are for: discernment. We always advise a balance that includes both discernment and openness. Sometimes it's a tightrope, for certain.
When we had feedback about a "special report" concerning "knowing things in advance," we didn't have room for all the replies. Here was another, from  a viewer named Richard:
 "Story 1: My great grandfather Dandy (who was very wealthy) and his wife Marjorie were traveling to their vacation home in Bermuda. This was back in the days when you walked on the tarmac to the plane to a set of movable stairs to board the plane.
"As Dandy and Marjorie were walking on the tarmac to the plane she was seized with a premonition that the plane was going to crash. It was so strong that she forcibly restrained Dandy from going on the plane (no easy task). Dandy argued in vain with Marjorie to get her to board the plane. She refused, and the plane took off without them. It crashed, and as best I recall, all aboard were killed."
"Story 2. While attending Smith College, my mother was slated to go on a ski trip with a bunch of other girls from Smith. A bus had been hired, and everyone was assigned specific seats on the bus.
"Shortly before the time came for my mom to leave for the trip, her mother (my grandmother) was seized with a premonition that my mother could not go on that trip. So my grandmother forced my mother to give up her spot for the trip, and another girl took her spot and seat on the bus. During the ski trip the bus was in an accident, and the girl who took my mother's' seat was killed.
"Story 3: One night my step-father woke to a state of instant alertness, looked at his bedside clock, noted the time, and went back to sleep. The next day he learned that his mother had died at the exact time he noted on his bedside clock when he suddenly woke the night before."
Richard, we don't doubt these accounts at all.
As discussed in that "special report," we've experienced them (the foreknowledge of angels, of the Holy Spirit) ourselves. (Next Special Report will be on prophecy.)
---
[Further feedback, from MaryJo Williams: "Not sure if this is what you are looking for, but I will share what has happened to me. I no longer rely on my feelings as these two events were enough of 'premonitions' and not something I want to feel again. I could almost hear voices in my head telling me the things I relay below. Now, with help from your books and website and conferences, I try to give it to God.
"My sister and her two best friends were graduating from high school – they had all just come back from a week in Florida together. All three families went out for dinner prior to the ceremony and then the 'girls' were going to graduation parties.
"My sister's room was a wreck – she literally dumped her suitcase upside down, and her floor was completely covered. The legal age at that time was 18, and we had a state ID card. I was getting sick to my stomach as my sister and her friends were leaving – I mentioned to my sister that she needed to go back and get her ID; she said that they would not be going to any bars as they would be going to a friend's house so an ID was not necessary. I insisted – I told her 'you don't want to be the only one who can't go inside,' but my brain was screaming, 'You need to be able to be identified in case of an accident.'
"Well, at the hour of Divine Mercy, we got a phone call from the hospital – to this day I am not sure how she lived – too many issues to go into.  Well, the only way they could identify her was by the ID in her pocket.  She is still alive and has many physical and mental repercussions from the accident that occurred in 1980.  Please pray for her!
"A second story:
"I had a recurring nightmare about a plane crash and the plane always landed on the street in front of my parents' house. They lived near the airport, so I didn't give it much thought.
"In August of 1987, my dad and two of my brothers were going to Colorado in my father's plane.  I was at the airport with my dad as he was prepping the plane – and we had a very good conversation as he had concerns about my mom being taken care of and asked me to help him when he got back; he was very worried about her well-being. 'Make sure you take care of her!' Then, a while later, as I was getting to drive away, I looked at him, and said (with panic in my voice) 'DAD, WAIT, I'm scared – don't go!!!!!'  (the voice inside my head said I should get out of the car, tell him I love him, and hug him – and I did not follow through).
"He told me not to worry (as I have a tendency to worry); everything would be fine".
"My youngest sister was still living at home as she had just graduated from high school, and was home alone (mom was up north with another sister and grand kids) when the officers showed up at 4 a.m. and told her that the plane crashed and all were deceased."
[resources: The God of Miracles]