In the mailbag are more photographs from a viewer in Chicago whose camera has a decided propensity for interesting effects of the lens. Sometimes, he feels as if he "hears" words associated with them. Whatever the case, they draw attention.
A few recent examples: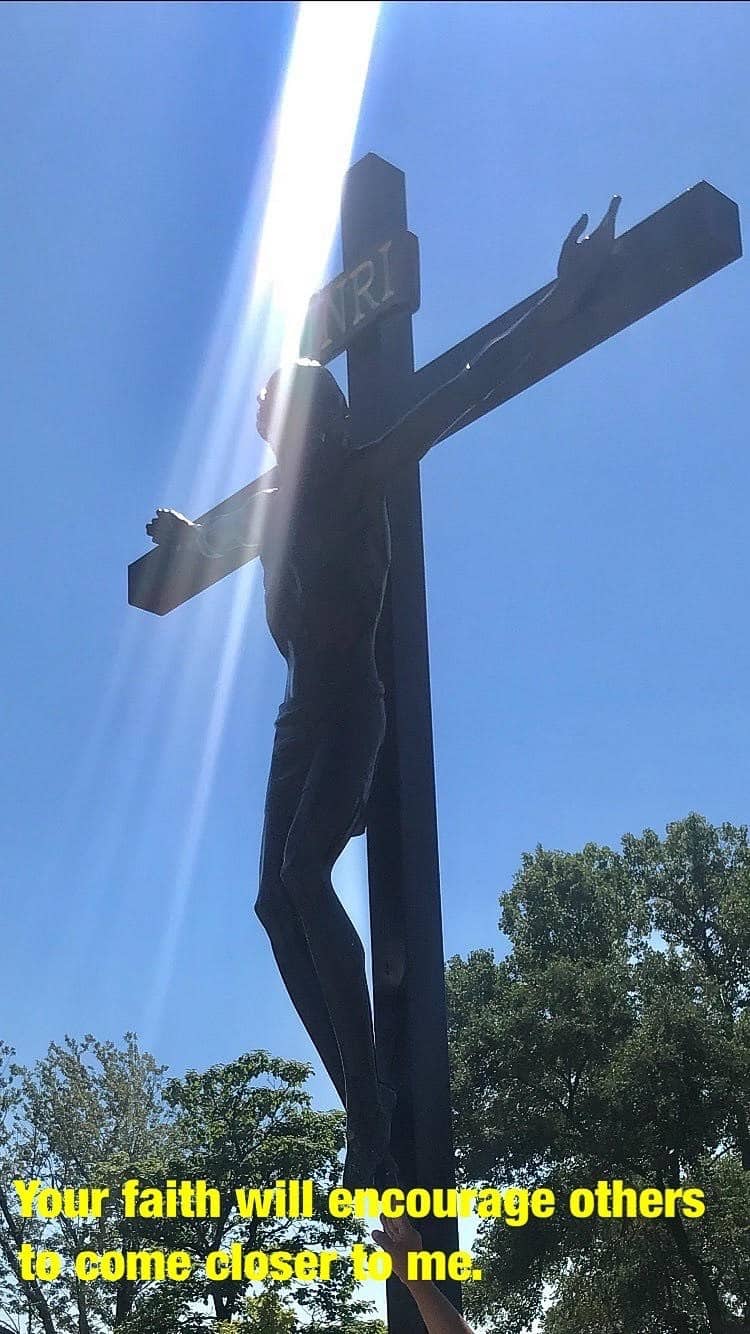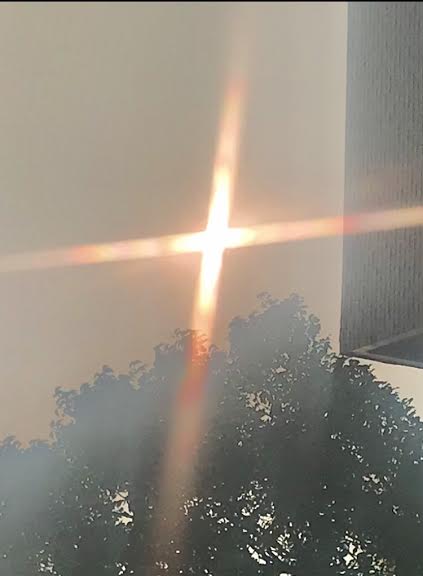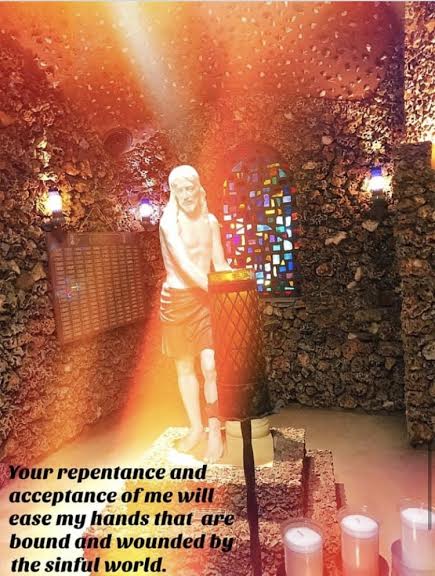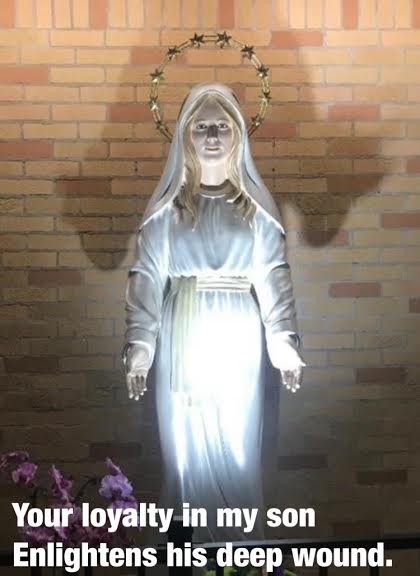 Worth a thousand words?
How about a thousand prayers.
"Please pray the message thank you and God Bless us all," he wrote, quoting a seemingly heavenly being — Mary — as saying, "My children, the deep burden inside of your heart is my agony. I am always with you, and my Son's Mercy continues to be with those who listen to Him. He will not abandon you except [when] you ignore Him. It is time to open your eyes, and you will see the truth in your heart. The creatures around you are from my good Son, Who suffers more than your anguish. Help them while you have strength. Pray for the leader of your country — including the Church."
"Be steadfast in the trials to come.

The world will change in the new generation. Pray for your brothers and sisters because their way is separate from my Son. Be patient, teach your loved ones, and be close to them. My cries never cease to pity and forgive you for your sins. Open your heart, and don't hesitate to join me in prayer because many of yours failed to my good Son. Pray because I am your Lady of Medjugorje, and this holy ground will continue protecting your prayers to him. Thank you for listening to my call. I'm here, and I love you all."
There are also, of course, the supposed, still-to-be discerned, and likewise a bit lengthy dispatches from other locutionists we have revisited from time to time through the years.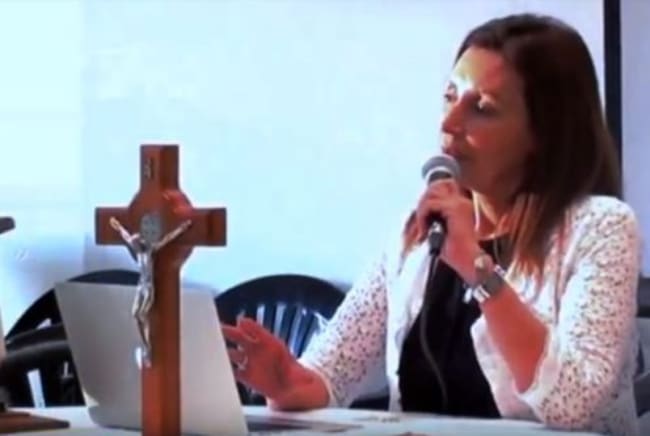 There's Luz de María in Argentina. We take from such messages what we think sounds like the Lord or Mary and leave the rest.
She believes that on February 16, 2021, Jesus told her:
"I want you not only to commemorate but to LIVE OUT LENT AND ESPECIALLY THIS ONE when you are so close to the events leading you to Purification.
+
"My Church must remain attentive and maintain Faith, being firm, faithful, and fulfilling the Commandments.
MY BLESSING HELPS THOSE WHO ACCEPT IT:
IN A SPECIAL WAY DURING THESE FORTY DAYS, MY HOLY SPIRIT WILL SHED HIS LIGHT ON THOSE ASPECTS OF YOUR PERSONAL LIVES THAT YOU NEED TO IMPROVE.
This Blessing of mine will grow within the person who is worthily prepared to receive the Light of My Holy Spirit with humility, the aim being for you to prepare yourselves on the spiritual path, confronting the human ego. In this way you will be able to see yourselves as you are.
Humanity finds itself in a complex diversity of ideologies separating it from My Will, under the indifferent gaze of some of My priests.
THIS LENT SHOULD BE DIFFERENT FROM PREVIOUS ONES THAT YOU HAVE KNOWN, with some people being far away or on vacation and others, with no conscience whatsoever, choosing this time to commit great heresies and sacrileges at which My House shudders.
The time has come when My children must come out of the captivity of ease, of resentment, anger, hatred, disobedience, of living as creatures of the moment, without feelings, rejecting Me: people without a firm Faith and therefore people who believe in Me at one moment and not at another.
MY PATH IS NOT ONE OF PAIN, BUT OF EXPIATION, OF SELF-GIVING, OF GROWTH, OF GIVING UP SAYING "I AM", "I WANT", "I", "I"…
MY PATH LEADS YOU TOWARDS MY LOVE, MY SURRENDER, MY SACRIFICE, MY SELF-GIVING, SO THAT MY PEACE, SOLIDARITY, SERENITY AND FORGIVENESS WOULD ABOUND WITHIN YOU.
Beloved people, My People, each person is special before Me, therefore everyone is a precious pearl of infinite value, which is why you should love one another as brothers and sisters, reproducing My Love out of which I gave Myself on the Cross.
You are beginning an extremely special Lent, so much so that you must not waste it, you should not live it as in the past… THIS LENT IS GOING TO BE LIVED IN PURIFICATION."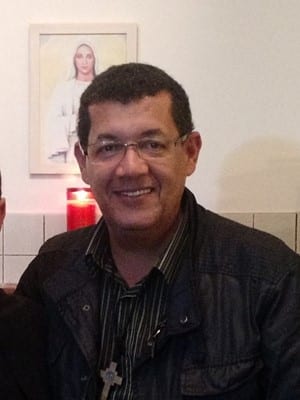 And Pedro Regis in Brazil?
February 18, 2021:
"Dear children, clothe yourselves with the Lord's Grace. Return to Him Who loves you and knows you by name. You are important for the realization of My Plans. Listen to me. Bend your knees in prayer for the Church of my Jesus; the moment of great agony will come for her. As I have said in the past, many who are fervent in the faith will embrace what is false. Seek strength in prayer. Be faithful to my Jesus: look to Him. Your victory comes from the Lord. Onward without fear! This is the message that I give you today in the name of the Most Holy Trinity. Thank you for having allowed me to gather you here once more. I bless you in the Name of the Father, the Son, and the Holy Spirit. Amen. Be at peace."
And one more:
February 16, 2021:
"Dear children, stay with Jesus, for only thus you can walk the way of holiness with the certainty of victory. Seek Him in prayer and in the Eucharist. He loves you and awaits you with open arms. Have courage, faith and hope. Whatever happens, stand firm on the path that I have pointed out to you. I have come from Heaven to lead you to Heaven. Repent and be reconciled to God. I want to see you happy already here on Earth, and later with Me in Heaven. Give the best of yourselves in the mission that the Lord has entrusted to you. When all seems lost, the Great Victory of God will come for you. Be not afraid. Give me your hands and I will lead you to the One who is your Way, Truth and Life. This is the message that I give you today in the name of the Most Holy Trinity. Thank you for having allowed Me to gather you here once more. I bless you in the name of the Father, the Son, and the Holy Spirit. Amen. Be at peace."
[resources: Where the Cross Stands]