O Child Jesus, I have recourse to You by your Holy Mother; I implore You to assist me in this necessity, for I firmly believe that You can assist me. I confidently hope to obtain your holy grace. I love You with my whole heart and my whole soul. I am heartily sorry for my sins, and entreat You, O good Jesus, to give me strength to overcome them.
I am firmly resolved never to offend You again and to suffer everything rather than displease You. Henceforth, I wish to serve You faithfully, for I love You. O Divine Child, I will love my neighbor as myself. O Jesus, Omni-potent Child, I entreat You again to come to my assistance in this necessity. O Divine Child and still the great Omnipotent God,
(State your intentions)
I implore You, through the powerful intercession of your holy Mother, Mary, and in your boundless mercy, to grant the petition I so earnestly ask in this Novena.
Grant that I may possess You eternally with Mary and Joseph, and adore You with all the angels and saints in heaven.
AMEN
O Divine Child of Prague, hear my prayer and grant my petition. (3 times)
+
[Return to www.spiritdaily.com]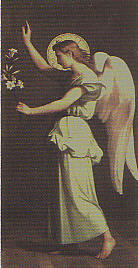 Pray always for purity and love
Please report any inappropriate ads or paid content