---
If you want to know the power of Mary over evil, listen to the words from a couple of kids possessed by demons.
Even evil spirits testify to her strength.
Do they really have a choice?
This all comes into focus in a fascinating little book, Lucifer, that details the possession of two boys in the village of Illfurt in the Alsace region of France.
Their names were Burner — Thiebaut and Joseph — and it happened way back in 1865, when the youngsters, one ten and the other eight, began exhibiting the "most abnormal phenomena."
This included spinning around at astounding speed and moving furniture with inexplicable strength, graduating to fits of convulsion and even levitation. "It often happened," says the book, "that when sitting on their wooden chairs, the boys, and also the chairs, were lifted up into the air, and then the boys were thrown into one corner while the chairs were flung into another. At other times they felt all over their bodies a painful pricking and stinging and then they pulled out from beneath their clothes such a great quantity of feathers and seaweed as to cover therewith the whole floor."
This happened no matter how many times their clothes were changed — and remarkably, when burned, the feathers and seaweed left no ash.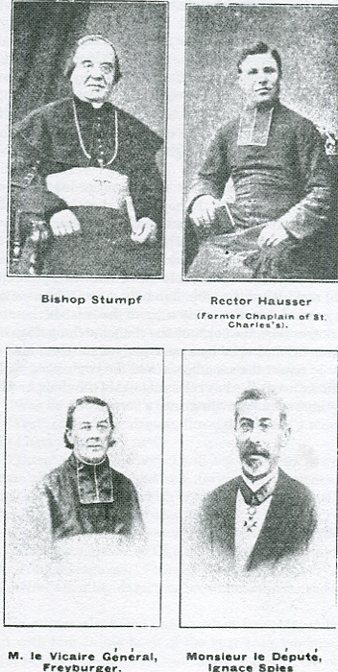 Crucifixes, sacred medals, and rosary beads sent the demons, which identified themselves in one boy (each had two) as Oribas and Ypes, into a seething rage. Local churchmen, including the bishop, all entered a pitched battle against obvious evil. The explanations for how and why they were there make for chilling, insightful reading.
Why did this happen? Where did it come from? It was speculated that it may have been because the two boys had eaten apples given to them from "an old woman of bad repute." Was she sexually immoral or into witchcraft, or both?
However strong, the demons could not contend with the Most Holy Madonna — who they could not blaspheme, admitted the evil spirits, because Jesus had "forbidden it."
One demon was forced to acknowledge "that we have no power whatever — we demons — over people who think and act as [believing Catholics] do. We are powerless against those who confess their sins with sorrow in their hearts and receive worthily the Body of Christ. We can do nothing against those who invoke the Great Lady to whom we owe our misfortune.  We cannot harm the sincere followers of the great Teacher whom we hate [the Pope] and are devout members of dem grossem-Schweinstall [the demon's term for the Catholic Church]."
At one point, confronted with a picture of Mary which caused a paroxysm of rage, Thiebaut (or rather the demon in him) groaned and shouted, "Get away! Go away with your Great Lady! I want to know nothing about her!" They were terrified of her.
The cursing was monstrous. The phenomena equaled any movie. The spirits explained how they operate on others even at a distance, afflicting people with unfortunate events. There is practical knowledge for our own struggles against darkness.
But the spirits were rendered powerless when the Blessed Mother was brought into the picture. At one point a local man, Ignace Spies, placed a piece of silk on the head of Joseph, who was in such a state that he could not even feel it. But suddenly he erupted, "Put this rag away! It burns me!"
"But it is not a rag," replied Spies. "I will take it from you, if you will tell me what is on it."
"The Great Lady is on it!" exclaimed the boy, in tones of terror. And indeed it turned out that a picture of her had been painted on the silk!
"It was indeed most striking," said the author, "that the Immaculate Virgin had overcome the Prince of Darkness and again had crushed the serpent's head! All other forms of exorcism remained without result until Satan had to yield to the power of the prayers of the 'Great Lady'! Into her hands the Almighty had placed victory, as in the realms of eternity He had bestowed it once upon Michael the Archangel in his fateful struggle with Lucifer. Mary is the potent Lady, the terror of hell! To her must yield all the powers of darkness! To her be honor, glory, and gratitude throughout eternity!"
[resources: Lucifer; also Michael Brown retreats: New Orleans and Chicago]