From the Catholic News Agency (Patti Armstrong):
Spells can have power, according to Father Vincent Lampert, the designated exorcist for the archdiocese of Indianapolis since 2005 and also the pastor for St. Malachy in Indianapolis. "I think there's power, but it's not coming from God," Father Lampert said. "Anyone who would dare say they want to challenge that God is in charge is using the power of evil as their own. They should realize that we can't use the devil; the devil uses us. People can't control it and the devil ends up using them for his own purposes."
Spells, according to Father Lampert, only have an effect in people who are spiritually weak. If we are anchored in God, he said Scripture tells us we have nothing to fear. "Put on the whole armor of God, that you may be able to stand against the wiles of the devil. For we do not wrestle against flesh and blood, but against principalities, against powers, against the rulers of the darkness of this age, against spiritual hosts of wickedness in the heavenly places," (Ephesians 6:10-18).
[Return to www.spiritdaily.com]
[resources: Where The Cross Stands]
[March retreat in Atlanta]
[Michael Brown Special Reports]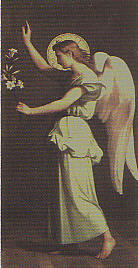 Pray always for purity and love
+++
---
Please report any inappropriate ads or content