From Forums of the Virgin Mary [initial translation]:
Heaven manifests itself again and again in apparitions with similar [alleged] messages in these times. [We urge special caution with this episode, which has not been formally ruled upon, and which has some questions.]
One apparition seems related to and continues with the next, with a lot of redundancy.
Here we will talk about some apparitions that happened in the middle of the Second World War in Germany to four girls, in two series.
The first series was at the beginning of the war and the Virgin Mary appeared.
And the second series was at the end of the war with Jesus Christ appearing.
Both series have been approved by successive bishops and speak in clear language about what is happening right now to humanity and predict what is to come; within which is the notice.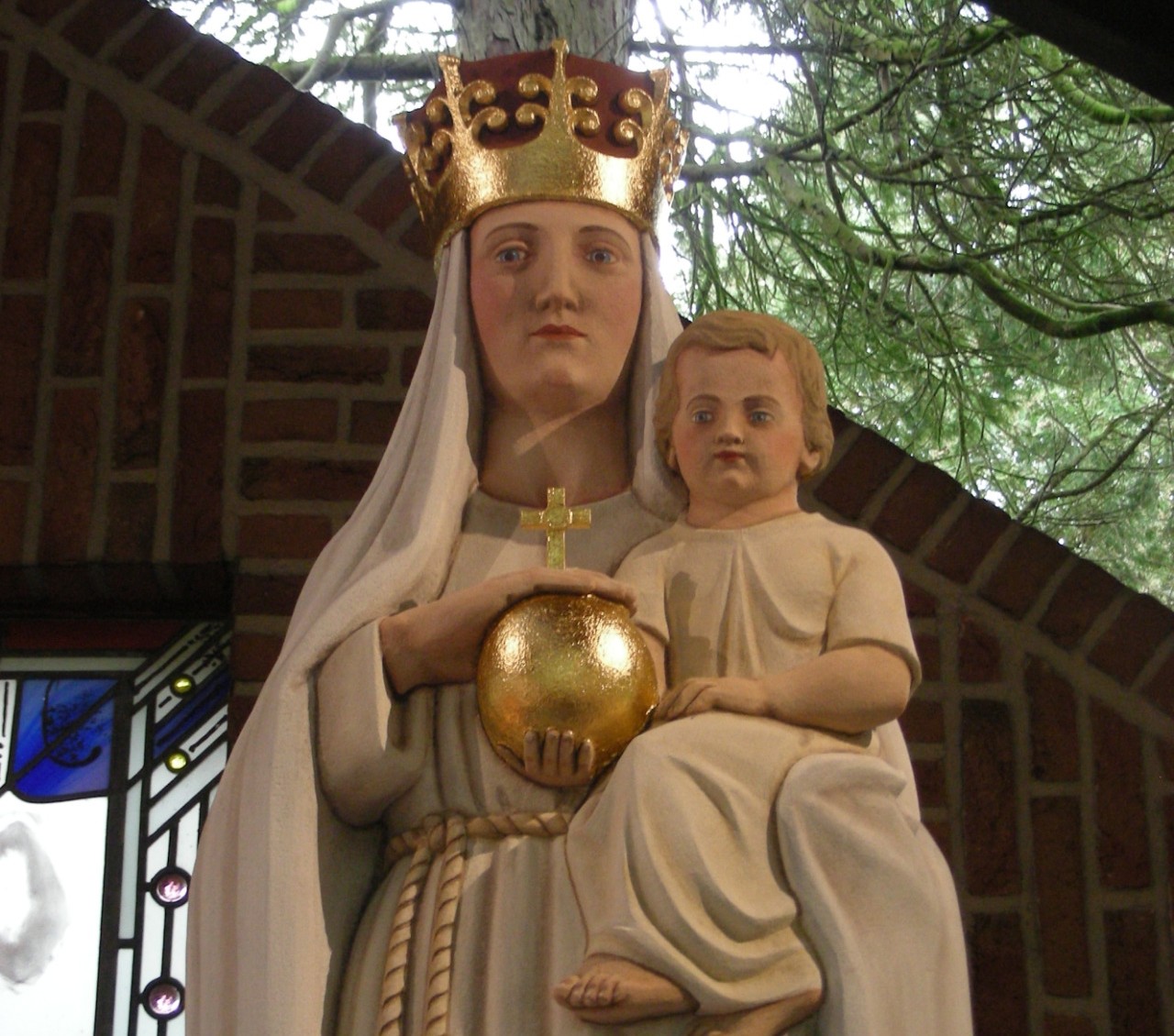 A good part of Catholicism is distracted with the construction of a new Christianity centered on the ideology of humanism. 
But the messages from Heaven systematically warn otherwise.
And that's why apparitions tend to be looked down upon as suspicious, with skeptics asking why there are so many…
But they do not take into account that in Acts of the Apostles chapter 2 the Word of God is recorded there says that in the last days "I will pour out my Spirit on mortals. Their sons and daughters will prophesy, the young will have visions, and the old will have prophetic dreams."
The re-engineers of Christianity display incredulity, or even have come classify many as actions of the devil, without even paying attention to how they happened and their messages.
The apparitions we at Forums are going to report are the direct continuation of those of Fatima, and are the consequence of not having accepted the message of Fatima.
Our Lady had appeared in Fatima in 1917 saying that the first war was going to end, but that if the people continued sinning and not paying attention to God, a worse one would come.
And in the pre-war period she would appear several times to children asking for prayer for sinners and exhorting them to be good.
The best-known apparitions of this period are those of Beauraing and Banneux in Belgium, approved by the Vatican.
But the sin continued, and Germany went to war in 1939, with the driving force of the Third Reich.
And in Germany itself there is an apparition of Our Lady to four girls between 1937 and 1940 in the middle of the war, in Heede, a small town of 2,000 inhabitants near the border with Holland.
They were not totally complete until 1945, at the end of the war, with the appearance of Jesus Christ to one of those girls, who would also be granted the stigmata of the Lord's Passion.
At first there was skepticism, and it wasn't until the girls showed a dramatic change in their way of life that the villagers began to give it credence. 
Until then they had lived given over to pleasures and amusements, but from the heavenly manifestations, the girls passed into long and fervent prayer, impatiently awaiting the hour when they would see the heavenly vision again.
And it was only after wonderful healings had occurred that the parish priest and other clerics, and even the bishop, supported the visionaries.
And so the two series of apparitions were approved by successive bishops.
After the last of the investigative commissions, Bishop Osnabruck confirmed in 1959, through a circular letter to the clergy of the diocese, the validity of the apparitions and their supernatural origin.
He further said that there is nothing contrary to faith in them.
And that they had similarities with the approved apparitions of Fatima, Lourdes, and La Salette.
A Church was built as a result of the apparitions and elevated to a diocesan sanctuary.
On the night of November 1, 1937, Our Lady appeared for the first time to the four girls, between the ages of 12 and 14 , who were leaving the church.
Suddenly they perceived a luminosity thirty meters away, one that floated a meter or so above the ground. Then, they spotted a silhouette of a woman.
The vision clarified itself and they perceived a beautiful lady with a Child in her arms.
His eyes were blue, like those of the Child Jesus.
She wore a richly-worked, golden crown, and a long white dress adjusted at the waist by a cord.
A non-transparent white veil fell from each side, hiding her hair.
And on her left arm, sitting, was the Child Jesus.
Despite the incredible beauty of Our Lady's face, it was often stern, and on some occasions, she shed tears. [scroll past ad for more]
In the third apparition, on November 7, some 5,000 people surrounded the seers. Several priests witnessed the reputed apparition.
The number of people who went to see the phenomenon increased day by day, until the Gestapo prohibited priests from going there and the girls are admitted to a psychiatric hospital for a few weeks.
In the appearances, there were more than 100 messages.
And what did the Virgin tell them? [SD note: This is submitted only for discernment]
That she is the sign of the living God and the one who marks his children. 
That the world will have to go through Divine wrath due to the sins that have wounded the Sacred Heart of Jesus.
That the devil will act with violence and cause devastation, because he already knows that his time is short.
And she said it was up to human beings to shorten the period of darkness.
She said that these times require atonement. And she asked sacrifices and prayer for sinners, especially the praying of the Rosary.
She also warned them that most people would not heed the messages, but would reject them and resent God.
But she told them not to fear — that she would be with them.
Almost five years passed, and then Our Lord Jesus Christ began to appear to one of the four, Greta Ganseforth, in 1945.
He told her that He had chosen her to become His wife in a very special way, becoming a victim soul for the conversion of sinners.
Greta agreed to this and Our Lord bestowed on her the stigmata of His Passion.
She passed away in 1996, and her tomb is visited by pilgrims, several of whom have reported important favors through the seer's intercession.
Our Lord appeared to her saying, "Humanity has not listened to my Holy Mother who appeared in Fatima to exhort to do penance.
"Now I myself come in this last hour to rebuke the world."
And He [allegedly] added that what will happen will be terrible, such as has never been seen since the beginning of the world.
Because humanity is worse than before the flood, dying in the morass of sin; hate and greed guide hearts — all because of satan. 
He said that in these serious times, we must do penance for our sins and turn away from evil.
And specifically,
"This generation deserves to be annihilated, but only by looking at the righteous will I allow My Mercy to triumph."
He expressed that He wants to save everyone, but that it depends on each one's "yes."
And He emphasized that His faithful souls should not be asleep now like the disciples on the Mount of Olives. They must pray without ceasing and obtain all they can for themselves and for others.
He also warned that a trial will come in a small or "mini-trial" fashion where the earth will tremble, alluding to the warning that will later be reported in the Garabandal apparitions.
It is not clear if it is physical tremor of the earth, shock of people by enlightenment of consciousness, or both. He said that the angels of justice are already scattered throughout the four cardinal points and that He will make Himself known to the human race.
"All souls will recognize me as their God," He reportedly said.
And he added that we should not fear because He will be with us, we will rejoice at his intervention, and we will thank him.
Those who wait for this event will have His help, His Grace and His love.
But for those who are not in a state of Grace, it will be frightening.
He said that we should pray tirelessly not to be confused.
That He is gathering His elect, who will converge from all parts of the world and glorify Him.
"Happy are those who are prepared, happy are those who listen to me," He said .
And reputedly He also added,
"I will build My Kingdom with a small number of chosen ones. This Kingdom will come suddenly, sooner than one thinks. I will make My Light shine, which will be a blessing for some and darkness for others. Humanity will recognize My love and My power."
He also informed her that the Blessed Virgin Mary and all the choirs of angels will be active during these events.
And that hell thinks it's sure of the harvest, but He'll take it away.
"Many curse Me now," He supposedly said, "but these sufferings will come upon humanity so that they can be saved."
In short, Jesus claimed we need to pray much to appease the wrath of God and to be in God's grace for when the moment of warning [note, it was not formally called "warning"] arrives. We must pray for sinners.
Pray the Rosary frequently, was a message from Heede, and indulge less in the way entertainment.
+