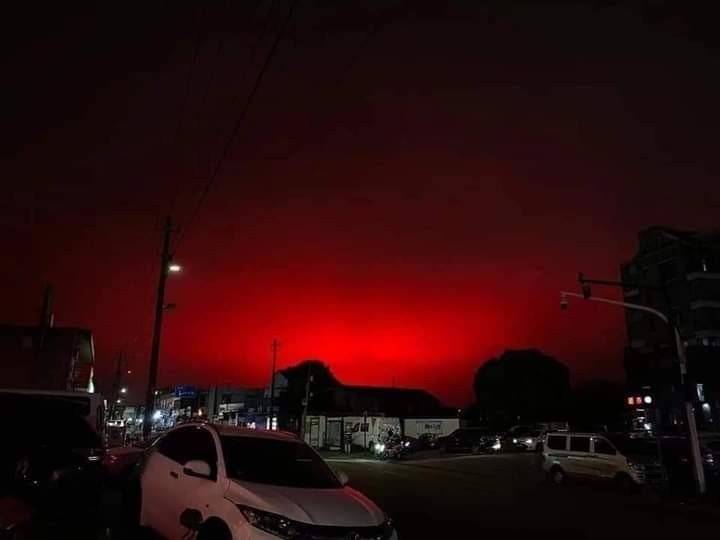 A few disparate items, here and there on the internet:
One sees the occasional news article about red skies. This first was noted in a significant, internet way, in China some months back [above]. Noted the Daily Sabah (this out of Instanbul), on May 11, "The red sky that appeared in Zhoushan city of China's east Zhejiang province was caused by the refraction and scattering of light, most likely from ship lights in the port, local media reported Sunday.
"Over the weekend, residents of Zhoushan witnessed mysterious blood-red skies, causing panic. Videos show the sky over the port city in crimson, largely owing to fog. The reports suggest that sky is perhaps the most red near the port areas. Panic was palpable as people recorded the discolored horizon, stirring apocalyptic fears."
Those kinds of "fears" (better said, "expectations"?) are widespread these days across the societal spectrum.
More recently — in fact, this week — tourists and other onlookers flocked to the huge Mauna Loa volcano on the Big Island of Hawaii to view an eruption (and take the inevitable selfies). Once more, there are those who looked upon it as another sign — at least geophysically, of a stirring along the "Ring of Fire."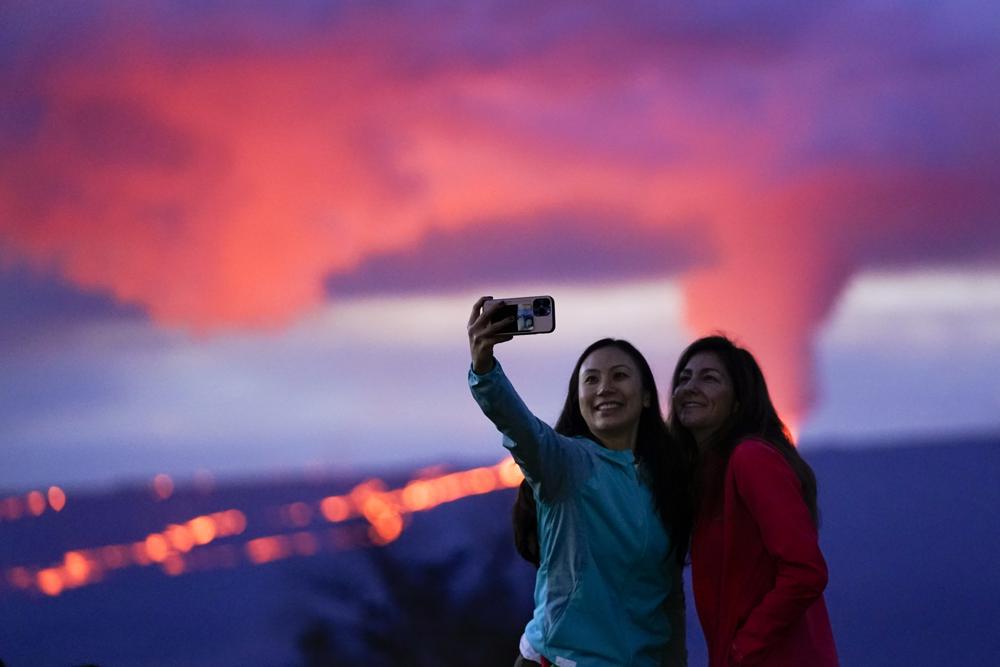 "The world's largest volcano oozed rivers of glowing lava Wednesday, drawing thousands of awestruck viewers who jammed a Hawaii highway that could soon be covered by the flow," reported the Associated Press.
"Mauna Loa awoke from its 38-year slumber Sunday, causing volcanic ash and debris to drift down from the sky. A main highway linking towns on the east and west coasts of the Big Island became an impromptu viewing point, with thousands of cars jamming the highway near Volcanoes National Park."
No apocalyptic fears here. But this is old pagan ritual ground, and tourists who take back souvenirs — pieces of the basalt rock — insist that odd and sometimes unfortunate events result from possessing the memento. Park rangers have a veritable pile of such accounts (it's called the "curse of Pele"). Rocks and pumice and whatever else are often mailed back to the park with a note lamenting the bad luck and beseeching officials to return it to the mountain! Those who disdain the idea of "curses" dismiss it as a myth created by one wily park ranger to stop tourists from taking away the rock and sand.
We once visited the volcano and noted old Indian altars in the midst of the blackened, eerie, ready-to-rumble wasteland.
Unfortunate things also are claimed in association with objects from homes with spirits supposedly haunting them — which, true or not, means it may be a wise precaution to bless antiques before settling them in a home! (Avoid picking up pagan souvenirs, including the horn sign, while on vacation.)
In line with this and again in the news this week from London: "A husband-and-wife team of paranormal investigators claim their Raggedy Ann doll is possessed after CCTV footage showed it emerging out of its display cabinet. Lee and Linzi Steer, 37 and 52, who run the Museum of Haunted Objects from their home, said they have even caught the doll on CCTV flipping over their Ouija board table in the past."
It's a replica of the "haunted" doll called Anabelle, made famous in horror movies.
"They also believe Annabelle is the cause of them nearly being in a car crash and having mysterious illnesses — which once led to Linzi being in the hospital for a week with doctors having no idea what caused it. In the museum, which is located in Rotherham, South Yorkshire (U.K.), Linzi has also felt something grab her neck tightly and has seen things fly across the room with no logical explanation."
Play with fire, and one can be burned.
The real "Annabelle," admittedly creepy, is kept at another place that collects such items (again, supremely unwise): the Occult Museum in Monroe, Connecticut. And there is a third such museum in Las Vegas, operated by intrepid television "ghost"-hunter Zak Bagans, who, speaking of fire, loves to play with it, sometimes to the detriment of his camera crews (they and he also have suffered peculiar illnesses and untoward events).
Not wise, Zak. He claims to have had a terrifying encounter with Annabelle. Reported TMZ (a Hollywood-like publication), "Bagans has a ton of ghost stories, and believes he's caught the latest one on camera … an allegedly haunted doll tumbling off a shelf in a room with a creepy track record."
This was two weeks ago. "Zak tells TMZ … the spooky moment went down Monday morning inside his haunted museum in Vegas. He says, as soon as a tour group passed by the doll room … one of the dolls flew off the shelf, tumbling to the ground."
Real or not, we don't believe it's even wise to watch his or similar ghost shows (the ghost-hunters often try to call up the deceased, which Scripture forbids), and certainly not to patronize such "museums."
What all these places could use is some good, old fashion, tried-and-true Catholic incense, as dispensed by our bishops and priests at certain special Masses. We didn't realize that such incense long has been used to rid a place of spirits, along with the central purpose of offering sacrifice to the Lord — sanctifying — and that the resin priests often burn includes myrrh, something we think about at this time of year, along with frankincense, of course, and mostly along with the Infant Who came to sanctify and break the works of the enemy.
[resources: Christmas books]
+