From  Reuters:
It was Francis' first visit as pope to this hill town in southern Italy that is a main stop along the country's pilgrim route linking places where saints are buried.
The bearded Capuchin monk, who died in 1968 after spending most of his life here, is said by the Catholic Church to have had the "stigmata" – the bleeding wounds of Jesus on his hands and feet. He wore brown half-gloves to cover the wounds and absorb the blood from his palms.
 Many people said Pio knew what they were about to confess. He is said to have told then-bishop Karol Wojytla of Poland in the mid-1960s that he would become pope. Wojtyla became Pope John Paul in 1978 and in 2002 declared Pio a saint.
From Crux Now:
After visiting briefly a chapel containing an elm tree under which Padre Pio would usually pray, the pope spoke to the crowd.
Padre Pio "loved the Church, with all its problems, its sins. We are all sinners, we are ashamed, but God's Spirit gave us this Church, which is Holy. And Saint Pio loved this Church," Pope Francis said, adding in an off-the-cuff remark that the saint "never denied his country, remember, he never denied his origins, he never denied his family."
While Francis did not cite any specific problems or sins, his words come at a time when the pontiff himself is facing mounting criticism for his handling of the clerical sexual abuse scandals in Catholicism, focusing on the case of a Chilean bishop accused of covering up abuse by the country's most notorious pedophile priest.
From Vatican Insider:
"He loved the Church – the Pope adds off the cuff- with all her problems… We are sinners, God has called us into this Church that is holy, and Padre Pio loved the holy Church". The Pope then recalls that in the years spent in Pietrelcina, Padre Pio "was strongly tormented in his innermost self and feared falling into sin, feeling assaulted by the devil".
"But do you believe that the devil exists? Or do you think he doesn't exist? The Pope asks, abandoning once again the prepared speech. "You are not so convinced, eh! I will tell the bishop to do catechesis. Does the devil exist or not? The faithful answer: "Yes! So the Pope continues, "And he goes, he goes aside, he puts himself inside of us, he moves us, torments us, deceives us", he adds, citing once again the devil as he has often done in these five years of pontificate. Padre Pio "was afraid that the devil would attack him, push him to sin. In those moments – he explains, returning to the written text – he would draw lifeblood from the continuous prayer and trust that he knew how to put in the Lord: "All the ugly ghosts that the devil places in my mind disappear when I abandon myself confident in the arms of Jesus.'"
[Return to www.spiritdaily.com]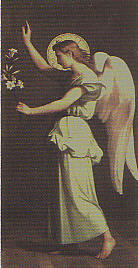 Pray always for purity and love
+++