---
There have been so many precursors — the wildfires in the West, the flooding in the Midwest, the Arctic cold that hits Chicago — and they keep growing. How many times have you heard the term "biblical" used in relation to destruction by fire, water, or tornado? (Yet let us take comfort in the bibles and statues that seem to survive devastation.)
In Florida, of course, it's tempests.
Just last week, an unusual hailstorm rolled over northern Brevard County near the Kennedy Space Center down to Indialantic, shattered windows, pocked cars and covered roadways like State Road 528 in Cocoa with nearly two inches of the ping pong-ball-sized ice chunks. "It was all part," said a news report, "of a strong cluster of storm cells that unexpectedly brought the near biblical barrage to Brevard in what some saw as the worst hailstorm to hit the coastal county in recent memory."
Oh, that term "biblical" again. Are we opening our bibles?  ("The storm was brutal but we were untouched," wrote viewer Fran Behrens. "Funny: we prayed a thousand Hail Marys March 25th.")
And how soon we forget: just six months ago, in October, the state's "panhandle" was slammed by Hurricane Michael, one of the three most potent hurricanes, in terms of barometric pressure, to hit the U.S. in modern record-keeping and the most violent in terms of wind since Hurricane Andrew.
Like Andrew, it left behind scenes that looked like the aftermath of a war — with nothing left of many homes but their concrete slabs and uncountable trees bent or broken in two over hundreds of square miles: a much larger area than was affected by Andrew. About 1.2 million were without power at one point. Florida Forest Service Director Jim Karels said about 1.4 million acres had severe or catastrophic tree loss, meaning 75 to 95 percent of the pine trees were damaged or destroyed.
Spirit Daily surveyed the aftermath recently, from Panama City to Mexico Beach (keep in mind this is after months of cleanup):
From a newspaper at the time: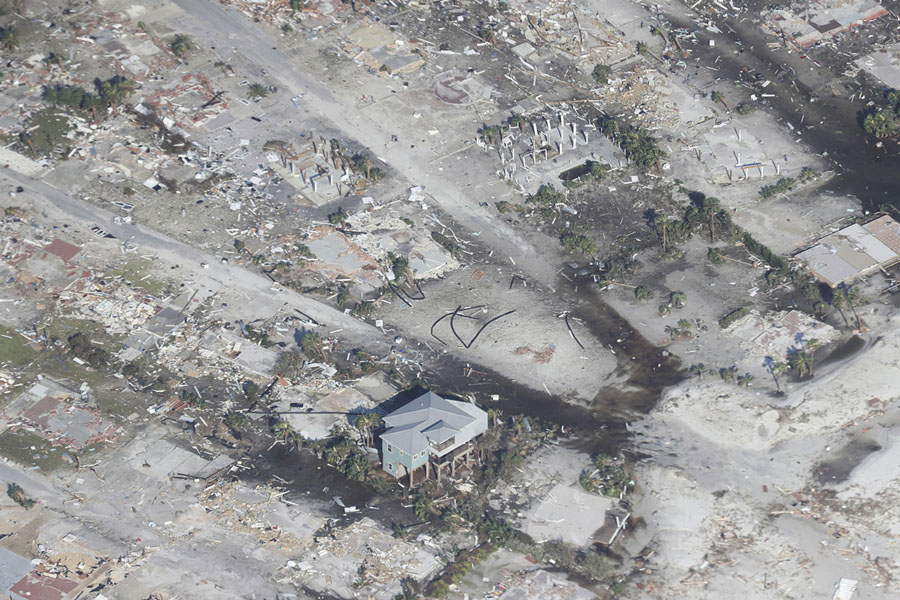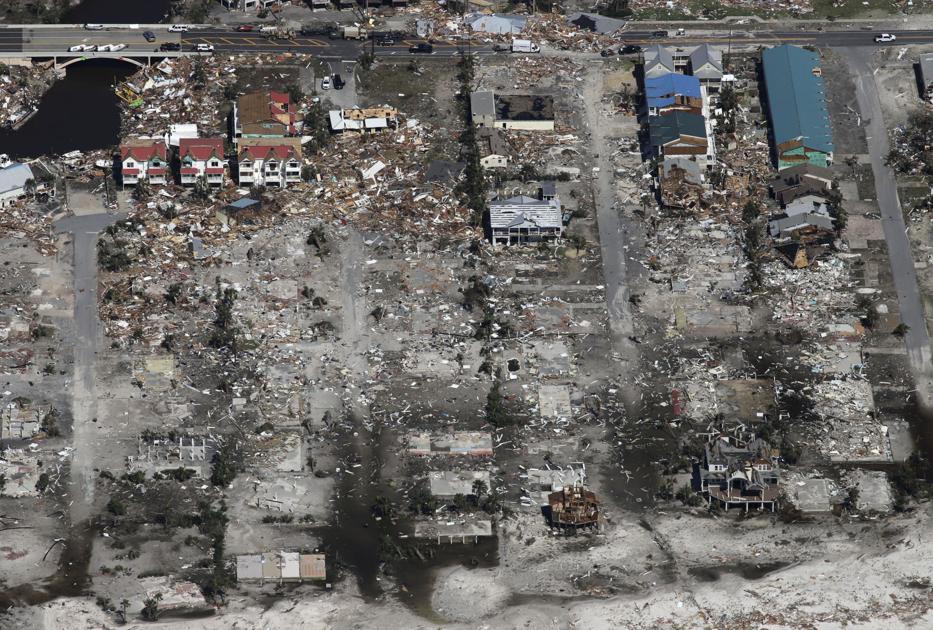 How quickly our infrastructure can fall.
[resources: Michael Brown retreat, Chicago, and Where the Cross Stands]