September 8 is Mary's official birthday.
Is it her actual one?
Like so much in deep Christian history, there is a paucity of information. We obey the Church.
But it is okay to wonder.
One reason: at Medjugorje — which has partial Vatican approval (the first week of apparitions have been authenticated by a formal commission) — Mary reportedly said the actual date of her own nativity is August 5 (although there is no year specified).
August 5, one ponders from here in Rome, where we currently are, is the date of the famous snow miracle, whereby on August 5, 358, a couple in Rome had the same dream of the Virgin Mary. In it, she requested the construction of a basilica at a spot she would indicate on Esquiline Hill with snow.
As anyone knows, Rome swelters even into September, making snowfall unlikely the month before, to say the least.
That same night, Mary manifested herself to Pope Liberius, making the exact same request.
On August 5, a light snow fell on the hill and post haste, the Pope ordered erection of what is now the splendid, truly powerful Santa Maria Maggiore (Mary Major) Basilica — the fourth most important Catholic church in all the world.
It is also where Pope Francis pays homage to an image of Mary and Child before each trip and then afterward in thanksgiving. He has prayed there more than a hundred times.
And a month ago, during Youth Day in Lisbon, Portugal (which was presided over by Pope Francis), a woman who was blind regained her vision after completing a novena to Our Lady of the Snows. The date of her healing: August 5.
---
Also interesting at Santa Maria Maggiore is the sculpture there in a left nave of Mary, Queen of Peace (Regina Pacis).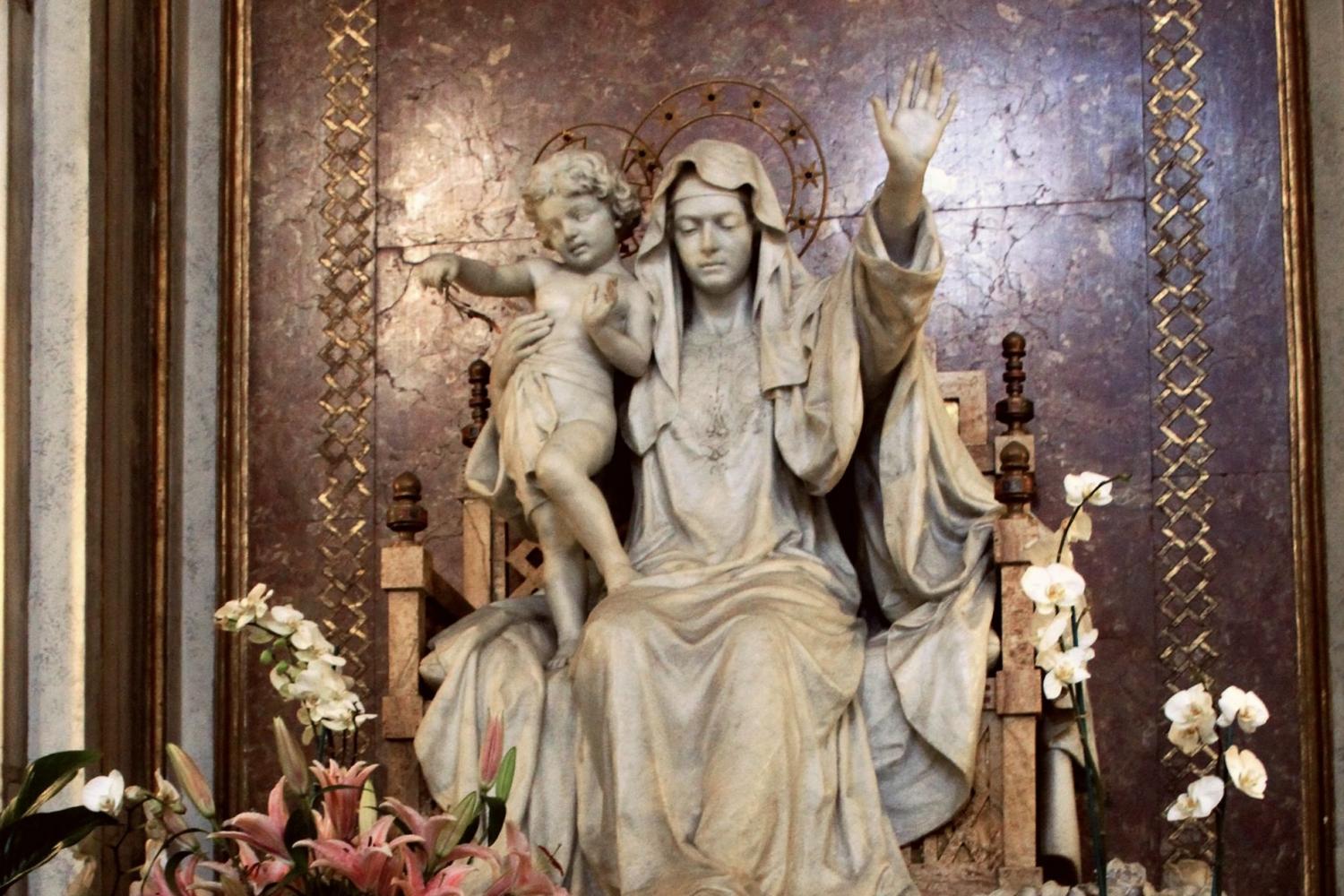 She is with the Child, raising her hands as if to say basta ("stop"). It was created in thanksgiving for the end of World War One, which was predicted at Fatima.
"Queen of Peace" is also the title she chose for her appearances at — Medjugorje.
---
And for another connection, one notes a statue of Mary way up a towering pillar in the front of the basilica.
She stands on a quarter moon — as at Guadalupe.
---
Many are the ironies in a Church so rich and deep and complex, so ancient, a Church whose main basilica, St. Peter's, has a main altar directly over the bone fragments of Saint Peter, bones that were found precisely there.
Those bones, unearthed from 1938 to 1941, are ossified, meaning that time has turned them into stone.
The Church is as Jesus said: built on His rock, Peter.
Those non-Catholics intent on a literal interpretation of the Bible should take heed of this as a guide to Catholicism and its Truth.
–MHB
[resources: Spirit Daily pilgrimage, Holy Land]