---
Nearly twenty years ago, we visited the Kilauea volcano on the Big Island of Hawaii, first flying over it in a helicopter (for a book about future natural events), and then driving down a cliff to the ocean to watch the steady rivulet of incandescent lava as it cascaded off that highland and caused explosions of steam as it hit the Pacific. [Above, from DogoNews]
An eerie, primordial sight, all alone, down there, at what seemed like the end of the world.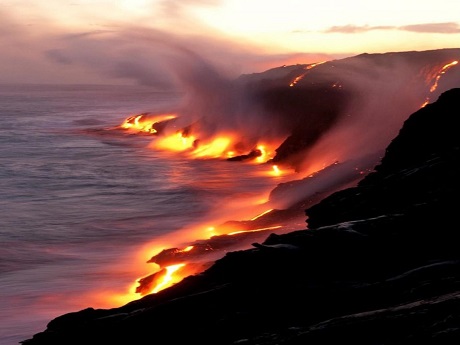 It was never a secret that Kilauea would one day erupt, which we are reminded by the recent small outbursts from this massive mound of geothermal turlence. There is a United States Geological Survey station, manned constantly, right there at the top, where tremors are logged daily. The recent quakes and outpouring of lava are nothing compared to what this volcano could do.
It's on an island that is prone to just about every disaster known to nature: not just seismicity and volcanoes but hurricanes, tsunamis (sent by distant quakes), and massive landslides. If the pressure from Kilauea exerts enough force, an entire side of the island could collapse into the Pacific — causing a huge tsunami as far away as southern California (more on this in the next "special report").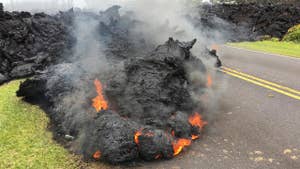 It was interesting to note, in riding around the rim of the caldera, that old pagan altars used by kahunas stand there amid the primordial blackened landscape. Native Hawaiians, like so many indigenous around the world, mixed worship of One God with tributes to nature deities and spoke to spirits. A Hawaiian word, "Huna," is now the name for a set of New Age practices. (though quite different from what was practiced on the island).
"You can't really predict what Pele is going to do," said one evacuated resident, referring to the Hawaiian volcano goddess. "It's hard to keep up. We're hoping our house doesn't burn down."
The Big Island has seen its share of disasters. In 1960, a massive quake in Chile sent a tsunami westward that washed away a stretch of the northern shore. Sixty-one were killed. It was up to thirty-feet as it hit land, first drawing back the ocean and laying bare the seafloor in uncanny style before the tsunami waves roared in. There was also a major tsunami in 1946 that rose up to fifty feet due to a quake in Alaska and killed 149, including teachers and students in an elementary school. You can read about this and potential future disasters in Sent To Earth — the water of such force that it got into corked bottles of wine in a nearby liquor store.
 Some think there is a curse. "The Hawaii County Civil Defense Agency called it 'active volcanic fountaining,'" says a Sunday news report. "Some residents insisted it was Pele, the Hawaiian volcano goddess, come to reclaim her land. Residents there were ordered to flee amid threats of fires and "extremely high levels of dangerous" sulfur dioxide gas. Soon, another such fissure had formed less than three streets to the west. Then another, and another. From the vents, hot steam — and noxious gases — rose, before magma broke through and splattered into the air…"
It's said those who take volcanic rocks at Volcano National Park as souvenirs suffer consequences from Pele, the goddess of fire.
A curse of paganism — or just imagining?
As The Los Angeles Times noted, "thousands of pounds of mail, returning the souvenirs, arrive in Hawaii every year. The correspondents plead for the offending item to be returned to Pele, so the "curse" will be lifted "and they can have their lives back."
"Timothy Murray had a comfortable life: a college education, good jobs, fulfilling relationships," reported the newspaper.
"'I've always had real good luck.' That was before he crossed paths with Pele. Murray's luck went south in 1997 after he went to Hawaii to accept a new job. When the job fell through, Murray consoled himself with a trip to the Big Island and Hawaii Volcanoes National Park. Entranced by the island's black sand beaches, Murray did what tourists often do. He took home a memento, scooping up the sand in a pop bottle. When he returned home to Port St. Lucie, Fla., Murray's good fortune had fled. His beloved pet died. The five-year relationship with the woman he was to marry fell apart. He began to drink heavily. Finally, FBI agents, who said they had been tracking him from Hawaii, arrested him in a computer copyright infringement case. 'My life literally fell apart,' Murray, 32, says of the three years after he took the sand." Others take shells.
("Pray over your shells and plead the Blood of Jesus over them if you believe you brought back a curse," noted one comment on a blog about the situation. "He has the Power to break every curse.")
Is the Big Island accursed — if by nothing else, by its location in the middle of the Pacific, on the famous seismic zone known as the "Rim of Fire"? Superstition? Or a spiritual aspect?
It never hurts to be careful; a bit of Holy Water might do the volcano well — even if, perchance, it turns into steam upon contact.
— MHB
[resources: Sent To Earth]