It seems impossible to deny. The signs keep on at a torrid, horrid pace and are everywhere. In coastal Iran, the heat index this week leaped as high as 158 degrees (70 Celsius), "a level so extreme that it can test the ability of humans to survive outside for more than a few hours," the news informs us. In some parts of Texas, they have endured blistering temperatures that are combining with oppressive humidity to push heat indexes to 120 degrees in some areas. ("This is getting close to ridiculous territory," tweeted David Reese, a meteorologist for the National Weather Service in Brownsville, Texas.") Six weeks of it. The sand in Miami beach reached 137 degrees.
And now there is Maui — the island gem in the Hawaiian island, there surrounded by the daunting haunted Pacific, an island laden with some of the world's richest (Jeff Bezos) and famous (Oprah).
The toll there continues to rise, with scenes out of a miniature apocalypse. The fires have been fanned by a distant Pacific hurricane!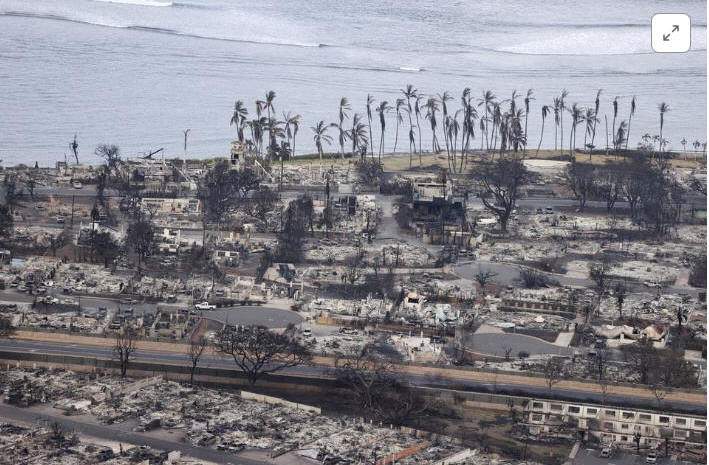 "What we saw was likely the largest natural disaster in Hawaii state history," Governor Josh Green said, comparing it to the tsunami that struck the Big Island in 1960, killing 61 people. He described the historic town of Lahaina as "utter devastation." A new, "pyrocene age"?
Onward march the signs, to the thrum of the sun, to the abuses of man, especially in the heat and weather. In Alaska, melting glaciers are causing flooding that has swept away homes. These are chastisements in miniature and are building to a crescendo. Meanwhile, the sun issued a flare that in parts of the world and space disrupted radio communications.
Often we have pointed to the anonymous 1990 prophecy, which said in part, "chastisements will differ according to regions, and like the great evil, will not always or usually be immediately noticeable for what they are. In the period also will be a warning that involves not fire from the sky but fear of fire from the sky, and strange loud rumblings."
You can read about the prophecy in Fear of Fire and Tower of Light. You can also read the original prophecy and several addenda in links provided at the end of this commentary. It is also read on a recent Tik-Tok post in an attempt to reach our young — who are sensing danger.
To those additions, which have tended to recur every few years — though at times with many years between — has arrived another, the shortest yet:
"A crisis will come that will test the consciences of all," said the last addendum to the anonymous locutionist from New York State, dated July 23, at 5:41 a.m. "This is the enlightenment of the soul, its illumination in the stress of threat, in an era that will see too manifestations in splendor of the Lord."
[Original 1990 prophecy and addendum in 2004 and 2010