From Associated Press (caution, graphic):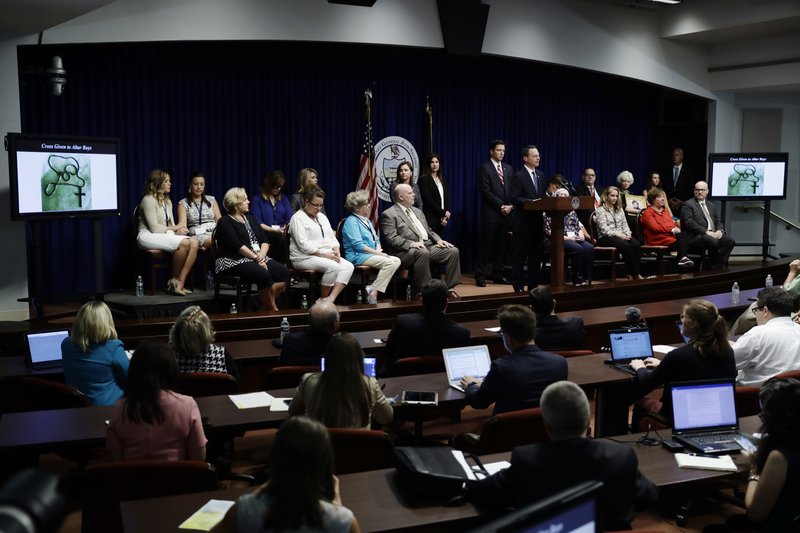 HARRISBURG, Pa. (AP) — Roman Catholic priests across Pennsylvania used religious rituals, symbols of the faith and the threat of eternity in hell to groom, molest and rape children, a grand jury found, in what the state's top prosecutor called the "weaponization of faith."
An 884-page report on the statewide grand jury's investigation, released Tuesday, detailed how "predator priests" used the children's own religious faith and trust in them as religious leaders to victimize and then silence them. One priest tied up a victim with rope in the confessional in a "praying position," the grand jury wrote. When the victim refused to perform sex, the angered priest used a 7-inch crucifix to sexually assault him, the report said.
From the Philadelphia Inquirer:
Among those named by the Pennsylvania grand jury is McCarrick's successor in Washington, Cardinal Donald Wuerl, a onetime Pittsburgh bishop and now one of Pope Francis' top advisers in the United States.
Wuerl, who took the helm of the western Pennsylvania diocese in 1988, was faulted by the grand jury for failing to do enough to protect children from predators during his two decades there — a claim he denied in a statement, saying he "acted with diligence, with concern for the survivors, and to prevent future acts of abuse." Speaking at a news conference Tuesday at the state Capitol, Attorney General Josh Shapiro said diocesan administrators across the state dissuaded victims from reporting abuse to police, pressured law enforcement to terminate or avoid investigations or conducted their own biased probes without referring allegations to proper authorities.