---
Years ago, in 2009, to be precise, we published a novel called The Seven with some interesting passages, a few of which are below.
The novel's plot centered on an evil entity that through the ages manifested in various guises and was currently mayor of a small Upstate New York town, preparing to unleash animals carrying deadly viruses, bacteria, and bioengineered DNA into the open environment, an event that would cause a global calamity.
The main characters were a cop named Steve Renford, his wife Linda, and an old mystical priest name, Padre Leo, who was assisting them in confronting the evil personage just as he was ready of set free contaminated insects and birds and other animals from a former U.S. government weapons depot deep in a forest as a storm raged. The entity's most recent names were Rengul and Lugner.
The excerpts:
Thunder returned. Leo could feel a drop in barometric pressure. His knees throbbed with pain as he united himself with Christ carrying the cross. It was his only energy—that and the Rosary, which was constant. There was now the feeling of imminence. The reprieve was ending. The main thrust of the storm approached. Soon, he knew, things would not be quite so quiet. They snuck past the cellars and then two bulldozers as more thunder rumbled. "For many centuries he has returned here," said Leo cryptically in his low baritone as the wind once more gusted around them. They listened as he intoned a prayer. He had raised the hood of his habit so that it all but covered his dripping face and fingered the large wooden rosary that hung from his side with one hand as he held onto his flapping poncho with the other. His face remained firm, very rough, his brows and nose and cheeks sturdy, the austere visage testifying to a life of fasts, immolation, skin pouched with tension under the eyes. When Renford spoke, Leo's face was plaited with concentration and he cocked his head as if in a confessional.
Suddenly, Linda screamed.
"I saw something," she said in a frantic whisper as Renford ran to her side. "Something moved in the woods. I'm sure it was something." Renford cocked his head and heard a sound he attributed to a raccoon. Nothing. He hugged her for a minute, then turned and scanned a large building that flanked the cellars and looked like a warehouse. There were several mesh windows.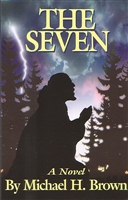 They looked relatively new. None were broken. None were sullied. Renford nosed up to the first, aimed his light, and saw that this structure indeed was not abandoned. It was enormous inside. The roof was intact. So were the walls. As he pointed his light to the floor, Renford spotted trough after trough filled with water—rippling with activity. One was the length of an Olympic pool. Bubbles gurgled up. There was the hum of a generator.
As Linda and Leo found shelter under the eave he trained the light and saw what looked like schools of minnows, mullet, and shiners, so dense they caused undulations at the surface. In all there were half a dozen troughs holding thousands of gallons of water as well as several that were circular. Renford moved from window to window. In one were what appeared to be guppies, perhaps young trout. In another, tadpoles. In a third, what looked like eels—masses of them.
Obviously, the animals could quickly disperse a virus in the wild, ranging as they would toward the bottom of the food chain, apparently not succumbing themselves to the DNA, at least not immediately. It was what Yearlson had warned about. The warehouse was one in a cluster and next to it was a structure of roughly equal size and the sight that met his eyes at the window was astounding. The building was filled with maggots. White writhing worms. Millions of fly larvae, caterpillars, maybe mosquito larvae. They were in compartments—old TNT cells.
On the floor near the fourth window Renford spotted what looked like a pool of blood—perhaps cow blood—with millions of black specks moving in it. Lice? On the window was one with four legs and two pincers: lice, but with tiny wings. He also saw larger, darker, round-shaped insects that looked like ticks feeding, too, off the serum—and also with wings, even though he knew that ticks did not have wings.
On the other side were more bugs, a mass of them, some tiny midges, others huge dragonflies, buzzing in hordes from one sip tray to another. A large swarm kited toward the ceiling, roosting as another took its place below, the entire structure abuzz with flying and crawling and burrowing insects of all sizes. Some were in gossamer net cages. There were many fava plants— perhaps a food source or breeding territory. At the top was a strange funnel-like hole that was closed but looked like it could be used to release the insects and around it was an array of spray nozzles which hosed down to canisters on the concrete floor. Near the window, Renford could see more of the smaller insects that were transparent—what Yearlson had warned of. All awaited a grand release. "Oh gosh!" screamed Linda suddenly. "Look!"
Renford turned from the window and shot his look to where Linda was indicating—a puddle of flesh and fur that had been a deer twenty feet from the building with the fish. He couldn't tell if something had leaked or the animal had been killed in passing in another trial run. He only knew that it was hot—full of DNA. Yearlson said a dead mammal was like a factory for viral multiplication.
"We've got to find the DNA before he treats these animals!" said Renford. "We've got to destroy it."
"It looks like it melted!" said Linda, covering her mouth.
"Step back," he warned in the clatter of rain, glad the wind was gusting in the opposite direction. "Don't inhale anywhere near it. It could be a retrovirus. It might have been engineered to go airborne…
[from earlier in the book:
"Why around military installations?" asked Renford, who had read about mutilations near the White Sands Air Force Reserve.
"I'm not sure," said Professor Yearlson, lowering his voice. "It's not just military operations. There have been cases in any number of circumstances. The one thing in common is they usually occur somewhere remote or restricted. One theory is that the military bio-engineered a pathogen—a biowarfare agent—and that it somehow escaped into the surrounding environs. By this theory, they're collecting blood samples to see what domestic animals and wildlife may be affected—thus the dead cattle and horses. They're monitoring local animal life around their facilities, exsanguinating."
[final chapter excerpt:]:
By midnight, Dr. Yearlson had contacted the Centers for Disease Control, and they were airlifting technicians. County Health quarantined the area, evacuating five roads abutting the TNT while agents in Tyvek suits were combing the woods. State troopers swept the rest of the area placing barricades as far as the parkway. They had alerted the FBI, border police, and Interpol…
The storm water was draining and the smoke that had blanketed most of the village had dissipated, though CDC said the entire vicinity would have to be tested. They believed it was a viral pneumonia coupled with genes from a hemorrhagic component—as Yearlson had speculated…
Suddenly they spotted a formation of what looked like stars, four on one side, three on the other, except that they were moving—spots of light sweeping from south to north over the gorge, which was a chasm of dark…"
Suddenly a smaller speck appeared and swept toward the formation. The others surrounded it. Steve threw open the door and jumped out of the car. "Padre Leo!" he shouted. "Padre Leo!" The only response was a twinkle in the light and the sound of whitewater, a low relentless roar.
[Excerpted from The Seven, by Michael H. Brown, available here]