From CNN:
If you ask anyone in Okinawa why they live so long, you will doubtlessly hear two words: ikigai and moai. 
Ikigai, loosely translated, means sense of purpose in life. And in Okinawa, a person's ikigai often grows as they get older.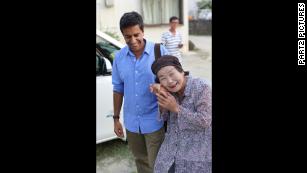 It is their reason for living, that thing that propels them out of bed in the morning. In the United States, people often retire in their mid-60s, but there isn't a similar word in Japanese because the concept of retirement doesn't even exist.
More than anything, the Okinawa diet has long captured the headlines, and for good reason. Before I tell you what the Okinawans eat, there is a valuable lesson in how they eat. Remember this term: hara hachi bu. Translation: Stop eating when you are 80% full. With all the talk about calorie restriction, this notion is often hard to incorporate into your life, especially in a "clean your plate" culture.