---
From U.S. Bishops' News Service:
VATICAN CITY (CNS) — Pope Francis has accepted the resignation of Cardinal Donald W. Wuerl as archbishop of Washington but did not name a successor.
When the pope's decision was announced Oct. 12, the Archdiocese of Washington released a letter from Pope Francis to the cardinal, making clear his support for Cardinal Wuerl's ministry and leadership, but also praising the cardinal for putting the good of the church first.
"You have sufficient elements to 'justify' your actions and distinguish between what it means to cover up crimes or not to deal with problems, and to commit some mistakes," the pope wrote. "However, your nobility has led you not to choose this way of defense. Of this, I am proud and thank you."
Cardinal Wuerl had been facing pressure to resign after an Aug. 14 grand jury report detailing sexual abuse claims in six Pennsylvania dioceses painted a mixed picture of how he handled some of the cases when he was bishop in Pittsburgh from 1988 until 2006.
The 77-year-old cardinal, the sixth archbishop of Washington, had submitted his resignation, as is mandatory, to the pope when he turned 75, but it had not been accepted.
In early September, Cardinal Wuerl told priests of the archdiocese that he would meet with Pope Francis and ask him to accept his resignation "so that this archdiocesan church we all love can move forward" and can experience "a new beginning."
The Vatican announcement that the pope accepted his resignation came more than two months after the announcement that Pope Francis accepted the resignation of retired Washington Archbishop Theodore E. McCarrick from the College of Cardinals. Archbishop McCarrick faces credible allegations of sexual abuse, including two that involved minors; Pope Francis ordered him to maintain "a life of prayer and penance" while awaiting a trial or other canonical process on the charges.
Cardinal Wuerl has said until the Archdiocese of New York began investigating the claims that Archbishop McCarrick abused a minor, he was never informed of such accusations or even the rumors of Archbishop McCarrick's sexual harassment of seminarians.
In a letter Aug. 30 to the priests of the archdiocese, Cardinal Wuerl apologized for not being as close to his priests as he could or should have been in the wake of all the abuse-related scandals.
Cardinal Wuerl asked the priests "for prayers for me, for forgiveness for my errors in judgment, for my inadequacies and also for your acceptance of my contrition for any suffering I have caused, as well as the grace to find, with you, ways of healing, ways of offering fruitful guidance in this darkness."
"Would you please," he told the priests, "let the faithful you serve know of my love, my commitment to do whatever is necessary to right what is wrong and my sincere solidarity with you and them."
[more to come: Catholic News Service]
From the Catholic Herald:
"In accepting your resignation, I ask you to remain as Apostolic Administrator of the Archdiocese until the appointment of your successor."
The cardinal travelled to Rome at the end of last month to request that the Pope accept his resignation. Referring to this, Pope Francis wrote: "This request rests on two pillars that have marked and continue to mark your ministry: to seek in all things the greater glory of God and to procure the good of the people entrusted to your care." The cardinal faced strong criticism and increasing pressure to stand down after the Pennsylvania grand jury report criticised his handling of abuse cases during his time as Bishop of Pittsburgh. In his letter on Friday, Pope Francis defended the cardinal, writing: "You have sufficient elements to 'justify' your actions and distinguish between what it means to cover up crimes or not to deal with problems, and to commit some mistakes.
From CNN: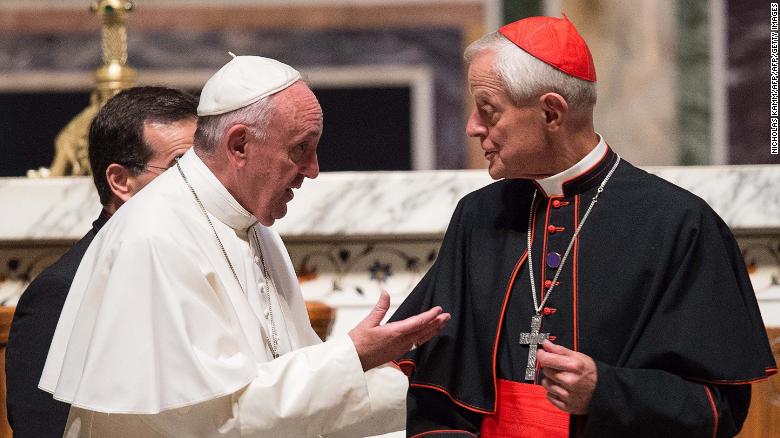 Pope Francis has accepted the resignation of Cardinal Donald Wuerl, the embattled archbishop of Washington, ending weeks of mounting speculation and rising anger over Wuerl's role in two clergy sexual abuse scandals.
The Vatican Press Office announced the news Friday. Wuerl, who turns 78 in November, technically tendered his resignation upon reaching age 75, as all Catholic bishops and cardinals do. But cardinals are often allowed to serve until they are 80.
U.S. Bishops' Statement:
WASHINGTON—Pope Francis has accepted the resignation of Cardinal Donald Wuerl from the pastoral governance of the Archdiocese of Washington.
The resignation was publicized in Washington, DC, October 12, 2018, by Archbishop Christophe Pierre, apostolic nuncio to the United States.
Cardinal Wuerl had presented his resignation almost three years ago, when he reached the retirement age for bishops of 75.
In April,2008, Cardinal Wuerl hosted in Washington, Pope Benedict XVI and in September, 2015, Pope Francis for their first pastoral visits to the United States. He was appointed by Pope Benedict XVI to help direct the October 2012 Synod of Bishops on The New Evangelization for the Transmission of the Christian Faith. Cardinal Wuerl was also appointed by Pope Francis as a member of both the 2014 and the 2015 Synods on the Family.
The Cardinal was born in Pittsburgh, Pennsylvania, and received graduate degrees from The Catholic University of America, the Gregorian University in Rome and a doctorate in theology from the University of Saint Thomas in Rome. He was ordained a bishop by Pope John Paul II on January 6, 1986, in Saint Peter's Basilica, Rome. He served as Auxiliary Bishop in Seattle until 1987 and then as Bishop of Pittsburgh for 18 years until his appointment to Washington. His titular church in Rome is Saint Peter in Chains.
Cardinal Donald Wuerl was born November 12, 1940, in Pittsburgh, PA. He attended the Catholic University of America in Washington, D.C., earning a bachelor's degree (1962) and master's degree (1963) in philosophy. He continued his studies at the Pontifical North American College in Rome and earned a master's degree in theology from the Pontifical Gregorian University in 1967, also in Rome.
He was ordained a priest on December 17, 1966.
From 1981 to 1985, he was rector of Saint Paul Seminary in Pittsburgh. On November 30, 1985 he was appointed titular Bishop of Rosemarkie and Auxiliary Bishop of Seattle. Pope John Paul ordained him a bishop on January 6, 1986. On February 12, 1988, he was installed as Bishop of Pittsburgh. He was appointed Archbishop of Washington on May 16, 2006.
He holds honorary degrees from eleven universities and is a Knight of Malta, a Knight of the Holy Sepulchre, and a fourth degree Knight of Columbus.
Cardinal Wuerl served previously as Chairman of the Doctrine Committee for the USCCB and has served on other various USCCB committees.
The Archdiocese of Washington is comprised of 2,104 square miles and has a total population of 2,867,377 million of which 630,823 or 22 percent, are Catholic.
From Catholic News Agency:
[Added the Pope]: "However, your nobility has led you not to choose this way of defense. Of this, I am proud and thank you."
"Your renunciation is a sign of your availability and docility to the Spirit who continues to act in his Church," he added. In an Oct. 12 statement, Wuerl wrote that "the Holy Father's decision to provide new leadership to the Archdiocese can allow all of the faithful, clergy, religious and lay, to focus on healing and the future. It permits this local Church to move forward."
[Return towww.spiritdaily.com]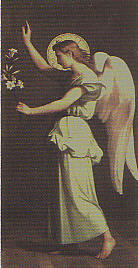 Pray always for purity and love
+
Please report any inappropriate ads or content
---
–
–
–
–
–
–
–
–
–
–