---
We have much to report as times quicken. There is the hurricane everyone knows much about. There are also issues obscured by other news. In the wake of the eclipse, warnings on Wall Street. In Italy, a quake at an apparition site. In Ireland, historic flooding. In Africa, a tragic mudslide (hundreds dead; hardly in the news). In Venezuela, chaos erupting. In the Arctic, clear evidence of massive permafrost melt. In Afghanistan, continued war. Continued saber-rattling in North Korea. Some headlines:
Catholic school removes statue of Jesus
Man throws firework into chapel
And now direct threats against the Vatican, by ISIS, all mentioned as "prayer needs."
"Dear children! Today I am calling you to be people of prayer. Pray until prayer becomes a joy for you and a meeting with the Most High. He will transform your hearts and you will become people of love and peace. Do not forget, little children, that Satan is strong and wants to draw you away from prayer. You, do not forget that prayer is the secret key of meeting with God. That is why I am with you to lead you. Do not give up on prayer. Thank you for having responded to my call. "
From Fox News:
Islamic State group militants in the Philippines have released a propaganda video desecrating Christian statues and threatening Pope Francis that they'll come to Rome, as they tear in half photos of him and his predecessor Pope Benedict XVI. The video was mostly filmed in the Philippines, where ISIS has been clashing with government forces for control of the city of Marawi, MailOnline reported [caution: tabloid].
In the video, aimed at attacking Christianity, a narrator celebrates "the truthful soldiers of Mohammed" who are fighting in Asia. It shows them setting a church on fire.
From Newsweek:
The chief of the Swiss Guards, the force that protects the Vatican, has said it is only "a matter of time" before an attack that is inspired or directed by the Islamic State militant group (ISIS) against the home of the Catholic church.
Commander Christoph Graf, speaking to Swiss Catholic news website cath.ch, said that the security force for Pope Francis is prepared for any act of extremism.
"Perhaps it is only a matter of time before an attack like that happens in Rome. But we are ready also for this," he said. Created in the 16th century, the force is one of the oldest armies in the world and consists solely of young Swiss adult men.
From Crux Now:
On August 24 a picture showing a man holding a knife behind his back and looking toward a city started appearing around social media. On the picture there was the text in Italian "Devi combatterli," (You must fight them) which according to Site was obviously directed toward jihadists living in Italy.
The image was taken from a December 2016 video shared by pro-ISIS social media accounts that offered instructions on how to commit acts of terrorism with easy-to-find tools, such as a knife or an automobile driven into the crowd. The image circling on social media these past two days is a freeze frame from that video, which had Italian subtitles.
[Michael Brown retreat, Omaha]
[see also:  Quake occurred at site of recent alleged Italian apparitions and  With sacramentals, you can be shielded from anything]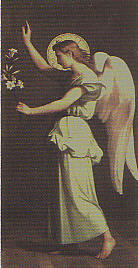 Pray always for purity and love
+++
[Return to www.spiritdaily.com]