---
Last weekend nuns were in the news — cases of good "luck" and bad.
Good "luck" (i.e. answered prayers) in the case of Sister Jean Dolores-Schmidt — the 98-year-old (you read the number right) who is chaplain of the Loyola University-Chicago basketball team.
Her team is in the "March Madness" of the NCAA tournament, and just before it started, she was featured on the front page of The New York Times, which noted that Sister Jean begins each prayer for her team with: "Good and gracious God," then "asks for God's protection for the players. She asks for the referees to call fouls 'justly.' She asks that the Ramblers execute the plays the way they were intended. The prayers are anything but bipartisan. 'I ask God to be especially good to Loyola so that, at the end of the game, the scoreboard indicates a big 'W' for us,' she said."
The results were also borne in headlines. "Loyola Chicago puts the madness in March by stunning Miami," was one. "Last-second heave eliminates 'Canes — possibly kick-starts Cinderella run by Loyola-Chicago," was another.
That game was followed Saturday night by the second round and an even bigger upset. "Prayer answered again: Loyola tops Tennessee on late jumper," a headline now blared. "Loyola headed to Sweet 16 after Clayton Custer hits game-winning shot in final seconds."
That was in Dallas. The same good fortune was not raining upon two equally old nuns locked in what turned out to be a literal life-and-death battle with the quasi-occultic seductress superstar singer Katy Perry. The battle has been over a villa-style hilltop property overlooking downtown Los Angeles as well as the San Gabriel Mountains where the nuns, Sisters of the Immaculate Heart of Mary, used to have a convent but are now trying to sell the property — to the right person.
Katy Perry did not meet their definition of that. And so to court it was.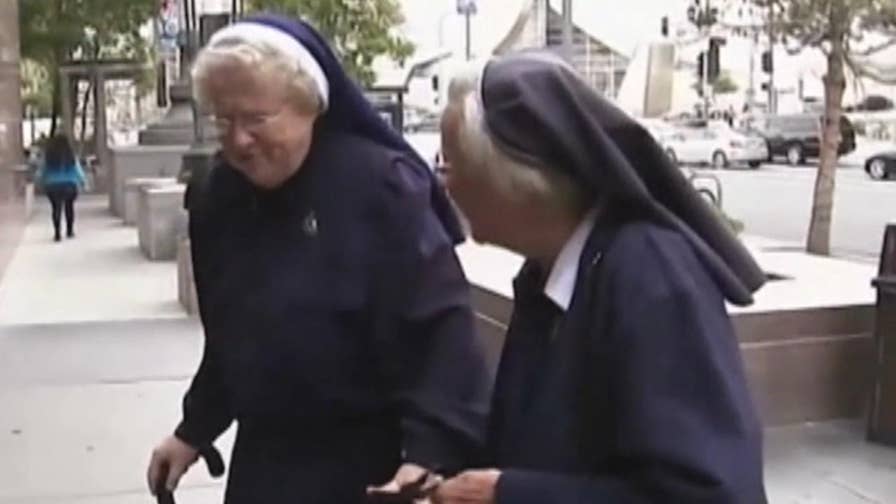 The nuns (there are just a handful left) had come to sales terms with a restauranteur for a reported $1.5.5 million, but the Archdiocese of Los Angeles asserted that they had no legal right to do so — the decaying property had been under a Vatican Commissary since 2005 — took the matter into its own hands, selling it to Perry for $14.5 million.
Who owns the property? A legal battle ensued between two of the remaining nuns and Perry. Besides feeling they had legal rights to the property (something a court has now ruled against), the nuns did not want Perry — an sparsely clad performer, who has done shows with a fiery hell motif, and who, a la Madonna, rose to fame with a song called "I Kissed A Girl" (on an album called One of the Boys) — to own what they consider to be holy consecrated ground.
They pleaded with the judge and archdiocese not to strip them of land they'd had since 1973 (but which apparently, from a legal standpoint, is now in the hands of the commissary and thus the archdiocese).
A week ago one of the two nuns leading the charge, Sister Catherine Rose Holzman, 89 (same age as the Loyola nun), died during a court proceeding. This too caught the eye of headline writers. 
And if that wasn't sad enough, the second nun, Sister Rita Callanan [left], says she has been left destitute.
It was reported on March 17 in faraway London by the tabloid Mail, "Struggling with ill-health, including breast cancer, Sister Rita Callanan looks into her pantry for scraps of food and sees, yet again, only cereal. Her bank balance is zero, her healthcare check has bounced on more than one occasion, and she's not sure who's going to foot the bill for her next round of cancer treatment."
"We have an agreement with Rome," she had asserted. "It's in writing and it says if there are any disputes, they are to be settled in Rome."
In all likelihood, the archdiocese will care for her, as it has before, in its health-care facilities.
As for Perry, ironically she's the daughter of two Pentecostal ministers and started out as a Gospel singer. Since then, she has gone the secular route, where her rise was instant, perhaps suspiciously so, for those who rightly or wrongly detect an anointing by the enemy.
The nuns had reviewed the singer's portfolio and "well, I found Katy Perry and I found her videos and … if it's all right to say, I wasn't happy with any of it," said Sister Callanan
Now, however, Perry seems poised to own the convent and land around it. She says she needs to find herself. One can only utter a prayer (and a sincere one) she does.
[Return to www.spiritdaily.com]