---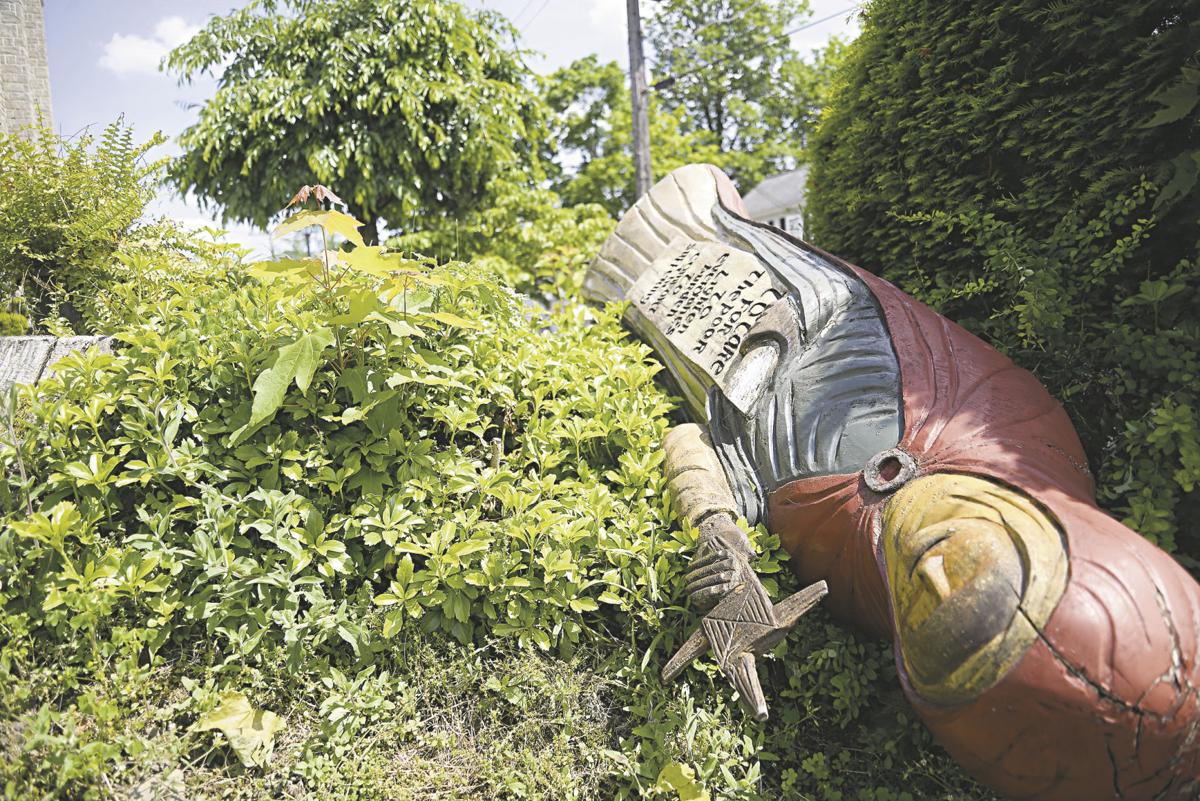 Soon, we'll have another "special report" on prophecy. In the meantime, let's note, as mentioned before, that just before the apparitions began in Kibeho, Rwanda — prophetic apparitions that have full Church approbation — there was a nationwide outbreak of vandalism at Catholic churches, specifically targeting Mary. Noted Father Gabriel Maindron, author of a book about the apparitions, "Between 1980 and 1981 nearly all statues of the Virgin at the entrance to the parish churches were mutilated, destroyed, or stolen. In some cases this happened a number of times, when the statue had been restored or replaced. Even though some vandals were caught, it was not possible to clarify the situation. Only one thing is certain: they were paid large amounts. By whom? Why? Why be against someone in whom you pretend not to believe? Should we see in this the signature of the 'adversary,' Satan?"
As one who wrote an introduction for the book, let me provide an answer: "Yes."
The desecrations occurred immediately before Mary began appearing in 1981 to Catholic schoolchildren in this impoverished, remote outback, apparitions during which, among other things, the Virgin announced major coming cataclysms, including a genocide that occurred in that nation. The other events, she said, would one day affect the whole world — thus not necessarily immediate, to that time-frame, but in the "near" future.
Fast-forward to the present, and contemplate for yourself the latest spate — and only latest — of similar vandalism, as found in Western headlines:
The Meadville (Pa.) Tribune, June 8: "Man charged with knocking over statue at Meadville church."
The  (Newfoundland) Telegram, June 15: "Marystown priest disheartened by vandalism of Virgin Mary statue."
WIVB News (Buffalo), May 23: "Teens charged with smashing Virgin Mary statue ordered to stay away from eastside church."
The Bradenton (Fl.) Herald, May 23: "Couple having sex under Virgin Mary statue caught by priest and local cops, police say."
The Seattle Times, May 19: "Missing Virgin Mary statue found two years after disappearance."
Crux Now, February 13, 2018: "Muslims who desecrated statue ordered to memorize Quran verses about Mary."
ABC7 News (California), December 15, 2017: "Statues beheaded, Catholic church in Hayward vandalized."
Nor are Protestants immune. Oklahoma News Four, back in 2014: "No amount of scrubbing can erase the mental images that haunt one Wewoka congregation. Recently, intruders desecrated the Hilltop Indian Presbyterian Church. 'Somebody had to know something about devil worship because there was a snake-skin wrapped around this pulpit. The rattles were still on it. They had written "God hates us." We know that's not true,' said Kelly Tiger Jr., the church's pastor. Pastor Tiger calls the desecration of the church 'pure evil' as Satanic symbols marked the walls. Spiritual pictures and a Crucifix were deliberately inverted."
A repeat of Rwanda?
Perhaps not. But perhaps they indeed are harbingers — the beginning of a swell?
Coupled with the rise of satanic monuments, the challenges by occult organizations against the Church, the annual disappearance or ruination of Nativity scenes, wholesale destruction of Catholic churches in Asia, India, the Philippines, and Africa, and the long list of statue vandalisms in previous years, one waits… and one begins to wonder.
— MHB
[Michael Brown will be in Arizona in August]
[Feedback on recent commentary about current uneasiness: From Patricia Monroe in Michigan:
" With today's headline about 'Strangeness All Over,' you have again hit the nail on the head.  Everything feels 'off.' A few weeks ago, I had the impression of being on a water slide, approaching the bottom when the ride is always the fastest. Recently we are off the slide, suspended in the air, and holding our breaths just before the 'plunge.' What is the plunge toward?  No idea.  I find myself wanting to be with my grown children much more, and praying for everyone much, much more than ever before.  Even my dogs are acting very clinging.  Strange times.  Thank you, again, for your insights."
From Kenneth Heck, Des Moines, Iowa:
"Can movies be intimations of the future? I think they are to a certain degree, but only for non-believers in Jesus Christ. Christianity offers a much better hope for the future than movies and science can provide. All these disaster movies, zombie movies, post-apocalyptic movies, and movies about extremely powerful demonic forces are satan's way of preparing the atheistic public for their eventual fate, so they will go much more quietly than otherwise when they die. We also have the UFO phenomenon, crop circles, weird beasts composed of two or more species, and a growing die-off of wildlife. These exist to refute current scientific dogma and to establish the paranormal as the new normal. Keep up the good work."