From Vanity Fair:
Ben Carson raised some eyebrows Tuesday night, when he veered off his prepared remarks at the Republican National Convention to compare Hillary Clinton to Lucifer, by way of a long tangent about the late community organizer Saul Alinsky.
Given the opportunity to explain himself the next day, Carson eagerly defended his thesis about their axis of evil by doubling down on the Satan-Clinton connection.
His main concern, he told Chris Cuomo Wednesday morning on CNN's New Day, was that Clinton considered Alinsky her mentor, and had referred to his famous book Rules for Radicals in her college thesis.
Alinsky, meanwhile, had once appeared to praise the devil.
"On the dedication page, he acknowledged Lucifer in an admirable way, saying that he's the original radical who gained his own kingdom," Carson explained.
"Please read the book, because it's very interesting how it uses controlled anarchy in order to change us from a democratic republic to a socialist society."
[Return to www.spiritdaily.com]
[Visit our eBook section and join our upcoming San Francisco retreat in October here]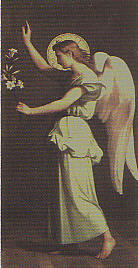 Pray always for purity and love
+++
---
---