From Forums of the Virgin Mary:
The Virgin Mary appeared to him and gave him messages.
We are used to thinking that when the Blessed Virgin appears it is to give messages for humanity, which speak of the future that will come to us and how She will guide Her children.
This is the glamor that accompanies apparitions.
But it does not seem that it is the most common thing that happens.
The most common seems to be the manifestations to console, illuminate the conscience, convert a person and ask for a life of witness.
And in general these apparitions are little known, because they have a more personal and private character.
Sometimes it usually accompanies the testimony, which asks the person to give, with supernatural events, for example frost rain, as the case that we are going to tell.
Here we will talk about the appearance that the famous Colombian actress Margalida Castro had, how was her conscience enlightenment and how the frosts have accompanied her in her testimony.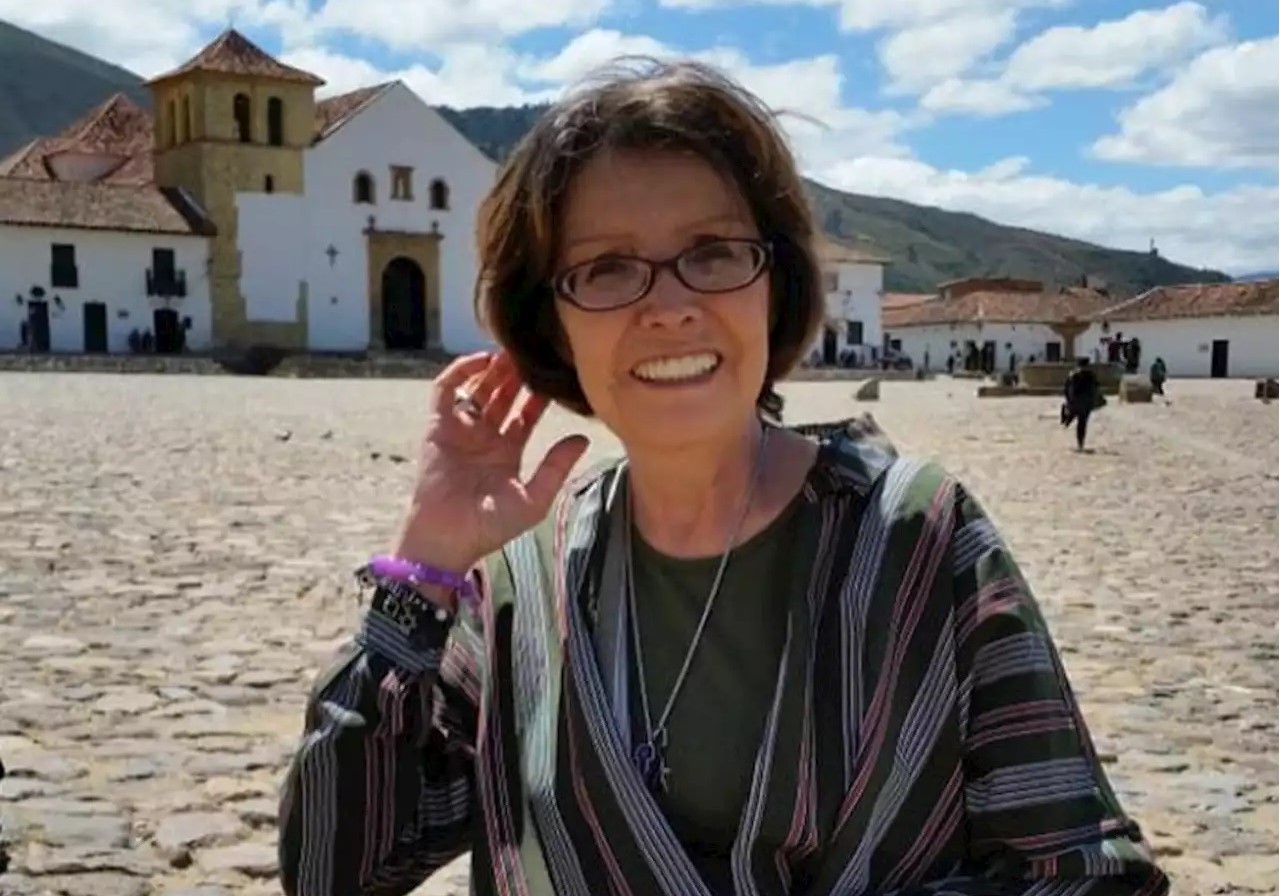 There is an erroneous preconception that has entered among Catholics under the influence of Protestants and modernism.
That it is extremely rare, absolutely abnormal, that the Virgin, Jesus Christ, Angels and Saints appear to people, especially to give a personal message.
So the supernatural world has no physical contact with our material world, in general and especially for seemingly minor issues.
But for the early Christians the apparitions were part of their religious experience; Although it was something extraordinary, it could happen regularly.
And during the millennium of Christendom, which began in the sixth century, the same.
Not like now that when it happens to someone they look at him strangely, the Catholics themselves believe that he is making up or that he has a mental problem
And they immediately ask that it be investigated and approved by the Church, or else they will consider it false.
In other words, in early Christianity and during Christianity, the mystical experiences of apparitions were incorporated into the life of religiosity.
While now they have no place , even among Catholics and the priests themselves.
That is why they come to light very rarely, and they do so when it happens to someone famous, who overcomes the fear of ridicule and spreads it.
And this is the case of the well-known Colombian actress Margalida Castro, already in her seventies.
In 1990 he had an apparition of the Blessed Virgin as the Miraculous Medal, which caused an illumination of conscience.
It resignified a series of phrases that he had had for years and this manifestation continued to accompany him in his life through the frosts.
Margalida had grown up with a very devoted mother.
But when her older brother entered the seminary to become a priest, he suffered an attempted sexual abuse that made him give up, and with that he alienated her from the faith.
She felt like adrift, every frustrating situation was traumatic for her and she had to resort to psychiatric treatment.
And then he got closer to the New Age.
He read all kinds of books on worldly spirituality, hoping to heal all the bitterness that had happened to him in life.
He believed in angeology and ufology.
At night he would take out a notebook and write down what he heard from inner voices that he did not know where they came from or why.
And they always dictated religious messages to him.
He says he has many notebooks full of those messages that he has been listening to for about 20 years.
But in reality it was Saint Michael the Archangel who was preparing her for the appearance of the Virgin , but since she still did not believe, she thought that they were things of her mind or extraterrestrials.
On June 21, 1990, she says that at exactly 3:26 in the morning, she was lying on her bed when she began to hear those voices speaking to her and got up. 
And suddenly she felt time stop and a superior force pulling her to her knees on the floor of her room.
The voice instructed him to kneel down and worship what was about to happen.
Then the room lit up and she guessed that aliens had come for her.
It is that in reality he preferred that he was an alien instead of seeing the Virgin Mary.
And a figure began to form in the middle of a golden frost, like mother-of-pearl sparks, forming tiny constellations, from the foot of his bed to the ceiling of his room.
And he saw the shape of the Virgin of the Miraculous Medal.
He ended up hiding under the bed.
And the Virgin told him,
«Do not fear, I am the Immaculate Mother of Sweetness. 
Today I come to you, little flower from my garden because I need you, you are going to give testimony of Me and it does not matter if they call you crazy. 
Every word that comes out of your mouth will be engraved in the hearts of all those who listen to you.
And Margalida at that moment put her hands out from under the bed, as a way of accepting what the Virgin was telling her.
And immediately, the actress began to cry, because at that moment she had the enlightenment of consciousness.
He spent the whole night with the Virgin until eight in the morning.
He made her write dictated messages and noticed that her hands shone with frost. 
Margalida says that from there it happens that frost often covers the places where she is.
That is one of the things that thanks you the most, because it supports your testimony.
Therefore she considers that her testimony is not only to say that she appeared to her, but also that she gives away a number of demonstrable, tangible and visible supernatural events.
And that same day another impressive thing also happened to him.
That afternoon of the day of the apparition, he had a consultation with the dentist and a woman unexpectedly approached him to tell him that from Yugoslavia they were praying for his conversion and gave him a rosary.
Something that she hated since her youth, because she had been forced to pray it out of obligation.
For the first time, Margalida recounted her experience and the woman would paint for her what would be the first image of the Virgin that she would have in her home.
Later, Margalida wrote several books on how the Virgin helped her to get out of her problems.
His experiences with frost have turned into frequent situations.
Once I was in the makeup room with all the actors of a soap opera and the makeup artists, and I was sending a book to a man who asked him to send it to him with his autograph, but to send him frosts. 
And suddenly the script was filled with frosts , Margalida said "mother, thank you."
And then the whole place where I was sitting was filled, the makeup room, the floor, and the costumes started screaming.
All that day until night, frosts were falling.
He also tells that one night when he was in Father Hulfencio's rural house, one of the children who were there in the choir got frost on his hands.  
It also happened when he was praying the rosary with the Colombian actress and model Taliana Vargas, former Miss Colombia.
Both were praying the rosary together, while they were taken by bus to a recording set and suddenly frost began to fall.
Taliana Vargas is another actress who had been raised in a Catholic home, but then when she went to study in the US she began to seek peace in the New Age and the East.
He tried tai chi, yoga, etc., but did not find that peace until he went to a prayer group.
The rain of frost has become for Margalida a sign that the Virgin is next to her, especially when she is giving her testimony of conversion and faith. 
Our Lady speaks in her ear and tells her that the rain of frost is the means by which She affirms that what Margalida is saying is the complete truth.
Several people have testified that when Margalida prays, frosts form.
These experiences led the actress to become a Tertiary Carmelite, trying to lead a life in the footsteps of Saint Teresa of Jesus.
Another devotion he has developed is to Saint Joseph, whom he considers his lawyer.
And he spreads devotion to him by direct order of the Virgin Mary , who entrusted him with this mission.
In him she has placed the request to solve her financial problems, and alleviate the pain in her arm that broke when she was assaulted, and sometimes it hurts a lot.
And the largest image you have in your home is that of San José.
Well so far what we wanted to tell about the illumination of conscience of the actress Margalida Castro, as a result of an apparition of the Blessed Virgin.
And how the rain of frost around her is part of her testimony.